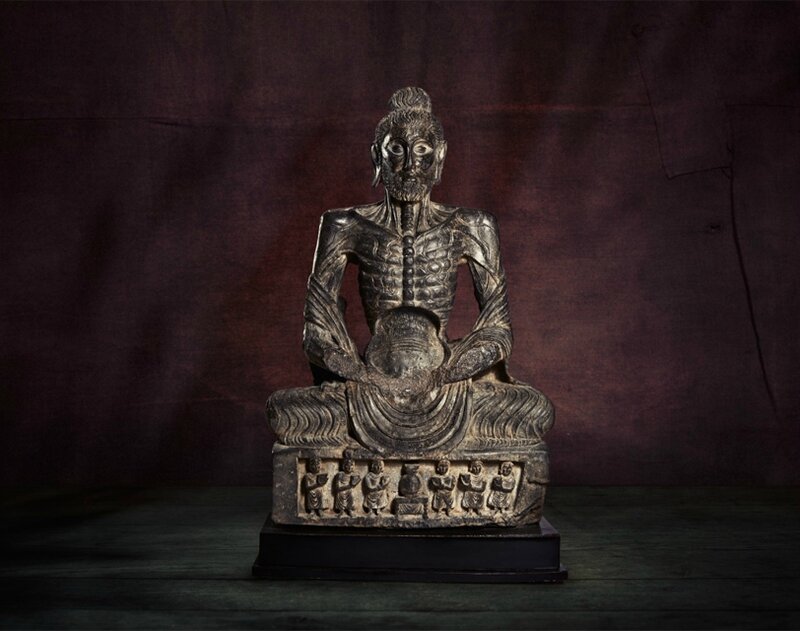 Powerfully and naturalistically carved head of a bearded ascetic man with his wavy hair pulled sideward into a knot on top of the head
Deep wrinkles above the finely chiselled nose
Sunken eyes with shaped lids below angular carved, raised eyebrows, gaunt cheeks, and a bow-shaped mouth with full lips
Presumably a representation of a bearded Brahman or a Buddhist figure
Mounted on a base (later)
A Thermoluminiscence Analysis from the Oxford Authentification Ltd., Oxford (Sample No. N116n9, dated 18.10.2016) and an investigation report from the Institute for Material Science and Authenticity Testing, Wiesbaden (No. 16090704, dated 18.10.2016) are consistent with the dating of this lot
Height without base: c. 34 cm
The head is in good condition, consistent with age.
Provenance: from an old European private collection, documented in the estate of the family since the early 20th century
Notes: The representation of this head is not fully clarified. The furrowed brows indicate age and the piercing gaze reflects powerful strenght, thus, the head may represent a bearded Brahman. With its distinct Hellenistic features, the aristocratic bearded figure also exhibits a distinct resemblance to the Greek god Dionysos. It further strongly resembles Gandharan depictions of the Bodhisattva Vajrapani, the spiritual guide of the Buddha. Typically portrayed as a wild man, his appearance is inspired by Hellenistic images of Herakles and offers a dramatic counter conception to that of the serene Buddha. Vajrapani's powerful physique is indicative of his role as a defender of Buddhism.
Comparable Gandharan heads supposed to be depictions of Brahmans are (amongst others) in the collection of the Museum für Asiatische Kunst, Berlin, Sammlung Süd-, Südost- und Zentralasien (Ident.No. I 119) and the Linden-Museum, Stuttgart (SA 03775). Furthermore, a Gandharan head of a Brahman showing very similar iconographic idioms is in the collection of the Musée Guimet, Paris.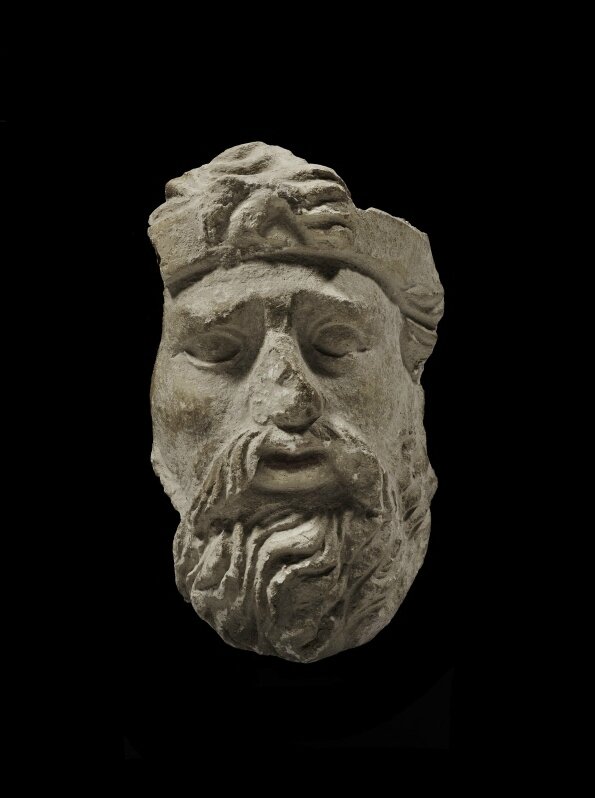 Face of a bearded Brahman, 3.-5. century, Gandhara, Northwestern Pakistan / Afghanistan. Stucco, with traces of paintwork, 13.4 x 8 x 6.4 cm. Collection: Museum of Asian Art | South, Southeast and Central Asia, Ident.No. I 119. © Photo: Asian Art Museum of the National Museums in Berlin - Prussian Cultural Heritage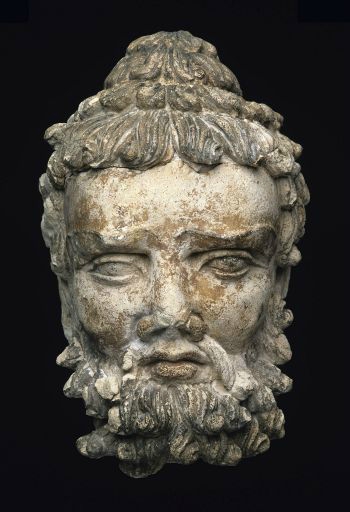 Head of Buddha's protector Vajrapani (later a bodhisattva). Stucco with traces of colouring; Gandhara region (part of today's Pakistan and Afghanistan), around 3rd century; h 28 cm, Inv. No. SA 03775. © photo: Anatol Dreyer - Linden-Museum, Stuttgart
Tête de bodhisattva, Monastère de Tapa-i-Kafariha, chapelle K 33, dynastie Kusana (1er-3e siècle après J.-C.). H 37,3 cm, Inv. No MG17291. Paris, musée Guimet - musée national des Arts asiatiques. Photo © RMN-Grand Palais (musée Guimet, Paris) / Thierry Ollivier
A related terracotta head of Vajrapani from the Kingdom of Nagarahara, Hadda style, 4th/5th century, was exhibited at John Eskenzai, New York, March 2009.
Head of Vajrapani, Afghanistan, kingdom of Nagarahara, Early Hadda style, 4th/5th century, Terracotta. Height: 41.5 cm © John Eskenazi
For a further similar example, see Harold Ingholt, Gandharan Art in Pakistan, New York 1957, fig. 54.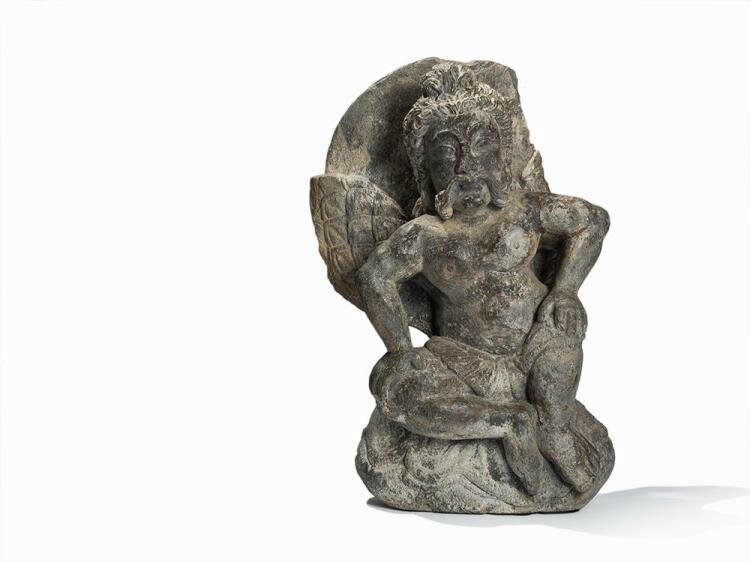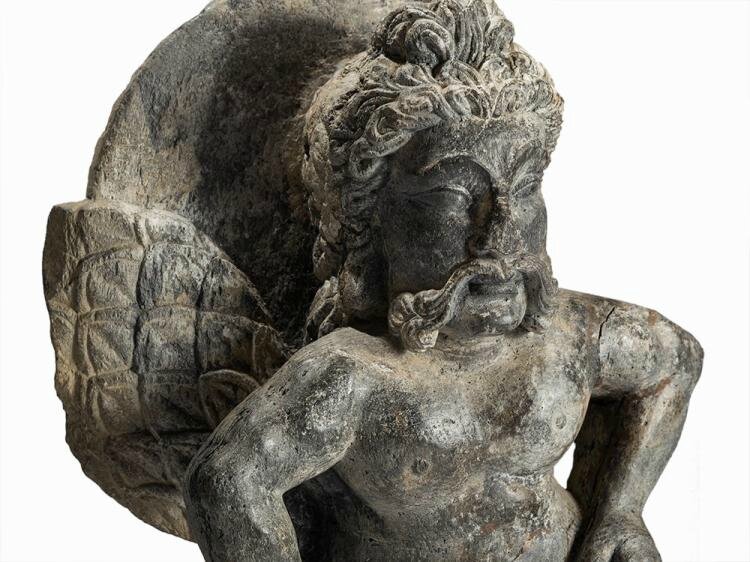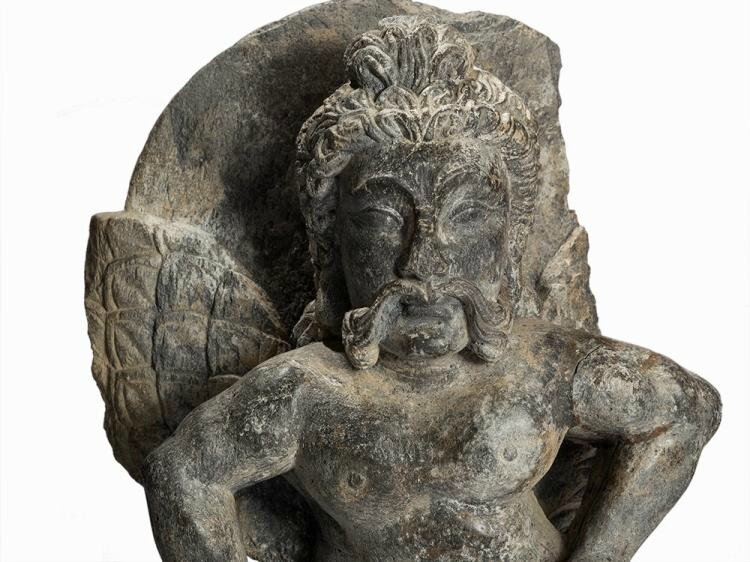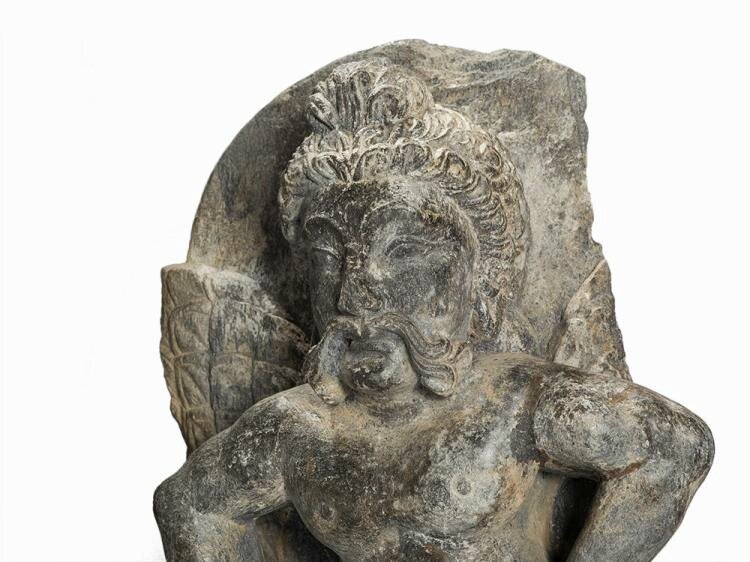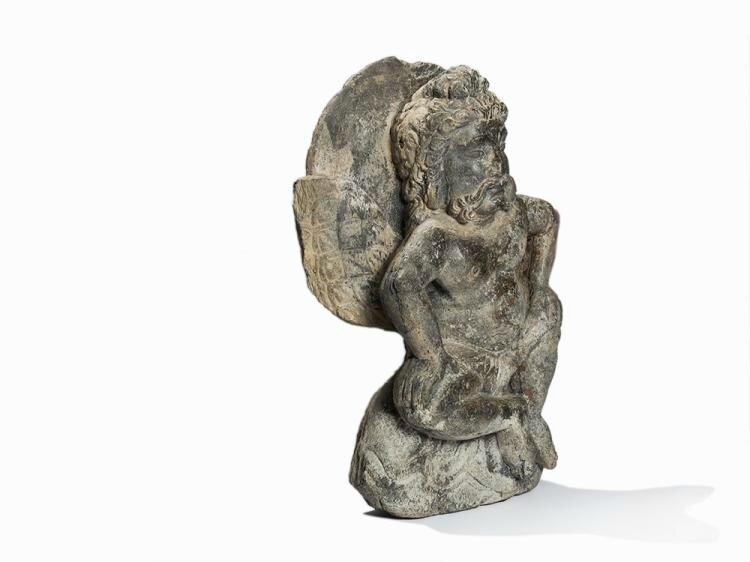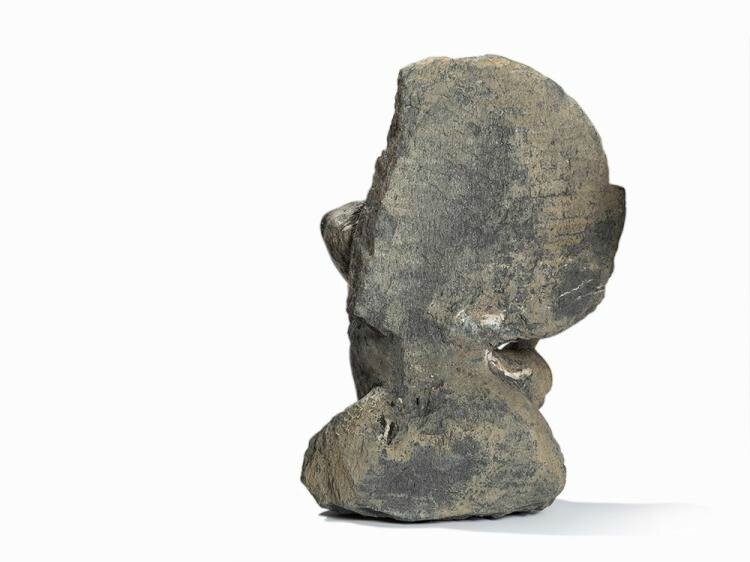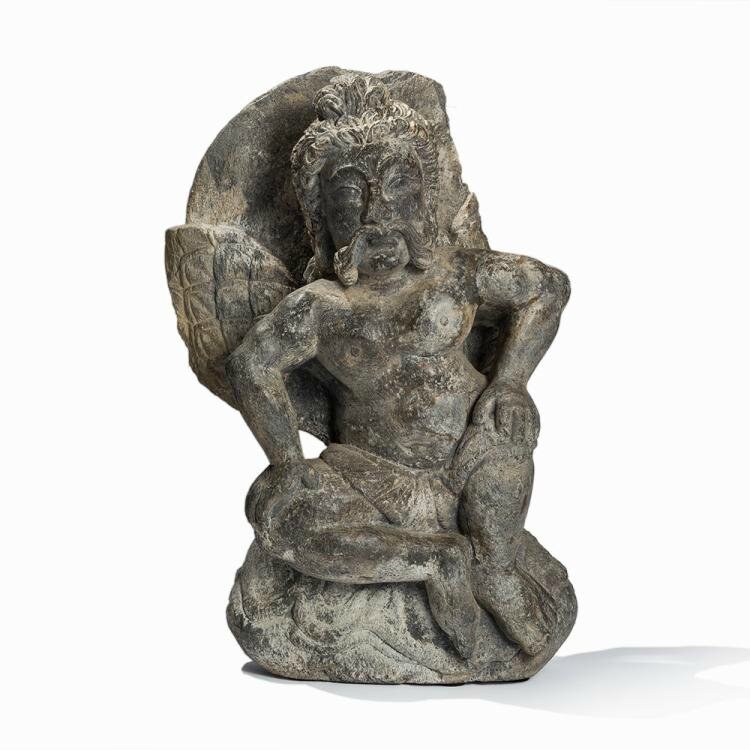 Lot 11. Gray Schist Figure of a Winged Atlas, Ancient region of Gandhara, 2nd-4th Century. Estimate: €24,000 - €30,000. Photo Auctionata AG
Frontal-viewed sculpture of a Winged Atlas composed in a leisurely seated position firmly based on a plinth; the arms bend and his hands resting on the knees, in the back a fragmented halo
The layout of the Atlas as a muscular elderly man reflects the sculptural tradition of Gandhara, apparent in features like the distinct head with wavy hair framing the oval face with carved eyebrows, a sturdy nose, wide eyes with pronounced lid contours, high cheek bones and a prominent moustache
The expressive figure has been skillfully carved out of the stone, catching both the athletic bone structure and the carnose musculature of the Atlas with great naturalistic plasticity
The genitals of the bare Atlas are covered by a draped stole
Two wings are visible in the back of the figure
Height: 49 cm
The figure is in good condition, consistent with age and wear. Some restorations at the right side of the head, the left arm and at a vertical fracture at the left.
Provenance: from an old European private collection, documented in the estate of the family since the middle of the 20th century
Notes: Sculptural depictions of the Winged Atlas from the ancient region of Gandhara can be found in various important museum collections. They show diverse formal layouts. In difference to the Greco-Roman tradition which knows the standing Titan holding up the heavens with his hands, Gandharan figures of the Atlas are regularly depicted in a leisurely seated position. However, due to their function as epistyle figures on architectural friezes, as is known from stupas in Taxila and Hadda in Pakistan, the sculptural layout always underlines their visual support of the superstructure.
Similar gray schist sculptures of the winged and bearded elderly Atlas originating from Jamalgarhi and Gandhara are (amongst other museums) in the collection of the British Museum (OA 1880-181; OA 1914.5-2.2), illustrated in: Wladimir Zwalf, A Catalogue of the Gandhara Sculpture in the British Museum, vol. II, London 1996, cat.no. 363 and 377.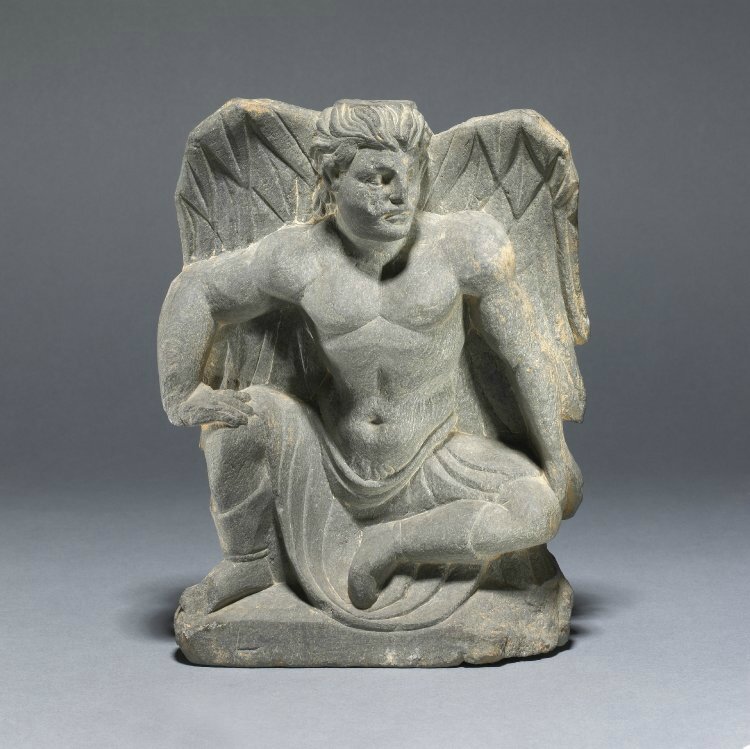 Gray Schist Figure of a Winged Atlas, Kushan, Gandhara, 2nd - 3rd century. Inv. No OA 1880-181 © The Trustees of the British Museum
Small clay figurines excavated at the Buddhist site Tapa Sardâr, Afghanistan, chapel 23 (2nd/3rd century) and following the Greco-Buddhist tradition of Gandhara sculptures, exhibit a very similar layout (although with raised arms), illustrated in: M. Taddei, G. Verardi, "Tapa Sardâr: second preliminary report", in: East and West 28. 1978, fig. 25 and 45.