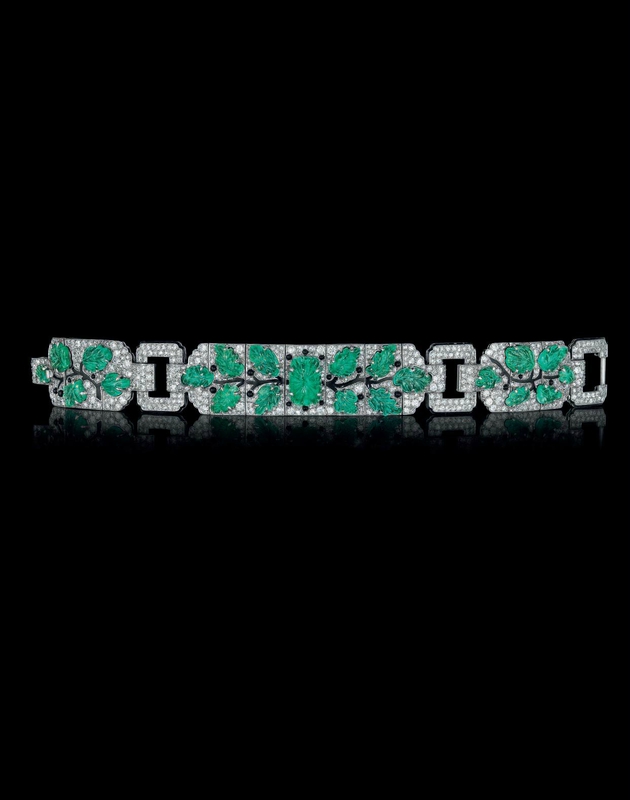 Lot 275. Formerly the Property of Late Lillian S. Timken. An Art Deco diamond, emerald, enamel and onyx bracelet, by Cartier. Estimate USD 150,000 - USD 250,000. Price Realised USD 1,135,500. © Christie's Images Ltd 2016.
The three single and old-cut diamond panels, with carved emerald leaves, black enamel and onyx branch detail, joined by single and old-cut diamond open links with black enamel borders, circa 1925, 7 1/4 ins., mounted in platinum. Signed Cartier, no. indistinct
Provenance: Formerly the Property of Late Lillian S. Timken
Previously sold at Parke-Bernet Galleries, New York, The Lillian S. Timken Collection of Precious Stone Jewelry, 6 April 1960, Lot 108
"A few touches of onyx could lend unusual power to design by underscoring the gemstones." –Pascale Milhaud
This important Cartier bracelet from the Art Deco period is a stunning example of an exquisite 1920s color combination preferred by the venerable jewelry firm. The first decade of the twentieth century witnessed an explosion of color emanating from two sources; the revolutionary art movement, known as the Fauves, epitomized by the early work of Henri Matisse, and the brilliantly colored stage sets of the Ballet Russes which first appeared in Paris in 1909. Jewelers such as Cartier utilized a new palette where vivid colors replaced muted hues, and juxtaposed precious gemstones with hardstones and enamel for bold color and texture contrast.
The public's new interest in color, paired with Jacques Cartier's personal interest in Indian, Persian, Chinese and Egyptian art and motifs had a profound effect on the jewels produced by the firm throughout the 1920s and 1930s. This sentiment for the exotic was echoed in the increasing public curiosity of the Near and Far East.
The radiating branch of carved emerald leaves accented with onyx berries and beautiful black enamel connections creatively incorporates emeralds, diamonds and onyx into a cohesive design. From 1913, Cartier began incorporating large numbers of carved emeralds of all forms into their jewelry. The fashion for emeralds and diamonds continued to be popular well into the 1930s.
This incredible bracelet is a stunning and exquisitely refined example of one of Cartier's most collectible works from the Art Deco period. It is interesting to note that the first bracelet of this kind, in the form of undulating branches of leaves and berries, incorporating carved gemstones, was made for the Paris Exhibition of 1925.
This bracelet was purchased at Parke-Bernet Galleries from the Lillian S. Timken Collection in 1960. The current owner's mother was married to the son of Lillian S. Timken.
Milhaud, Pascale. Introduction: The Development of an Inimitable Style. Cartier: Innovation through the 20th Century. The Moscow Kremlin Museums. Paris: Flammarion, 2007. Page 32.
Christie's. Magnificent Jewels, 7 December 2016, New York, Rockefeller Plaza
NDB: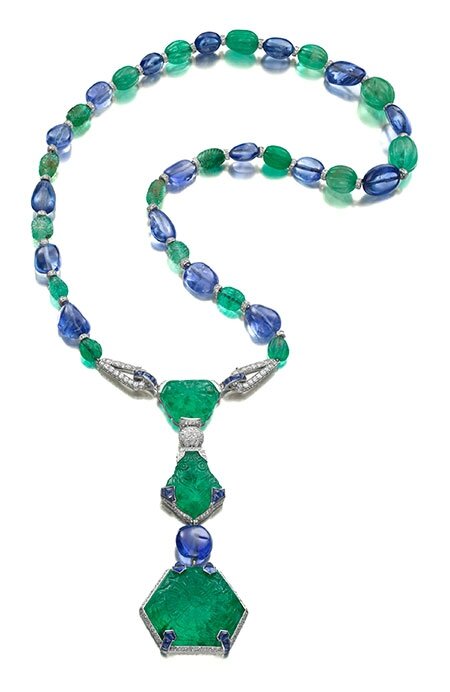 The Timken necklace, by Cartier, Paris, 1925. Photo: Siegelson, New York
the spring-time of art deco—belonged to Lilian S. Timken, whose husband, William, was one of the founders of the Timken roller-bearing company in Canton, Ohio. They lived in a 24-room apartment on Fifth Avenue, New York and amassed a highly significant art collection as well as some dazzling pieces of jewelry by the top houses. This emerald, sapphire and diamond necklace is one of the most important examples of Cartier jewelry from the 1920s. It includes three rare Mughal emeralds carved with floral designs on the front and reverse weighing 71.91 carats, 30.27 carats and 29.21 carats, there are 18 sapphire beads, 34 buff-top cabochon sapphires, 18 emerald beads and 652 diamonds.