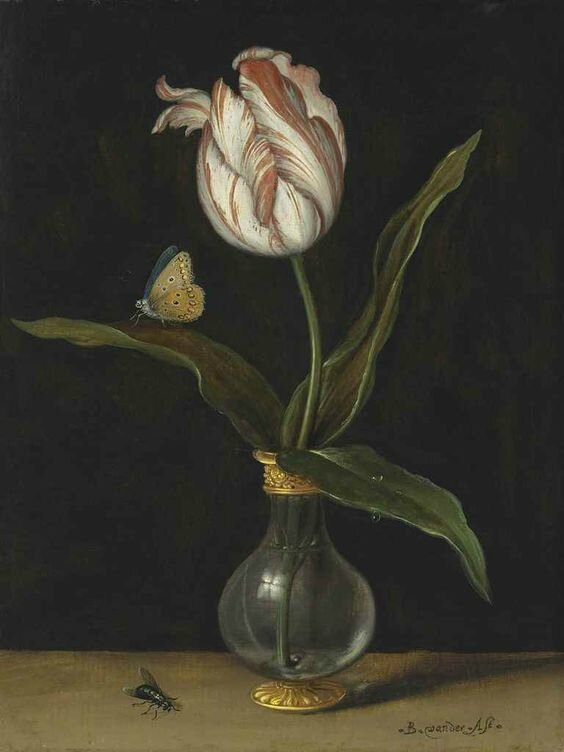 Lot 13. Balthasar van der Ast (Middelburg ?1593/4-1657 Delft), The 'Zomerschoon' tulip, signed '· B · van der · Ast ·' (lower right), oil on panel, 10½ x 7 7/8 in. (26.5 x 20 cm). Estimate GBP 300,000 - GBP 500,000 (USD 378,900 - USD 631,500). Price Realised GBP 809,000 (USD 1,022,576). © Christie's Images Ltd 2016.
Provenance: Johan van der Linden van Slingelandt (1701-1782), Dordrecht; his sale (†), P. and J. Yver, Abraham Delfos, Dordrecht, 22 August 1785, lot 3 (2f 10c.to Abres).
Casper van de Haas, Rotterdam (1721-1802); his sale (†), C. van den Dries en Zoon, Rotterdam, 18 September 1802, lot 65 (1f 12c.).
Anonymous sale [Horace Lakeman, Queensbury, Thornton Heath]; Christie's, London, 28 March 1947, lot 125 (380 gns.), when acquired by the following,
with Eugene Slatter Gallery, London.
Mrs R.A. Constantine, Middlesbrough, by 1960.
The Property of the Constantine Family; Christie's, London, 14 May 1971, lot 118 (3,500 gns.), when acquired by the following,
with Kurt J. Müllenmeister Gallery, Solingen, until 1984, when acquired by the present owner.
Literature: L.J. Bol, The Bosschaert Dynasty. Painters of fowers and fruit, Leigh-on-Sea, 1960, p. 72, no. 18, fg. 37a.
L.J. Bol, Holländische Maler des 17. Jahrhunderts nahe den grossen Meistern-Landschaften und Stilleben, Braunschweig, 1969, pp. 30-31 and 56, fig. 25.
I. Bergström (ed.), Natura in posa: La grande stagione della Natura Morta europea, Milan, 1977, p. 174.
I. Bergström (ed.), Stilleben-Die große Zeit des europäischen Stillebens, Stuttgart and Zurich, 1979, p. 174.
L.J. Bol, 'Goede onbekenden: Balthasar van der Ast en Johannes Bosschaert', Tableau, III, MarchApril 1981, p. 580, fig. 7.
L.J. Bol, 'Goede onbekenden': hedendaagse herkenning en waardering van verscholen, voorbijgezien en onderschat talent, Utrecht, 1982, pp. 55-56, ifg. 7.
A. Veca in, Parádeisos. Dall' universe del fore, exhibition catalogue, Galleria Lorenzelli, Bergamo, 1982, pp. 181-182, fig. 209.
S. Segal in, De tulp en de kunst, verhaal van een symbool, exhibition catalogue, Nieuwe Kerk, Amsterdam, 1994, p. 97, fig. 35.
N. Schneider, Stilleben. Realität und Symbolik der Dinge. Die Stillebenmalerei der frühen Neuzeit, London, 2009, p. 141.
Exhibited: Scarborough, Scarborough Art Gallery, Dutch and Flemish Masters from the collection of Mrs R.A. Constantine and her family: Dutch festival 1960, June 1960, no. 11.
Münster, Westfälisches Landesmuseum für Kunst und Kulturgeschichte; and Baden-Baden, Staatliche Kunsthalle, Stilleben in Europa, 25 November 1979-24 February 1980, no. 159.
Amsterdam, P. de Boer Gallery; and 's-Hertogenbosch, Noordbrabants Museum, A fowery past. A survey of Dutch and Flemish fower paintings from 1600 until the present, 13 March-30 May 1982, no. 39.
Amsterdam, K. & V. Waterman, Masters of Middelburg, March 1984, no. 15.
Aachen, Suermondt-Ludwig-Museum; and Gotha, Herzogliches Museum, Schloss Friedenstein, Die Stilleben des Balthasar van der Ast (1593/94-1657), 10 March-2 October 2016, no. 26.
Notes: First documented in the eighteenth century in the celebrated collection of Johan van der Linden van Slingelandt (1701-1782), and having recently assumed a key place in the artist's monographic exhibition in Aachen and Gotha, this is a much celebrated still-life by Balthasar van der Ast, remarkable for its minimalist conception, featuring just a single flower. This idea, while quite common in contemporary botanical watercolours, was highly original for a work in oil and marks, as Irene Haberland has observed, a novel departure from the output of Ambrosius Bosschaert the Elder, the painter's brother-in-law, under whom he had trained in Middelburg. It also, as the same author noted, served as a forerunner for the pared down still-lifes by Adriaen Coorte more than half a century later ('Balthasar van der Ast', Grove Dictionary of Art, Oxford, online).
Though dated to around 1636 by Segal in the Masters of Middelburgexhibition catalogue of 1984, this work's recent reassessment has led to the proposal of an earlier date of circa 1625 when the painter was working in Utrecht and was at the height of his observational and technical abilities. The composition is beautifully and simply arranged. A Zomerschoon (Summer Beauty) tulip stands in a small glass vase with a gilded neck and foot, placed just of centre in the panel, on a brown stone ledge. A small Adonis blue butterfly (Polyommatus bellargus) has alighted on one of the flower's leaves while a fly crawls along the ledge below. Each element of the still-life is highlighted by the dark background, bringing them sharply into focus. Van der Ast's expertly applied glazes of oil paint allow him to render the subtle modulations of shadow on the flower, the shine of the round glass vase and the small, bright highlights which distinguish three small drops of water against the dark leaf and background.
Van der Ast's panel portrays nothing of the frantic atmosphere of speculation and competition in which it was created. The popularly termed 'Tulip mania', which swept the Netherlands during the 1620s and '30s, saw the fervid importation, production and sale of countless varieties of tulips as an emerging wealthy merchant class sought to own and grow new, strikingly coloured types of the flower. In 1624 offers for as much as 2,000 or 3,000 guilders (the equivalent of the average annual earnings of a wealthy merchant) were being rejected by tulip merchants (M. Dash, Tulipomania: The Story of the World's Most Coveted Flower and the Extraordinary Passions it Aroused, London, 1999, p. 94). So-called 'broken' tulips (those infected with the virus which gave them their variegated colours) were the most popular new varieties. The Zomerschoon, usually consisting of red or pink streaks on a white or cream petal, was highly sought after and commanded exorbitant prices. It remains one of the few varieties of tulip cultivated in Holland in the seventeenth century that exist today.
Van der Ast's observation of the Zomerschoon tulip not merely as a flower, but as a highly precious object, is therefore unsurprising in this context. No doubt he also intended a veiled underlying message for the viewer with this picture. The perfect tulip stands unblemished but will wilt and eventually die now that it has been cut from its roots. This idea of transience and, ultimately, of death is further conveyed by the water droplets, with one about to fall from the tulip's leaf onto the ledge below. Finally, the two insects can be regarded as a symbolic representation of man's eventual end: the butterfly was a common symbol of resurrection and redemption, and the fly frequently symbolic of the Devil.
Christie's. Old Masters Evening Sale, 8 December 2016, London, King Street