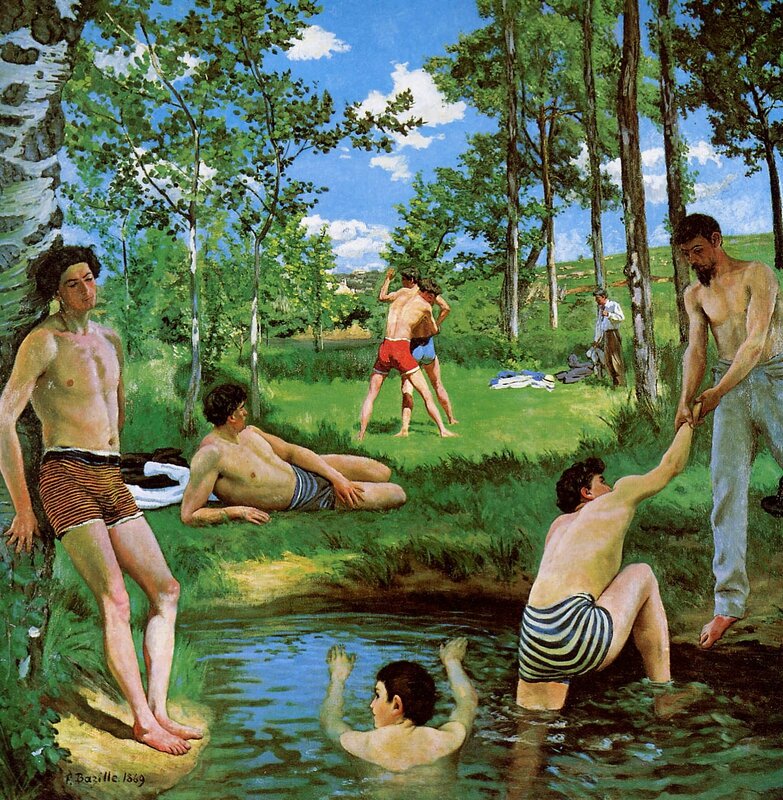 Frédéric Bazille (1841-1870), Scène d'été, 1869. Huile sur toile. H. 158 ; L. 158 cm. Cambridge, Massachusetts, Fogg Art Museum © President and Fellows of Harvard College
PARIS - Comment regarder l'œuvre de Frédéric Bazille, peintre né en 1841 à Montpellier, et mort au combat en 1870 lors de la guerre franco-prussienne, quelques jours avant son vingt-neuvième anniversaire ? Fils de la bourgeoisie protestante montpelliéraine, jeune homme caricaturé comme indolent par son entourage, esprit éclairé et dandy, pianiste mélomane et amateur de spectacles, républicain tombé sur le champ de bataille, la personnalité de Bazille – accessible par l'abondante correspondance qu'il nous a laissée – ne peut être réduite à celle du dilettante compagnon de route et occasionnel soutien matériel des futurs impressionnistes. « Bazille était le mieux doué, le plus aimable dans tous les sens du mot », dira son ami Edmond Maître au lendemain de sa disparition.
PARIS.- How should we view the work of Frédéric Bazille, an artist born in Montpellier in 1841 and killed in action in 1870 during the Franco-Prussian war, just a few days before his 29th birthday? Born into a bourgeois Protestant family in Montpellier, he was depicted as indolent by his family circle. A dandy with a sharp intellect, a pianist and music lover with a fondness for theatre, a Republican who fell on the battlefield: Bazille's personality, which is revealed through the abundant correspondence he left behind, cannot be reduced to that of a mere dilettante, companion and sometimes benefactor to the future impressionists. "Bazille was the most gifted and the most pleasant in every sense of the word", said his friend Edmond Maître after his death.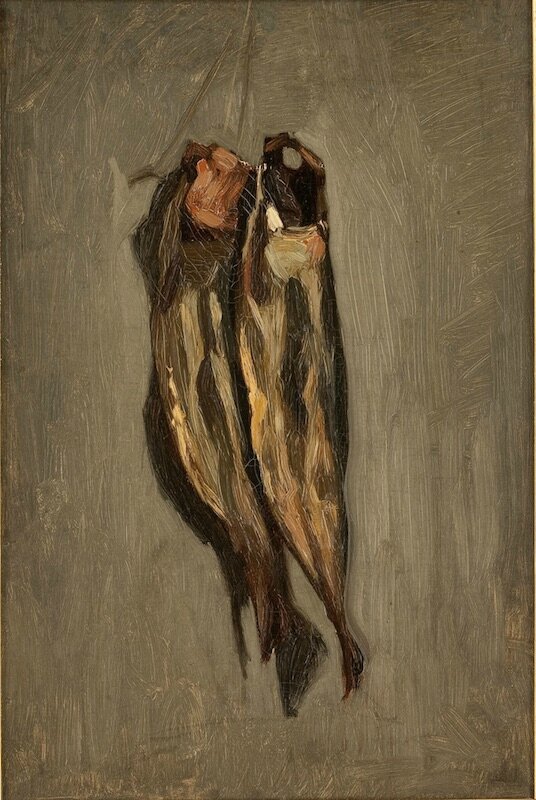 Frédéric Bazille (1841-1870), Deux harengs. Huile sur toile, 41 x 28,5 cm, Montpellier, musée Fabre. Photo : Frédéric Jaulmes / Montpellier Méditérranée Métropole.
Si ses premières toiles sont clairement celles d'un peintre en devenir, influencé par les maîtres du réalisme Courbet et Manet ou son ami Monet, l'artiste a néanmoins achevé de nombreux chefs-d'œuvre, dans lesquels s'affirme progressivement son génie singulier (La réunion de famille, La vue de village, Scène d'été etc.). Mue par des désirs parfois opposés – satisfaire une famille qui aurait préféré le voir suivre une autre carrière, se faire remarquer au Salon par des œuvres ambitieuses et modernes – l'œuvre de Bazille est bien « de jeunesse », riche de ses contradictions, où chaque tableau est un défi, un jalon, une victoire ou un échec. Le petit nombre de tableaux que compte l'œuvre de Bazille, une soixantaine tout au plus, nous permet d'être attentifs à la progression du jeune artiste vers l'expression toujours plus personnelle de son « tempérament », selon les mots de l'époque. « J'espère bien, disait-il, si je fais jamais quelque chose, avoir le mérite de ne copier personne ».
Although his first paintings are clearly those of a developing artist influenced by the Masters of Realism Courbet and Manet and by his friend Monet, he nonetheless produced a number of masterpieces in which he gradually asserted his unique talent (Family Reunion, View of the Village, Summer Scene, etc.). Inspired by sometimes contradictory desires (satisfying a family who would have preferred him to follow another path, standing out at the Paris art Salon for ambitious, modern works of art) Bazille's work is indeed "youthful" with all the associated contradictions, and each painting is a challenge, a milestone, a victory or a failure. The small number of paintings which form Bazille's body of work (around sixty at the most) allows us to perceive the young artist's progression towards an ever more personal expression of his "temperament", in the words of the time. "I hope", he said "that if I ever achieve anything, I will have had the merit of having copied nobody".
Frédéric Bazille (1841-1870), Couvercles de bouillon, 1864. Huile sur toile, 27 x 35 cm, Montpellier, musée Fabre. Photo : Frédéric Jaulmes / Montpellier Méditérranée Métropole
Organisée de façon thématique et chronologique à la fois, l'exposition mêle les œuvres de Bazille à celles d'autres artistes de son temps, comme Delacroix, Courbet, Manet, Monet, Renoir, Fantin-Latour, Guigou, Scholderer ou encore Cézanne. Ces confrontations replacent son travail au cœur des grandes problématiques de la peinture d'avant-garde des années 1860 (la vie moderne, le renouvellement des genres traditionnels comme le portrait, le nu ou la nature morte, le plein air et la peinture claire etc.), auquel Bazille contribua largement, et mettent en relief la profonde originalité de son inspiration. L'exposition est le fruit d'un partenariat entre les trois plus importantes collections d'œuvres de Bazille au monde, le Musée Fabre à Montpellier, le musée d'Orsay à Paris, et la National Gallery of Art de Washington (D.C.).
The exhibition is organised both thematically and chronologically, juxtaposing the works of Bazille with those of other artists of his time such as Delacroix, Courbet, Manet, Monet, Renoir, Fantin-Latour, Guigou, Scholderer and Cézanne. These astute correlations place his work in the context of the great issues addressed by avant-garde painting in the 1860s (modern life, the renewal of traditional genres such as portraiture, the nude and still life, outdoor painting and peinture claire, an impressionistic technique for expressing light) to which Bazille contributed fully, and highlight the great originality of his inspiration. This exhibition is the result of a partnership between the world's three largest collections of Bazille's work: the Musée Fabre in Montpellier, the Musée d'Orsay in Paris and the National Gallery of Art in Washington, D.C.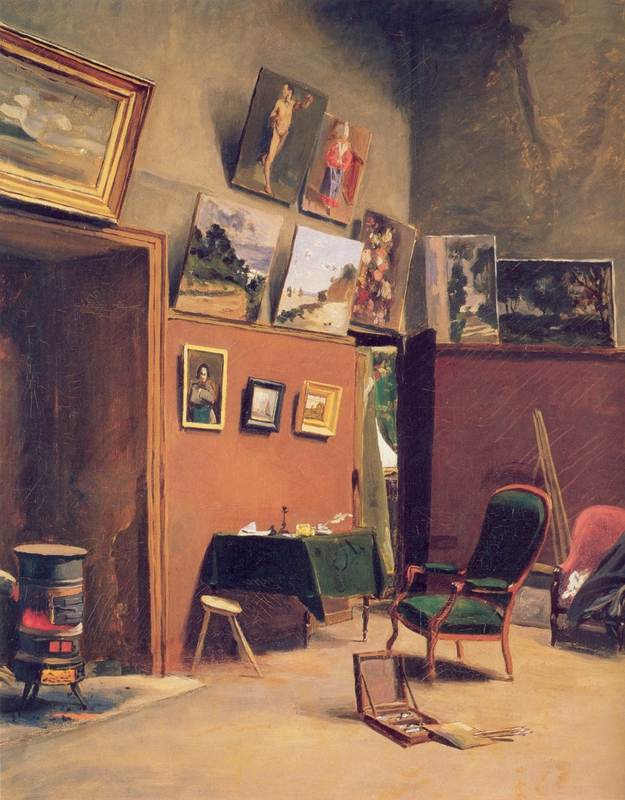 Frédéric Bazille (1841-1870), L'Atelier de la rue de Furstenberg, 1865. Huile sur toile, 81,5 x 65 cm. Montpellier, musée Fabre. Photo : Frédéric Jaulmes / Montpellier Méditérranée Métropole
Partagée entre l'effervescente vie artistique parisienne l'hiver et la chaleur tranquille des étés montpelliérains, la courte carrière de Frédéric Bazille se devait d'être honorée par le Musée d'Orsay, qui possède plusieurs de ses chefs-d'œuvre, comme la Réunion de famille ou L'atelier de la rue de La Condamine. Il s'agit de la première exposition Bazille organisée par un musée national français.
It is fitting that Frédéric Bazille's short career, shared between the exuberance of Parisian artistic life in winter and the tranquil heat of summer in Montpellier, be honoured by the Musée d'Orsay, which owns several of his masterpieces including Family reunion and Studio in the Rue de La Condamine. This is the first exhibition devoted to Bazille to be organised by a French national museum.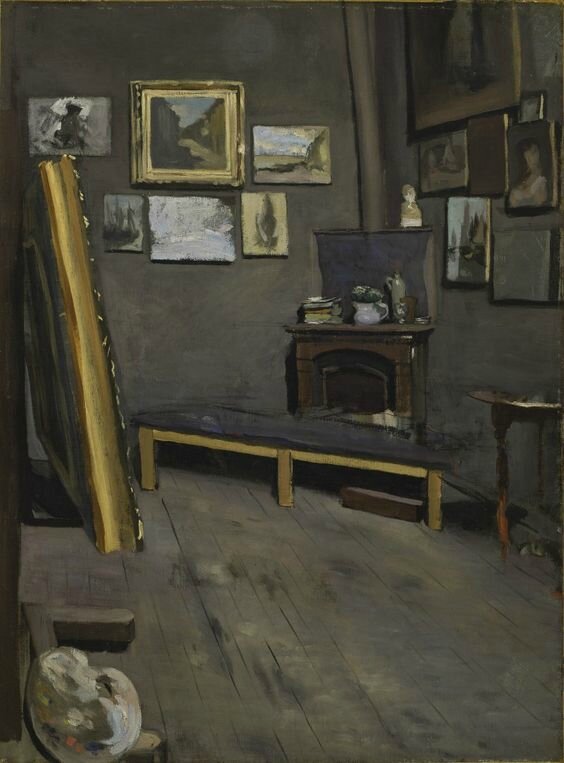 Frédéric Bazille (1841-1870), L'Atelier de la rue Visconti, 1867. Huile sur toile, 64 x 49 cm. Richmond, Virginia Museum of Fine Arts. Photo : Virginia Museum of Fine Arts
Elle est l'occasion pour le musée Fabre de fêter plus de dix ans d'acquisitions majeures. Depuis le don en 1898, par la famille de l'artiste, de La Vue de village et de la Nature morte au héron, le musée Fabre n'a cessé d'enrichir sa collection, qui est devenue aujourd'hui la plus importante au monde pour l'artiste (vingt-deux œuvres). Neuf peintures, dont certaines majeures, comme La Macreuse, Petite italienne chanteuse des rues, Jeune homme nu couché sur l'herbe, ou encore Ruth et Booz, dernier chef-d'œuvre laissé inachevé par Bazille, ont ainsi été acquises depuis le début des années 2000. Une étape nord-américaine s'imposait également, compte-tenu de l'intérêt précoce et tout particulier manifesté par les amateurs américains pour ses peintures, et notamment de Chester Dale et Paul Mellon, grands donateurs de la National Gallery of Art de Washington.
It is an opportunity for the Musée Fabre to celebrate 10 years of major acquisitions. Ever since the artist's family donated View of the Village and Still Life with Heron in 1898, the Musée Fabre has continued to add to its collection, making it the world's largest with 22 of Bazille's works. Since the early 2000s they have acquired nine paintings, some of major significance such as The Scoter, Little Italian Street Singer, Young Nude Man Lying on the Grass and Ruth and Boaz, Bazille's last, unfinished masterpiece. A north-American tour was also essential in view of the strong early interest shown in his paintings by American art lovers, particularly Chester Dale and Paul Mellon, two major donors to Washington's National Gallery of Art.
Frédéric Bazille (1841-1870), L'Atelier de Bazille, 9 rue de La Condamine à Paris, 1869-1870. Huile sur toile, 98 x 128,5 cm. Paris, musée d'Orsay. Photo : RMN-GP/Hervé Lewandowski
La préparation de l'exposition a permis ces trois institutions de mettre en commun leurs connaissances et leurs recherches récentes, et de réaliser une campagne inédite et conjointe d'examens scientifiques des œuvres. Ces études ont permis de mieux comprendre la méthode de travail de Bazille, ses liens avec Claude Monet ou Auguste Renoir, avec qui l'artiste partageait aussi bien ses ateliers que ses modèles. L'imagerie scientifique a également révélé un nombre significatif de compositions sous-jacentes et permis de retrouver la trace d'œuvres jusque-là considérées comme disparues, chaînons manquants d'une œuvre rare.
Preparing the exhibition gave to three organisations the chance to pool recent knowledge and research and to undertake a unique joint operation to scientifically examine the works of art. This research has helped to gain greater understanding of Bazille's working methods and his links with Claude Monet and Auguste Renoir, with whom the artist shared both a studio and models. Scientific imaging has also revealed a significant number of underlying compositions, making it possible to trace works which had previously been considered lost and which are the missing links in a unique body of work.
Musée d'Orsay. Niveau 5, espace d'exposition temporaire; 15 novembre 2016 – 5 mars 2017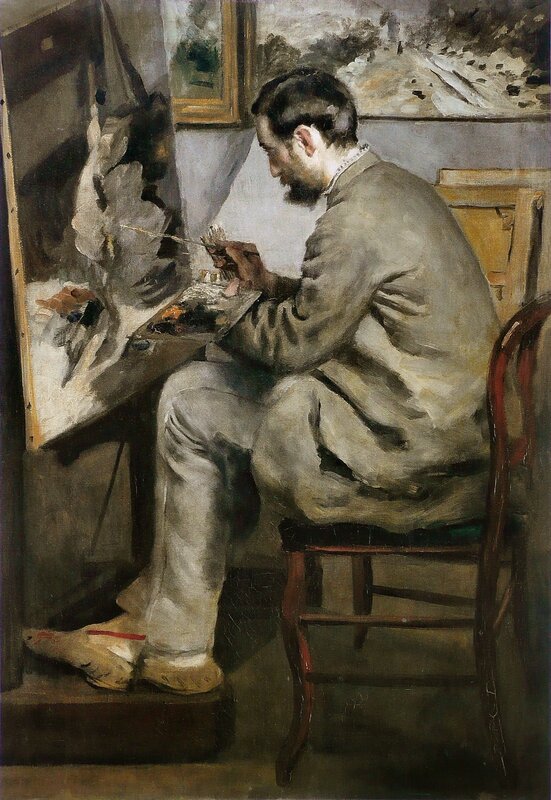 Pierre Auguste Renoir (1841-1919), Frédéric Bazille peignant à son chevalet, 1867. Huile sur toile, 105 x 73,5 cm. Montpellier, musée Fabre. Photo : RMN-GP/Hervé Lewandowski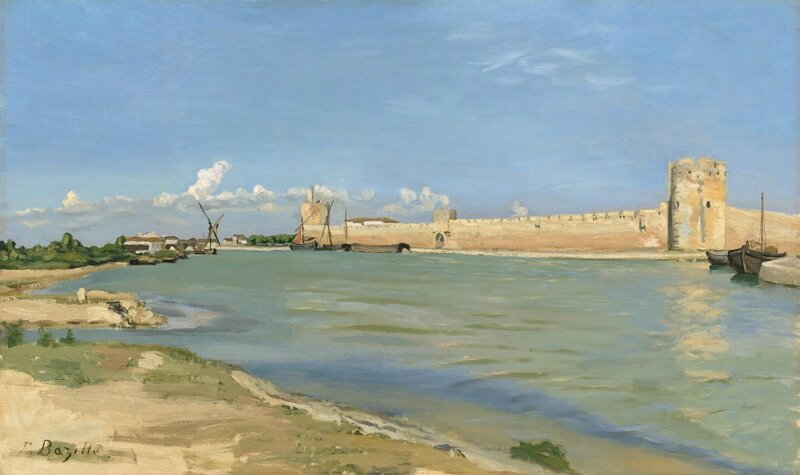 Frédéric Bazille (1841-1870), Les Remparts d'Aigues-Mortes, du côté couchant, 1867. Huile sur toile, 60 x 100 cm. Washington, National Gallery of Art. Photo : National Gallery of Art, Washington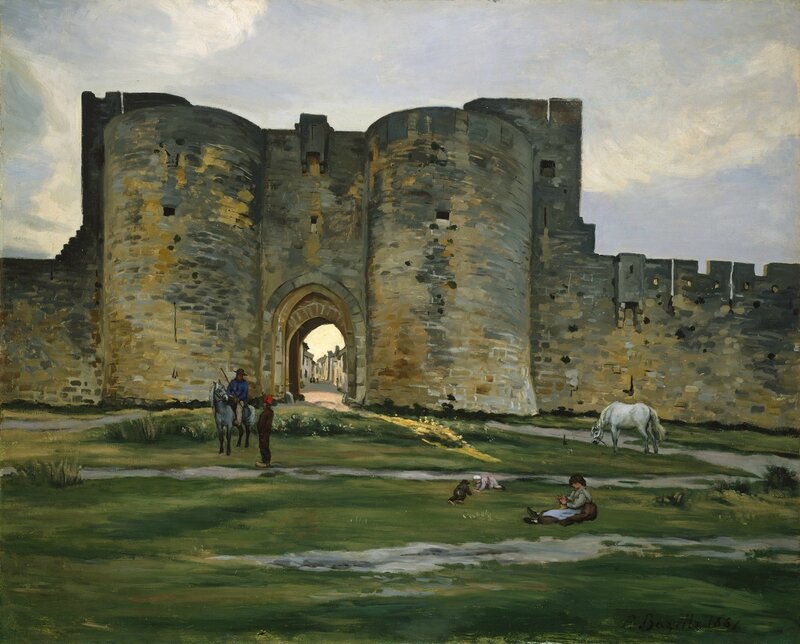 Frédéric Bazille (1841-1870), Porte de la Reine à Aigues-Mortes, 1867. Huile sur toile, 80,6 x 99,7 cm. New-York, The Metropolitan Museum. Photo : The Metropolitan of Art
Frédéric Bazille (1841-1870), La Réunion de famille, 1867-68. Huile sur toile, 152 x 230 cm. Paris, musée d'Orsay. Photo : RMN-GP/Hervé Lewandowski
Frédéric Bazille (1841-1870), Vue de village, 1868. Huile sur toile - 137,5 x 85,5 cm, Montpellier, musée Fabre. Photo : Frédéric Jaulmes / Montpellier Méditérranée Métropole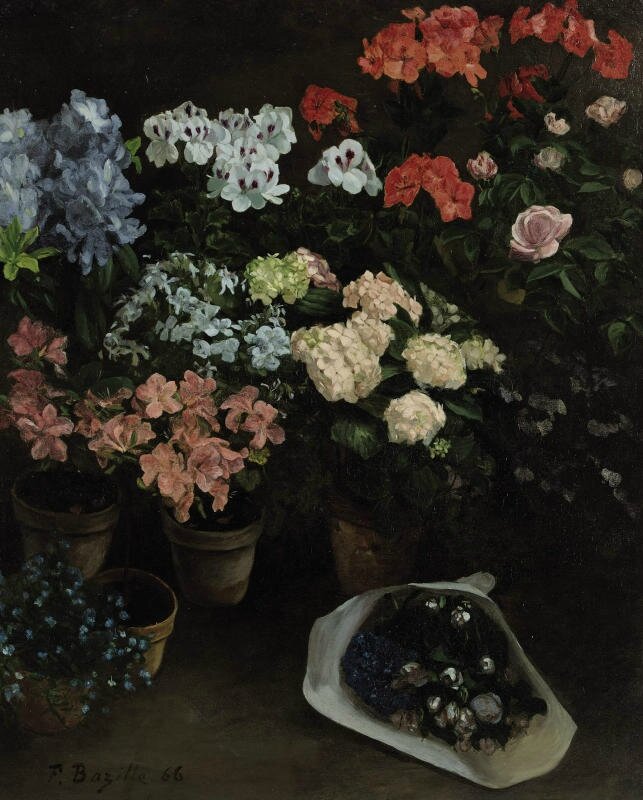 Frédéric Bazille (1841-1870), Pots de fleurs, 1866. Huile sur toile, 97 x 88 cm. Collection particulière. Photo : Courtesy of Sotheby's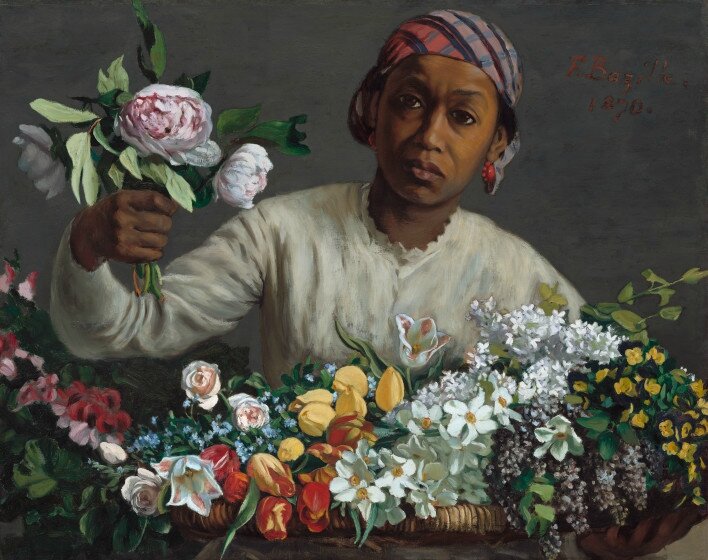 Frédéric Bazille (1841-1870), Négresse aux pivoines, 1870. Huile sur toile, 60,5 x 75,4 cm. Washington, National Gallery of Art. Photo : National Gallery of Art, Washington
Frédéric Bazille (1841-1870), La Toilette, 1870. Huile sur toile, 130 x 128 cm. Montpellier, musée Fabre. Photo : Frédéric Jaulmes / Montpellier Méditérranée Métropole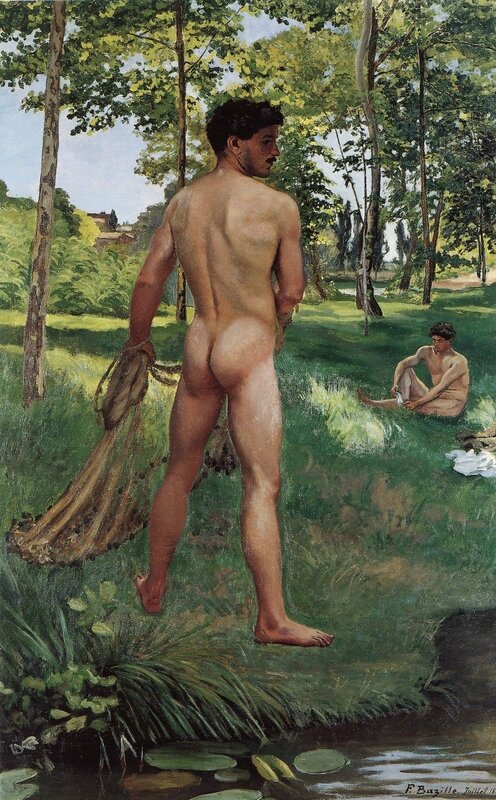 Frédéric Bazille (1841-1870), Le Pêcheur à l'épervier, 1868. Huile sur toile, 137,8 x 86,6 cm. Remagen, Arp Museum. Photo : Remagen, Arp Museum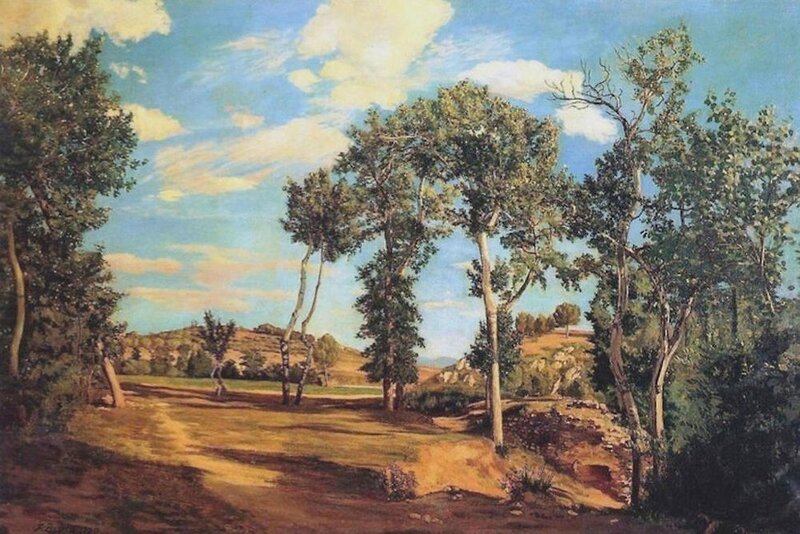 Frédéric Bazille (1841-1870), Paysage au bord du Lez, 1870. Huile sur toile, 137,2 x 200,7 cm. Minneapolis, The Minneapolis Institute of Art. Photo : Minneapolis Institute of Art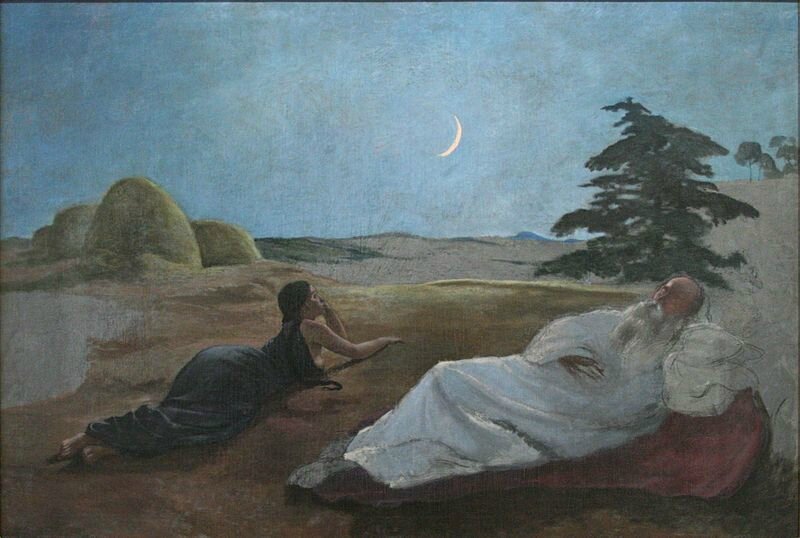 Frédéric Bazille (1841-1870), Ruth et Booz. Huile sur toile, 138 x 202 cm. Montpellier, Musée Fabre. Photo : Frédéric Jaulmes / Montpellier Méditérranée Métropole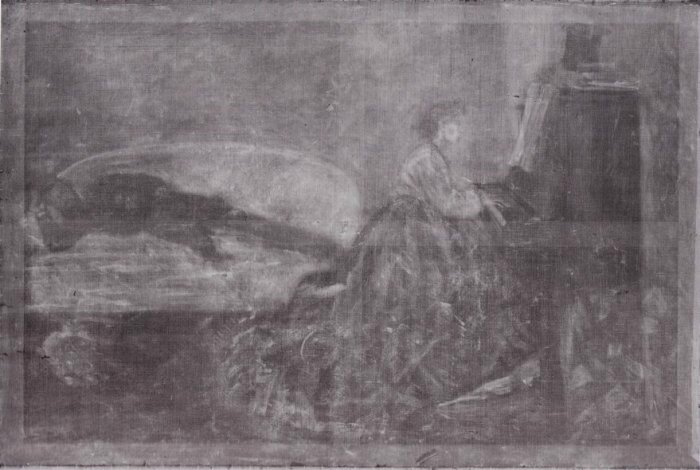 Frédéric Bazille (1841-1870), Jeune-fille au piano, 1865-1866. Huile sur toile, 138 x 202 cm. Radiographie du tableau Ruth et Booz. Photo : Paris, C2RMF