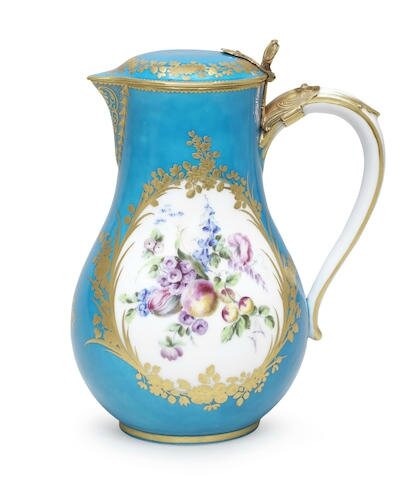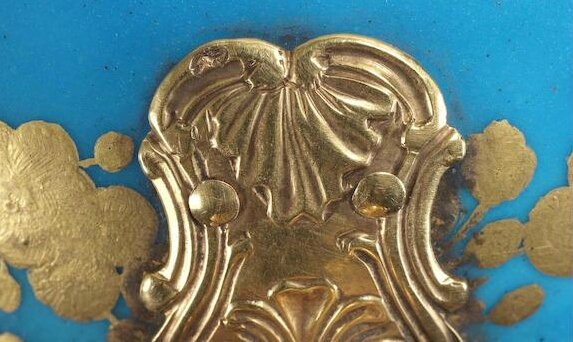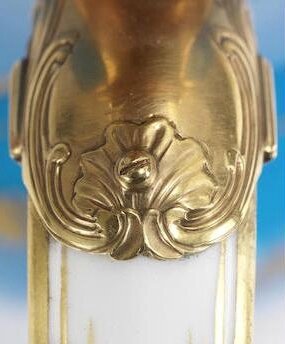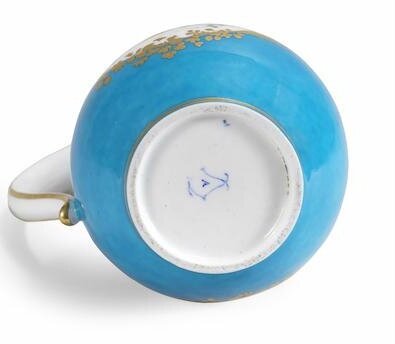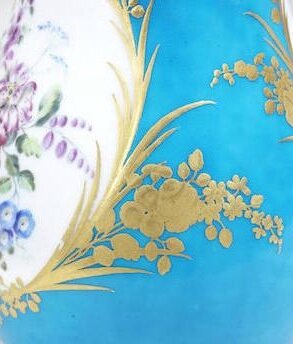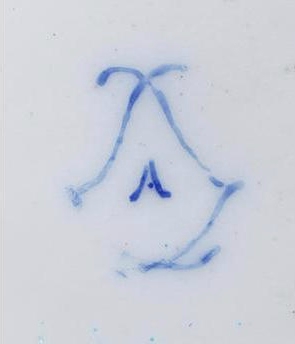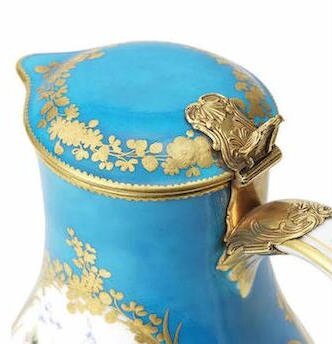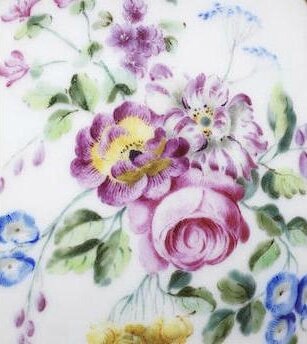 Lot 150. A rare Vincennes gold-mounted bleu céleste-ground water jug and cover, most likely made for Marie Josèphe, Dauphine of France, dated 1754 (date letter A). Estimate £40,000 - 60,000 (€48,000 - 72,000). Photo Bonhams.
LONDON - A beautiful Vincennes porcelain jug with gold mounts, made for the Dauphine Maria Josepha – mother of King Louis XVI, who was guillotined during the French revolution - is for sale at Bonhams Fine European Ceramics sale in London on 14 December. It is estimated at £40,000-60,000.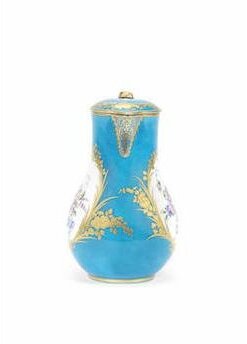 The jug would have stood on the Dauphine's dressing table during the toilette – the morning ritual among late 17th and 18th century French aristocracy when they would invite visitors to attend their protracted and leisurely preparations for the day. Guests could range from friends and tradespeople such as tailors and dressmakers to, in the case of the King himself, ambassadors and ministers conducting business in any early form of power breakfast.
The provision of refreshments was an essential part of the toilette which could often last for several hours, and jugs of warm water and basis were provided to enable guests to wash their hands. Maria Josepha's jug (with a cover to keep the water hot) was made at the Vincennes porcelain factory in 1754 and was an object of great luxury. The turquoise blue ground was used for the most costly pieces only and the gold mounts had to be commissioned individually at great expense.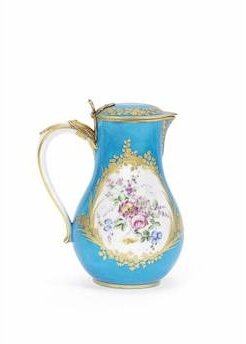 The Dauphine, Maria Josepha, was the daughter of Augustus III King of Poland and Elector of Saxony. In 1747, at the age of 15, she married Louis, the Dauphin of France, heir to Louis XV. Both she and her husband predeceased the King leaving her eldest surviving son, also called Louis, to inherit the crown on his grandfather's death in 1774. Louis XVI and his wife Marie Antoinette were deposed in 1792 when the monarchy was abolished and guillotined the following year. Two of Maria Jospeha's other sons also became Kings of France - Louis XVIII, at the restoration of the Bourbon monarchy after the defeat of Napoleon at Waterloo in 1815 and Charles X, on his brother's death in 1824.
Bonhams Head of European Ceramics, Nette Megens, said: "Unlike many royal wives, Maria Josepha had little involvement in politics. She was, however, keenly interested in porcelain as this beautiful jug shows. She also commissioned from the factory at Vincennes a magnificent display of naturalistic porcelain flowers in a white glazed vase as a gift for her father, the Elector of Saxony. This masterpiece, known as the Bouquet de la Dauphine, was intended to demonstrate the superiority of Vincennes over Meissen (the porcelain factory established in 1710 by her grandfather, Augustus the Strong). This key piece in the development of Rococo porcelain showed that the French court was now setting the fashion and the technical standards to beat."