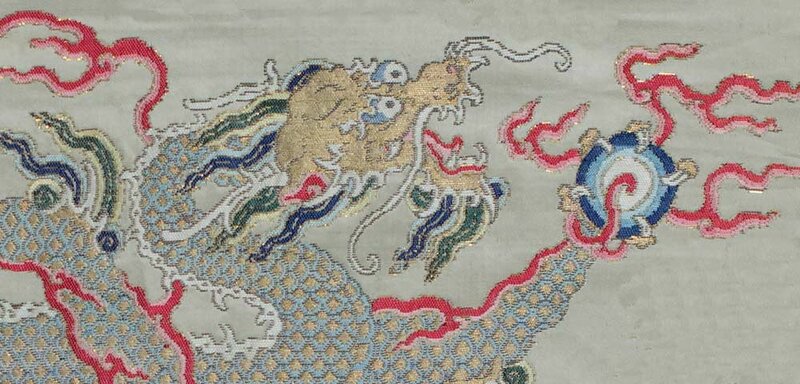 KANSAS CITY, MO.- A new exhibition offers visitors a rare chance to view fragile treasures, some of which have not been seen in decades, from the internationally-acclaimed Chinese collection of The Nelson-Atkins Museum of Art in Kansas City. Emperors, Scholars, and Temples: Tastemakers of China's Ming and Qing Dynasties, explores the art of the Ming (1368–1644) and Qing (1644–1911) dynasties from the perspectives of the three groups that were most influential in its production. The free exhibition gives insights into the canons of taste formed during a period of 500 years.
"Some of the treasures in this exhibition were acquired by Laurence Sickman, the museum's first curator of Asian art and a Monuments Man who later became the Nelson-Atkins Director," said Julián Zugazagoitia, Menefee D. and Mary Louise Blackwell CEO & Director of the Nelson-Atkins. "Sickman was a visionary with an unparalleled eye who lived in China when he acquired many magnificent objects for our collection."
The 66 works in the exhibition are arranged in three sections: Emperors presents imperial luxury objects that would have been used in the Forbidden City, Scholars illustrates the world of the educated elite, and Temples showcases examples of architectural ornaments, paintings, sutra covers and devotional figures inspired by Buddhism.
Vaisravana, Guardian King of the North, Yuan Dynasty (1279-1368) or early Ming Dynasty (1368-1644). Chased, engraved and gilded bronze. Overall: 14 1/8 x 7 1/2 x 5 in. (35.8775 x 19.05 x 12.7 cm). Purchase: the Asian Art Acquisition Fund in memory of Laurence Sickman.
"These sumptuous objects afford a tantalizing glimpse into the sophisticated life and rich culture during the Ming and Qing dynasties," said Colin Mackenzie, Senior Curator of Chinese Art. "The exhibition offers a unique opportunity to view pieces that have never or rarely been on display before, including two imperial Buddhist objects that are recent donations. One, a bequest of the late Lee Lyon, is an exceedingly rare red lacquer and gold inlay sutra cover, and the other an exquisite gilt bronze figure of Green Tara (Shyamatara) from the bequest of William A. Scott."
Foremost among the imperial objects is a rare court robe known as jifu ("auspicious dress") decorated with nine five-clawed dragons on a cream background dating to the reign of the Kangxi (1662-1722) or Yongzheng (r.1723–­­­1736) emperors. Because of light sensitivity, the robe will only be on display until the end of January and then won't be seen again for many years. Other notable objects include a court official's winter fur hat with peacock feather plume, badges of rank, and exquisite ladies' jewelry of precious materials such as opal, jade, pearl and kingfisher feathers.
Also displayed are a variety of porcelains used at court showing decorative designs and techniques, including underglaze blue, overglaze enamels, and stunning monochromes. The Emperors section also includes a painting, Six Worthies of the Bamboo Stream by Jin Tingbiao (d. 1767), that was formerly in the imperial collection.
Coat, Early 18th century, Chinese. Brocade, 54 x 81 inches. Purchase: William Rockhill Nelson Trust, 35-184/1. © 2016 The Nelson-Atkins Museum of Art
The Scholars section explores the cultural life of the educated elite that dominated Chinese society outside the court. The centerpiece is a desk with scholars' objects dating from the late Ming and Qing, antiques including an ancient bronze ritual vessel and a seven-stringed zither of the type that scholars would have played. Scholars were not just consumers of art, however, but also creators, and the exhibition includes works by two of the most famous scholar-painters of the Ming dynasty, Wen Zhengming (1470–1559) and Shen Zhou (1427–1509). Shen Zhou's Farewell to Lu Zhi shows the two friends taking leave of each other on a bank by a river. A painting by Gao Fenghan (1683–1749) is unusual in that it was painted with his left hand after he lost the use of his right arm. The emphasis on expressive brushwork in all three of these paintings anticipates European movements such as Impressionism and Expressionism by almost three hundred years.
In the Temples section, a stunning five-foot-tall glazed ceramic roof ornament in the form of two dragons chasing a flaming pearl, two tiles with cavalry surmounts and a large figure of an official evoke the architecture of Buddhist temples during the Ming and Qing dynasties. A different strain of Buddhism is represented by three objects commissioned by the Yongle Emperor (1403–1425), a devotee of Tibetan Buddhism. These include a lacquer and gold inlaid sutra cover, an exquisite gilt-bronze figure of Shyamatara (Green Tara) depicted as a beautiful young woman holding a lotus spray and a spectacular embroidered thangka depicting Akshobhya Buddha, one of the Five Wisdom Buddhas. These three works reflect Tibetan styles quite distinct from those of traditional China and their origins can be found in Indian art.
The exhibition also includes a digital interactive quiz. By playing it, audiences will discover whether they are more suited to be an emperor, a scholar or a Buddhist monk. The exhibition can be seen in Gallery 222 through July 2017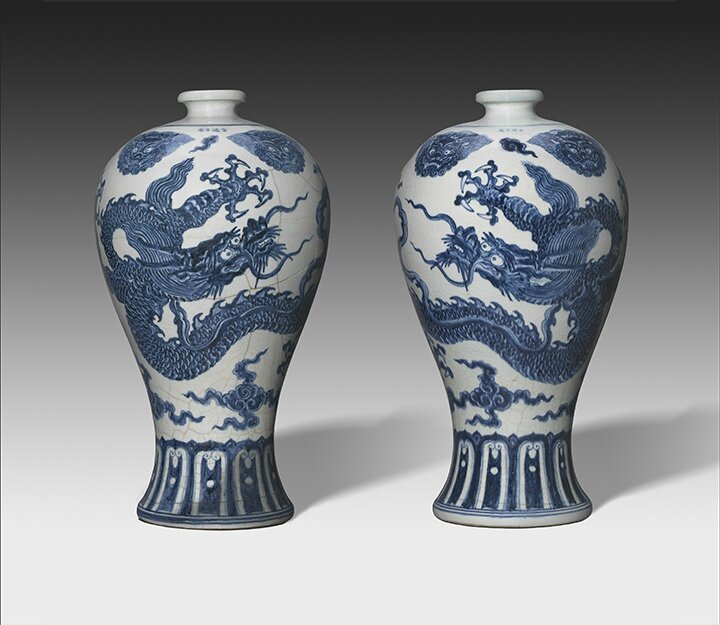 Pair of Vases, Chinese, mark of Xuande reign (1426-1435), Ming Dynasty (1368-1644). Porcelain with underglaze blue decoration, h x diam: 21 3/4 x 11 1/2 inches. Purchase: William Rockhill Nelson Trust, 40-45/1,2 © 2016 The Nelson-Atkins Museum of Art.