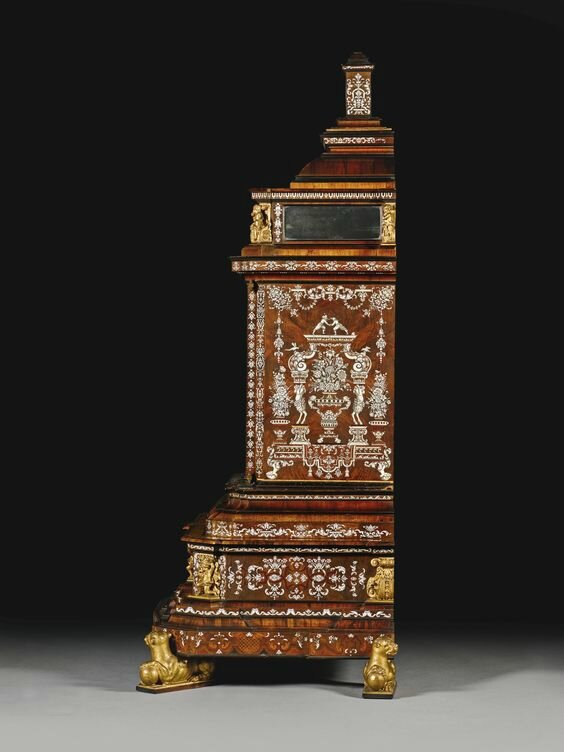 Lot 284. A German ivory inlaid and walnut veneered table cabinet, attributed to Ferdinand Plitzner or to Heinrich Ludwig Rohde, Pommersfelden or Mainz, circa 1725. Estimate 80,000 — 120,000 GBP (92,792 - 139,188 EUR). Photo: Sotheby's.
with engraved ivory inlays, the central section with two doors opening to reveal eleven drawers and a mirrored tabernacle with chequered floor, the lower section with two further drawers flanked by gilt-bronze putti, decorated overall with strap-work, trellis-work, scrolling foliage, shell-motives, birds and insects, on giltwood feet in the shape of crouched lions - 156cm. high, 107.5 cm. wide, 60cm. deep; 5ft. 1 ½ in., 3ft. 6in., 1ft. 11 ½ in.
Related literature: F. Arens, "Meisterrisse und Möbel der Mainzer Schreiner", Beiträge zur Geschichte der Stadt Mainz, 14, 1955, pp. 60-61
H. Kreisel, Die Kunst des deutschen Möbels. Zweiter Band: Spätbarock und Rokoko, München, 1970, pp. 78-88; 110-11
L. Döry, "Zum Werk Ferdinand Plitzners und Seines Kreises", Anzeiger des Germanischen Nationalmuseums, 1965, pp. 129-39
L. Döry, "Ein Kabinettschrank mit Elfenbeinkruzifixus im Rheinischen Landesmuseum", Bonner Jahrbücher, 166, 1966, pp. 454-73
M. H. von Freeden, Quellen zur Geschichte des Barocks in Franken, Würzburg, 1951
F. Windisch-Graetz, "Neues zum Werk von Ludwig Heinrich Rohde", Alte und moderne Kunst, 177, 1981, pp. 20-23
S. Sangl, "Hofhandwerk und Wohnkultur unter Lothar Franz und Friedrich Karl von Schönborn"; "Ausstattung von Schlössern und Kirchen", in Hermann Maué and Sonja Brink, eds., Die Grafen von Schönborn, Nürnberg, 1989, pp. 60-71 and 232-40
Heidrun Zinkann, Meisterstücke Mainzer Möbel des 18. Jahrhunderts, Frankfurt, 1988, pp. 66-67 and 98-99
Notes: A work of exciting craftsmanship, this unpublished cabinet presents engraved ivory and wood inlays of truly exceptional quality. A piece made for admiration, with its complex and sophisticated marquetry panels, it stands out as a masterpiece of German furniture of the early 18th century.
This Prunkkabinett follows a Baroque structure with a stepped plinth with two drawers and supported by giltwood recumbent lions, below the body with two doors opening to reveal a mirrored niche with chequered floor flanked by multiple drawers. The surface is carefully decorated with incredibly minute ivory inlaid designs on a ground of fine figured walnut, with the interior using several woods, such as boxwood, sycamore and mahogany, in conjunction with ivory creating a more colourful effect than the rich exterior which gives prominence only to the ivory. The plinth has the stepped frieze inlaid with amusing insects such as flies and crickets.
The designs take inspiration from engravings by Jean Berain (1640-1711), but assuming a more architectural composition and a different use of the ornamental elements, in line with the dense designs of the German Paul Decker (1677-1713). Nevertheless, the baldachin, dancing figures, feather-headed masks or arabesque friezes are all elements that are originally inspired by the French ornemaniste. Some elements are also drawn from the designs by the French engraver and draughtsman Jacques Callot (c.1592-1635), such as the humorous duelling figures (fig. 1) seen on the sides and the Commedia dell'Arte figures in the interior of doors. The two roundels in the door fronts, inspired by Roman medallions, surely relate this piece to a commission, possibly celebrating a marriage.
Germanisches Nationalmuseum
This cabinet has as its closest companion the famous cabinet in the collections of the Counts von Schönborn at Schloss Weißenstein in Pommersfelden (fig. 2), which has traditionally been attributed to the designer and cabinet-maker Ferdinand Plitzner (1678-1724), (see Kreisel, op. cit., pp. 78-88; 110-11; Sangl, op. cit., p. 233, n. 102). The decoration and structure, although not identical, are very similar and many of same motifs are used such as curved terms holding a platform and the berainesque baldachin. It also uses the same images of duelling figures sourced from Callot, and identical solutions are in the shaped stepped lower section supported by giltwood figural feet.
The present lot has an upper section topped by a diminutive clock case – with the clock now missing – and a mirrored frieze, which might not be original. The Schönborn example terminates in a flatter stepped upper section and both, certainly products of the same workshop, have a conservative design for the period, a characteristic of Franconian furniture of the period which, compared with other German regional counterparts, was somehow more traditional and less permeable to new fashions, possibly due to the fact that artistic commissions were led by ecclesiastical patrons.
The historical attribution of the Pommersfelden prunkkabinett to Plitzner is based on the fact that this artist was in charge of the interior decoration of the palace, then being built, which involved the creation of the exceptional Spiegelkabinett, where relatable but not identical marquetry work was employed.
Furthemore, Sigrid Sangl (op. cit, p. 233) mentions the use of the featherbanded filets between the drawers as a typical feature of this cabinet-maker's work. Also mentioned as a reason for this attribution is a letter by the Elector Lothar Franz sent in 1724 to his nephew Friedrich Karl in Vienna, which is said to be referring to this cabinet. In this letter, the Elector announces Plitzner's death and mentions a beautiful burreau (sic) that he had made: 'da sein famoser Schreiner undt also genandter Ebenist, der den H. Rv:Canzler sonder Zweiffel bekannde Plitzner, welcher mir so viele hubsche Sachen zu Gaibach undt zu Pommersfelden und besonders das Spiegel Cabinet, die Cammin, undt das schone Burreau, so in des H. Rv: Canzlers Appartement in dem Allcoven alldar gestanden, gemacht hat [gestorben ist].'
Plitzner was probably born in Franconia in 1678, and learnt the trade from Johann Matusch, a cabinet-maker based in Ansbach. By 1706 he was already active at Eyrichshof for Baron Hans Georg von Rotenhan, Master of the Stables for Lothar Franz von Schönborn (1655-1729), Archbishop-Elector of Meinz, who would become his most famous patron. In the early 1710s, Plitzner started working for the Schönborn family, first at Gaibach and then at Schloss Weißenstein, Pommersfelden. There he seems to have specialized in Boulle brass marquetry and mirrored furniture and interiors, and to have been at the head of the local workshop. Plitzner died in 1724, leaving some of his work unfinished, and was later officially succeeded at court by Servatius Brickard.
In the years prior to Plitzner's death, there was another cabinet-maker working at Weißenstein, probably under his direction, who had an idiosyncratic style throughout his long career and is a stronger candidate as the maker for both these cabinets: Heinrich Ludwig Rohde.
Born in 1683, little is known about Rohde's early years. His first documented piece was an inlaid table made in 1701 "in the Indian manner" for Johann Hugo von Orsbeck (1634-1711), the Archbishop-Elector of Trier, in Koblenz. After the latter's death, he entered the service of the Duke Charles Joseph of Lorraine (1680-1715), where he remained until 1713. Around these years he must have married and settled in Mainz, where he started a flourishing workshop and where, between 1715-1737, he fathered six daughters and five sons, many of whom married into the trade. In 1724-1725 he is found working at Pommersfelden for Lothar Franz von Schönborn, the Archbishop-Elector of Mainz (Kreisel, op. cit., p. 110, quoting from archival sources). In 1724 Rohde is mentioned by the Elector in a letter where it is stated he does not want him to complete a cabinet that Plitzner was working on, due to his slowness (Freeden, op. cit., p. 896; also quoted in Sangl, op. cit., p. 233). In the 1730s, he is known to have worked for the Elector Philipp Karl von Eltz (1732-1743). Rohde died in 1755.
The large and complex decoration project at Weißenstein under Plitzner's guidance certainly required the help of experienced cabinet-makers and in this context Rohde might have been employed. Scholars have debated the work of both, and attributions to these cabinet-makers have been interchangeable at times. For example, a commode at the Germanisches Nationalmuseum in Nuremberg (fig. 3) attributed by Sangl to Rohde (op. cit, p. 239, n. 109), and presenting marquetry by the same hand as that on a bureau-cabinet signed by Rohde, is tentatively attributed by the museum to Plitzner. See also a slant-front desk at Art Institute of Chicago (inv. no. 2006.102), catalogued as "attributed to Rohde or Plitzner".
There are clear connections between the berainesque ornamental solutions employed in the cabinet here on offer and the decorations at Weißenstein, and it is almost certain that Ludwig Heinrich Rohde worked under Plitzner's direction. Nonetheless, the appearance on the market of the present lot reinforces the idea of an idiosyncratic group of works united by the use of outstanding ivory inlays and distinctive ornamental designs, which are far away from the core group of pieces attributed to Plitzner, either more sculptural in tone or in Boulle brass marquetry.
Crucial for the understanding of this ensemble is a signed piece by Rohde, a bureau-cabinet dated from 1725, now in the Liechtenstein Collections, Vaduz-Vienna (figs. 4 and 5), with strikingly similar ivory marquetry to our cabinet and to a number of other pieces attributed to this cabinet-maker, helping us to unify this group under an attribution to the Mainz master. One other signed piece by Rohde, a socle dated 1728 (Landesmuseum Mainz, inv. no. KH 1991/23), presents comparable inlaid designs to the present lot, namely the three tone wood strapwork frieze with ivory foliage (fig. 6). Interestingly, the middle section with two panels of ivory strapwork is framed by featherbanded filets.
Pieces within this group also include a bureau-cabinet, formerly in the collection of Princess Dorothea of Hohenlohe-Schillingsfürst published by Windisch-Graetz ("Neues zum Werk von Ludwig Heinrich Rohde", Alte und Modern Kunst, nr. 177, 1981, p.20-23), sold Koller, Zurich, 16 September 2010 (CHF92,937); a cabinet with drawers (LandesMuseum, Bonn, inv. no. 1964.246, fig. 7), and a bureau made for Prince-Bishop Philipp Karl von Eltz, 1731 (Landesmuseum Mainz, inv. no. KH 1971/48, fig. 8), the latter another example of Rohde's remarkable use of marquetry, but breaking away from the late Baroque design and embracing the Louis XV manner.
Several other minor pieces in the same vain are ascribed to Rohde, with his long life and career seeing the style of the pieces adapting itself to the changing fashions, from the late-Baroque to the French-inspired Rococo (see an impressive Rococo cabinet attributed to Rohde at the Victoria and Albert Museum, London – inv. no. 4908:1to5-1858), although the use of precise marquetry of exceptional quality, fine figured wood veneers and signature motifs – like the insects, the dancing figure under a baldachin, the trellice ground cartouches, the shell – are common denominators to his work, which presents a consistent manner through the years.
This recently discovered cabinet is a great addition to Rohde's work, standing out as one of the finest pieces in his long career. Furthermore, it reinforces his position as one of the leading German cabinet-makers of its age with unparalleled quality in the marquetry technique.
Sotheby's. Of Royal and Noble Descent, London, 19 Jan 2017, 10:00 AM