Tsherin Sherpa (b. 1968), OMG (Oh My Godness), 2016. Digital giclée print withgold leaf on Somerset paper. Edition of 25. H. 81 x W. 67 cm. Courtesy Rossi & Rossi
HONG KONG.- INK ASIA, the first-ever art fair devoted to contemporary ink, returns to the Hong Kong Convention and Exhibition Centre for its second edition from 16-18 December 2016. As the hub of art business in Asia, Hong Kong is the best place to establish an art fair specialising in modern and contemporary ink art, heralding a new era of ink. Ink Asia 2016 will present exquisite ink works in a variety of media, as well as a series of academic lectures by renowned experts and artists.
Strong line-up of 50 participating galleries
Ink Asia 2016 will host 50 leading international galleries and academic institutions from Hong Kong, Mainland China, Taiwan, Japan and Korea, presenting works in a variety of media related to ink art, from traditional through to contemporary. This year, the fair has attracted new international galleries: from Hong Kong - Pearl Lam Galleries, Kwai Fung Hin Art Gallery and Galerie Ora-Ora; from Beijing - Ink Studio and Amy Li Gallery; also, Whitestone Gallery from Tokyo, Space Namu from Seoul, and Rossi & Rossi from London and Hong Kong. Three renowned Taiwanese galleries in the Taiwan Pavilion: Xizhitang Gallery, My Humble House Art Gallery and Jia Art Gallery. And the returning Taiwanese galleries include Loftyart Gallery, Capital Art Center and Da Xiang Art Space. Returning Hong Kong galleries include 3812 Gallery, Hanart TZ Gallery, Alisan Fine Arts, Grotto Fine Art, Rong Bao Zai (Hong Kong) Ltd. and Rasti Chinese Art.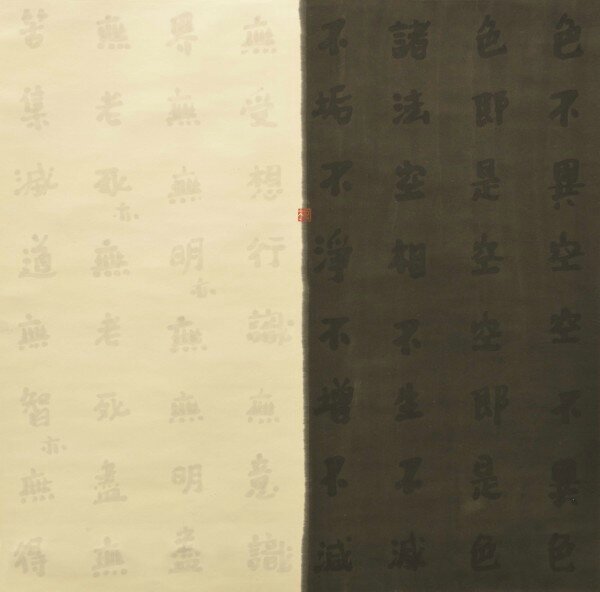 Fung Ming Chip (b. 1951), Day/Night Script Heart Sutra, 2001. Ink on paper. H. 60 x W. 60 cm. Courtesy of The Ink Society
100 Ink Artists from Mainland China, Taiwan and Hong Kong
INK ASIA features almost 100 outstanding artists from Mainland China, Taiwan and Hong Kong. From Mainland China, there are works by Wang Huangsheng, the Director of Beijing Central Academy of Fine Arts; Wang Tiande, Pan Gongkai, Zhang Yu Lan Zhenghui, among others. Leading Taiwanese artists include Li Yihong, Liu Kuo-sung who is known as "the father of ink art" and his students Chiang Li-hsiang, Wu Pui-wah and Hsu Hsiu-lan. Hong Kong artists, Leung Kui Ting, Chu Hing Wah, Wong Hau Kwei, Raymond Fung Wing Kee, Chan Kan Tin and Water Poon will also attend the fair. INK ASIA has become the best platform for the ink artists from over the world.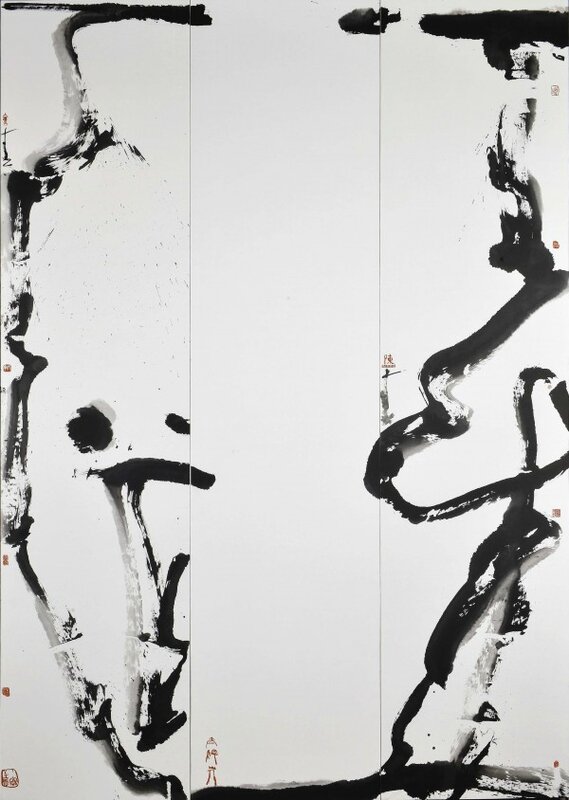 Chen Qiuzhi (b. 1965), Natural Law, 2016. Ink on rice paper. H. 300 x W. 210 cm. Courtesy of Sunrise Art Center
China Pavilion: Contemporary Chinese Calligraphy
INK ASIA has invited renowned curator, Dr Xia kejun, to curate the China Pavilion: Contemporary Chinese Calligraphy. The exhibition will explore the transformation from traditional brush strokes to contemporary calligraphy, and from being a calligrapher to being an artist. Five artists have been selected: Gu Weida, Wang Dongling, Chen Guangwu, Jin Feng, and Zhang Hao.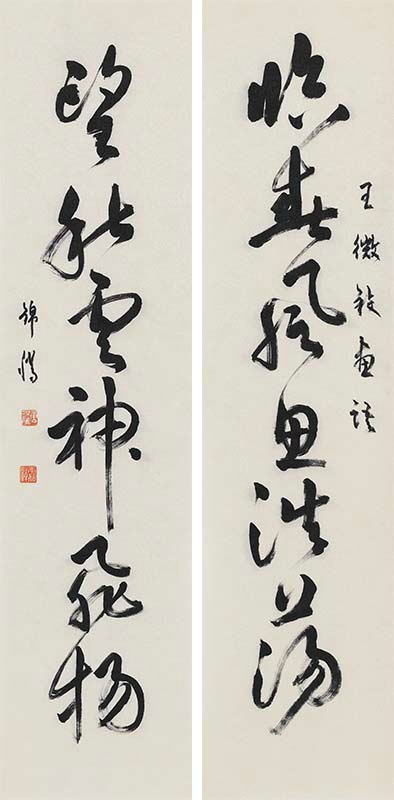 Tong Kam Tang (b.1960)n Couplet in Cursive Script, 2011. Ink on silk. H. 135 x W. 34 cm x 2. Courtesy of The Chinese University of Hong Kong - Department of Fine Arts
Taiwan Pavilion: Exceptional Ink Art – Transitional Innovation in the Future Past
In the 1960s, ink art in Taiwan was modernised and abstract ink began to develop. There was another group of artists, positioned in between the masters and new ink artists, who created ink art based on their personal life experience and exploration of non-traditional ink. The academic host of the Taiwan Pavilion, Kao Chien Hui, says, "Those participated artists inherited and respected the literati painting of the masters; yet enlightened future generations with their innovative work."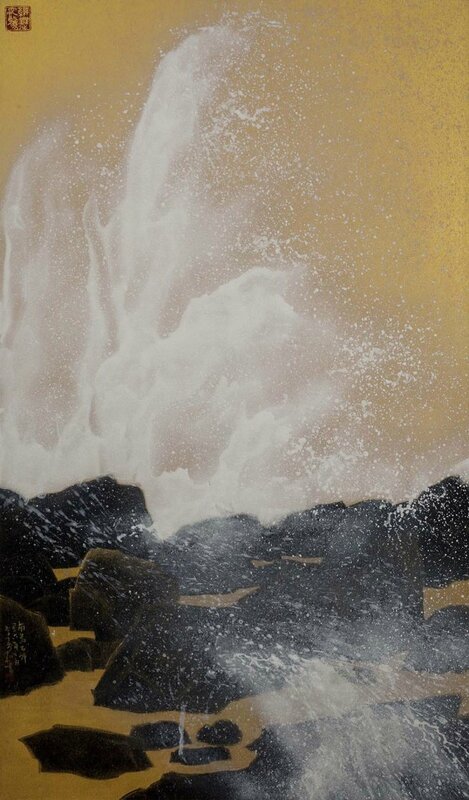 Lee Yih-Hong (b. 1941), White Waves, 2016. Gold paper from Morita. H.103 x W.60 cm. Courtesy of Xizhitang Gallery
The Director of INK ASIA 2016, Mr. Calvin Hui said, "INK ASIA is a professional and open platform for art exchange and art trade. A host of artists, museums, art institutions, galleries, collectors and foundations will join us at the fair, to exchange views, discover our cultural heritage, and explore the spirit of ink art. Furthermore, they will have the opportunity to discuss current and future trends of ink art, and understand the global view, including similarities and differences of cultural values between East and West, opening up new possibilities for the art market."

Shen Qin (b. 1958), Imitation of Song Dynasty Landscape Painting, 2014. Ink on paper. H. 138 x W. 42 cm. Courtesy of No. 55 Art Space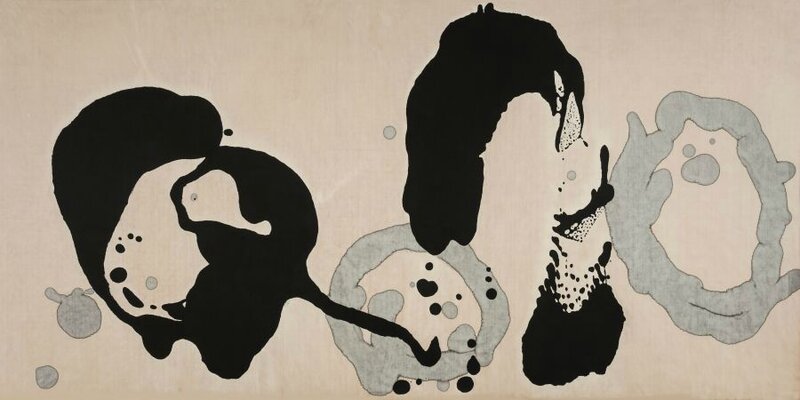 Shanhu Hou (b. 1962), Dynamic & Phenomenon SeriesTB06, 2014. Ink on paper. H.120 x W.250 cm. Courtesy of Taihe Art Gallery
Hong, Purume (b. 1967), Ours Himalayas, 2016. Ink on paper. H.74 x W.142 cm. Courtesy of Space NAMU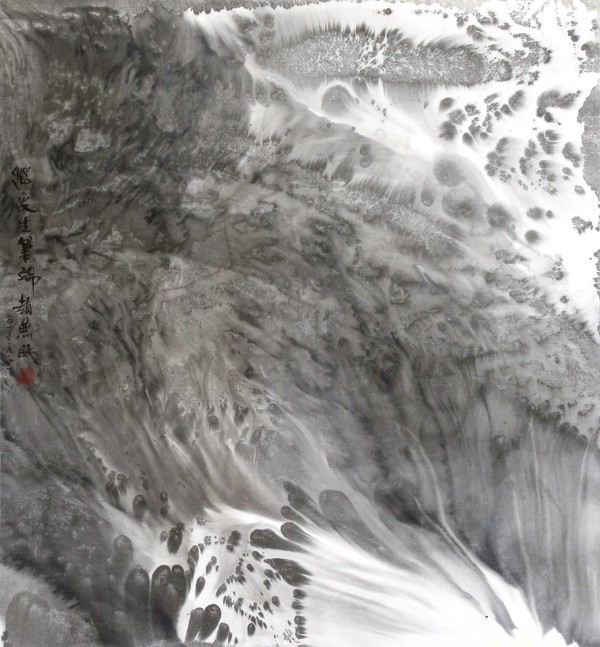 Zhao Wumian (b. 1977), 眾流浩天際系列 (River Series), 2015. Ink on paper; H. 96 x W. 89 cm. Courtesy of Shanying Art Gallery.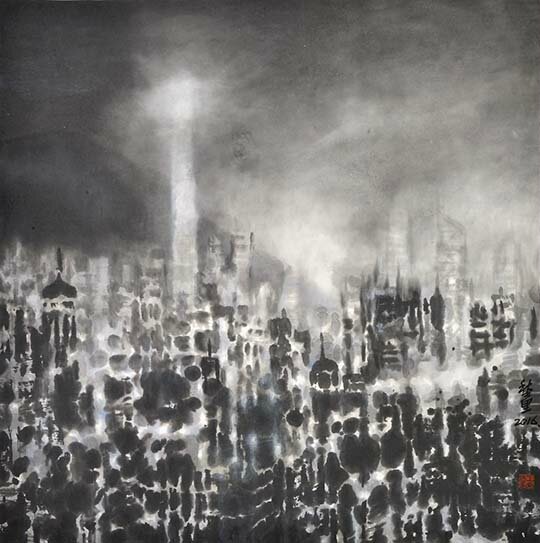 Wong Chau Tung (b.1944), Ink colour of Hong Kong (1), 2016. Ink on paper. Signed with a seal of the artist, 68 x 68 cm. Courtesy of Rong Bao Zhai (HK) Co., Ltd.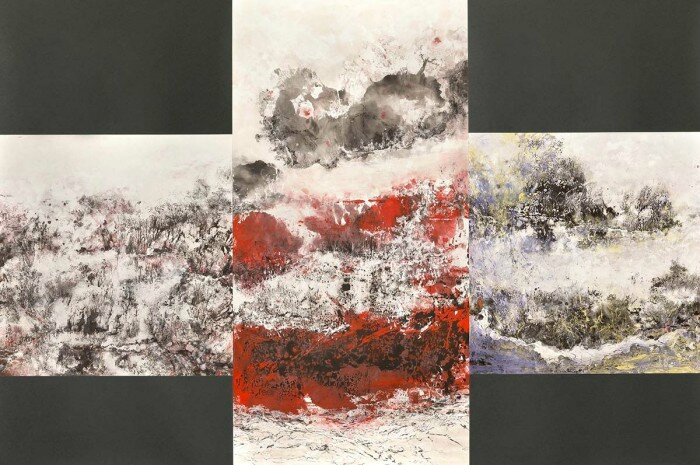 Nina Pryde (b. 1945), Cross Road, 2016. Ink, mixed media on paper; H. 134 x W. 203 cm. Courtesy of Studio Pryde.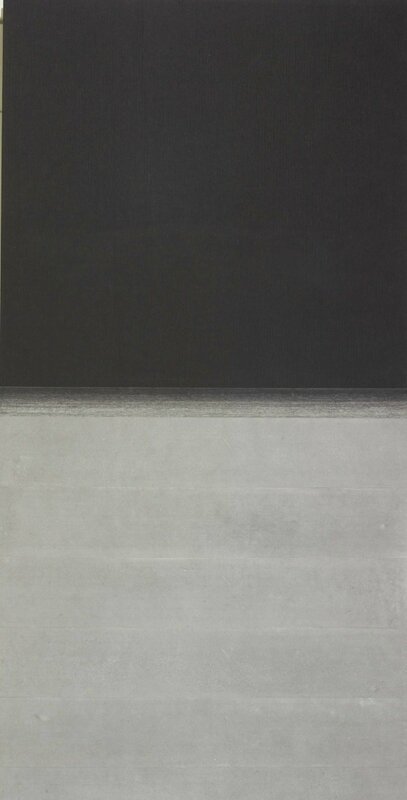 Wang Lixing (b. 1957), Ink in Colour No. 3, 2016. Ink on paper. H. 162 × W. 82 cm. Courtesy of Peng Bao Xuan.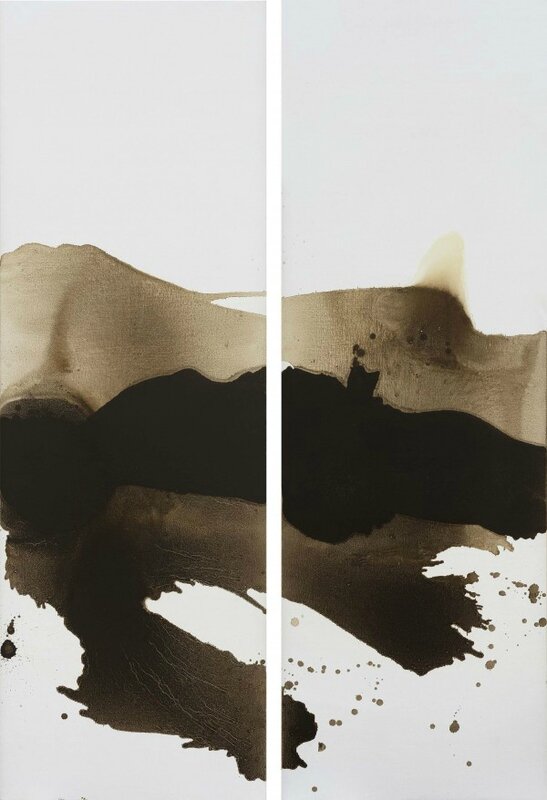 Mao Lizi (b. 1950), Reconstructed Landscape Series No. 7 and No. 8, 2015. Oil on canvas. H. 65 x W. 195 cm each. Courtesy of Pékin Fine Arts.
Shen Qin (b. 1958), Ink Village 11.15, 2015. Ink on paper. H. 139 x W. 267 cm. Courtesy of Amy Li Gallery.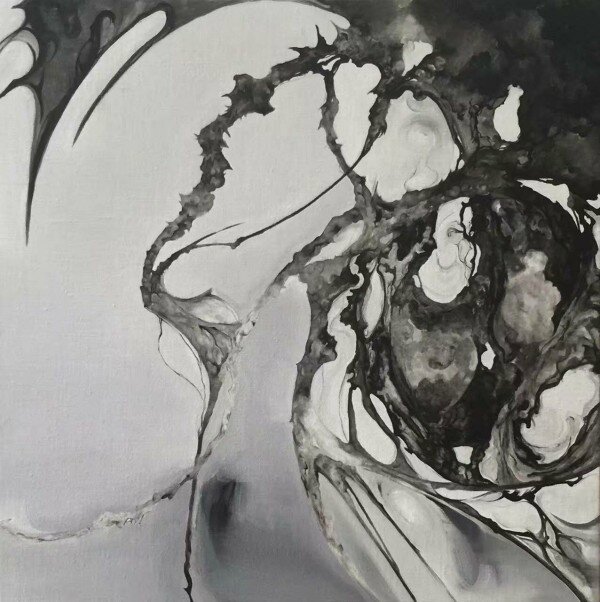 Liao Pei (b. 1977), Illusions, 2016. Acrylic on canvas. H. 50 x W. 50 cm. Courtesy of Galerie Koo.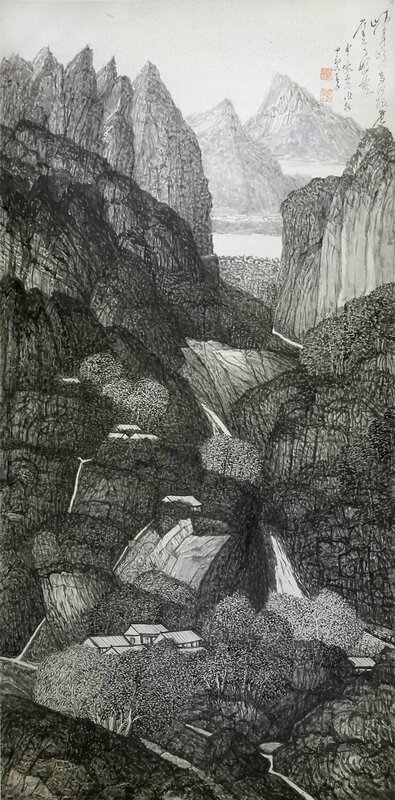 Yu Cheng-Yao (1898-1993), Landscape (Hanging scroll). High period (1967~1972). Ink on paper. H.119 x W.59 cm. Courtesy of Jia Art Gallery.
Huang Zhiyang (b. 1965), Zoon-Beijing Bio Spring No.1, 2013. Ink on silk. 475 x 120 cm x 5 panels. Courtesy of Ink Studio.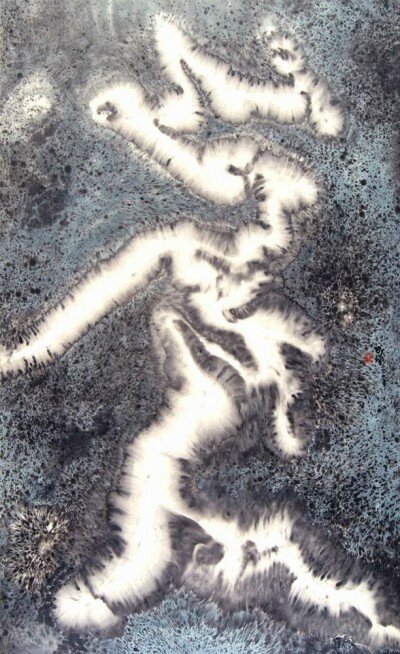 Chan Shing Kau (b. 1952), Tracing series (011), 2016. Ink and colour on paper. H. 96 x W. 58 cm. Courtesy of Hong Kong Modern Ink Painting Society.

Shum Kwan Yi (b. 1995 ), Reciprocation, 2016 . Ink on paper; H. 55 x W. 262 cm. Courtesy of Hong Kong Baptist University - Academy of Visual Arts.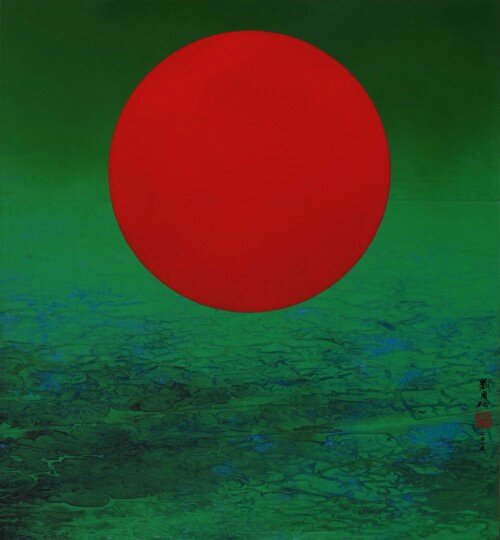 Liu Kuo-sung (b. 1932), The Sun No. 81, 2015. Ink and colour on paper. H. 84 x W. 78 cm. Courtesy of Hanart TZ Gallery.
Hung Fai (b.1988) & Wai Pong-yu (b. 1982), Same Line Twice 3; 2016. Pigmented ink on paper. H. 97 x W. 97 cm. Courtesy of Grotto Fine Art.
Fan Lee, Morning Glimpse, 2012. Ink on paper. H. 70 x W. 70 cm. Courtesy of Fan Art.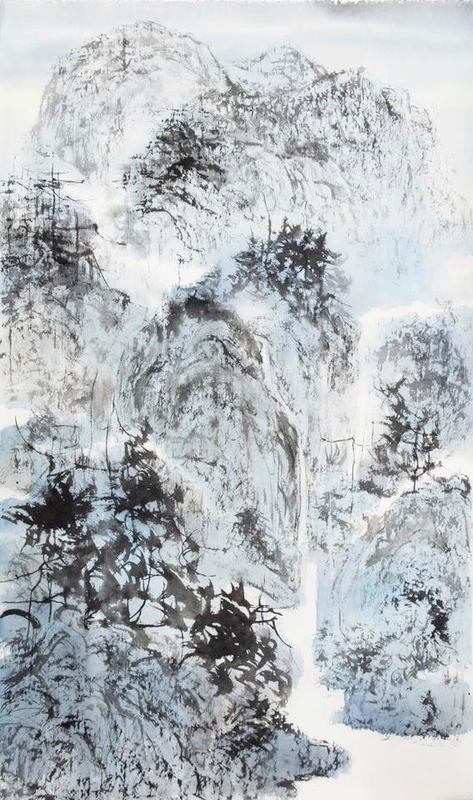 Lee Chi Ching (b.1963), Yi Ink #2, 2016. Ink and colour on paper. H. 160 x W. 92 cm. Courtesy of Cawah Arts Gallery.
Tu Yu Shou (b. 1987), Lost, 2011. Pigment, ink on silk scroll. H. 180 x W. 100 cm. Courtesy of Art Experience Gallery.
Qian Zhongping (b. 1966), Portrait, 2015. Ink on paper. H. 37 x W. 24 cm. Courtesy of Karin Weber Gallery.