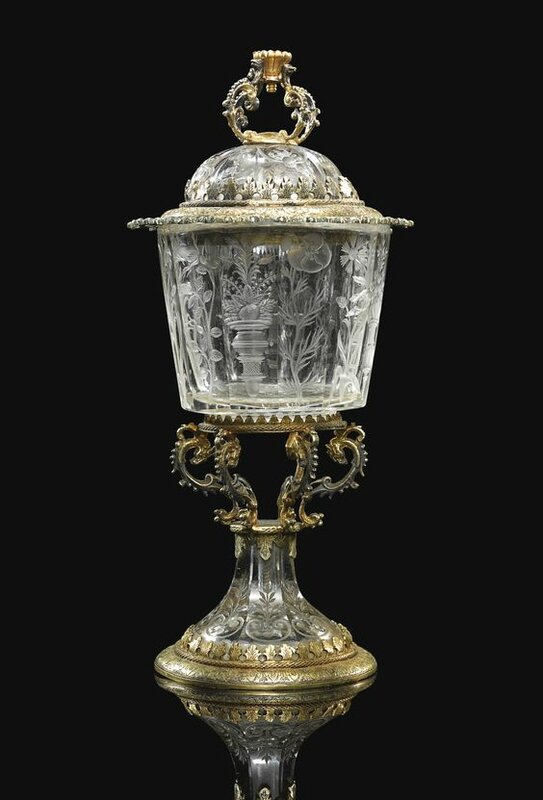 Lot 283. Cup And Cover, Southern German, mid-17th century. Estimate 12,000 — 18,000 GBP. Photo: Sotheby's.
the enamelled silver gilt finial later, the cover marked for Hans Schauer and stamped with the Nuremberg mark; the rock crystal probably Freiburg, Breisgau, Southern Germany, rock crystal, with silver gilt mounts, 18.5cm., 7¼in. overall
Property of the Princes Von Hatzfeld, Dukes of Trachenberg
Provenance: Formerly at Schloss Trachenberg, Silesia
Notes: The beautifully engraved rock crystal elements of this elegant cup appear to be contemporary with the silver gilt mounts made by the Nuremberg silversmith Hans Schauer circa 1640. The finely delineated floral motifs are reminiscent of designs from the middle decades of the 17th century: see, for example, the enamelling on the mounts of an Augsburg cup attributed to Johann Daniel Mayer, circa 1660-1670, in the Louvre (inv. no. OA 6). The form of the cup, with a faceted body, recalls designs for rock crystal vessels made in Southern Germany from the 16th through to the early 17th centuries, particularly in the area of Breisgau in the Black Forest. See, for example, the Deckelpokal made by the Monogrammist B in Breisgau circa 1600 in the Landesmuseum Joanneum, Graz (inv. no. 25.843). The attempt to cover the entire surface of the vessel with vegetal designs and arabesques recalls the work of the Miseroni family of hardstone carvers, active in Prague and Milan through the course of the 17th century. The form of the cup, together with the fact that the foot is drilled to support the mounts, would indicate that the stone was incised by lapidaries in Freiburg, Breisgau, the celebrated centre of rock crystal carving in Germany.
In the early 19th century, the Hatzfeld-Werther-Schönstein branch inherited the fief of Trachenberg, thus assuming the title of Princes von Hatzfeld zu Trachenberg and, finally, Dukes of Trachenberg. In the tradition of the great princely and royal German houses, the Hatzfelds also widely collected important Kunstkammer objects such as mounted porcelain, glass, and rock crystal. A significant part of this collection was at Schloss Trachenberg, Lower Silesia, in today's Poland, which became the main seat of the family from the second half of the 18th century. Like many other German residences that fell under Soviet occupation, the castle was destroyed during the Second World War, and the estate expropriated. Today, only the shell of what was once one of Silesia's greatest residences survives.
Sotheby's. Of Royal and Noble Descent, London, 19 Jan 2017, 10:00 AM