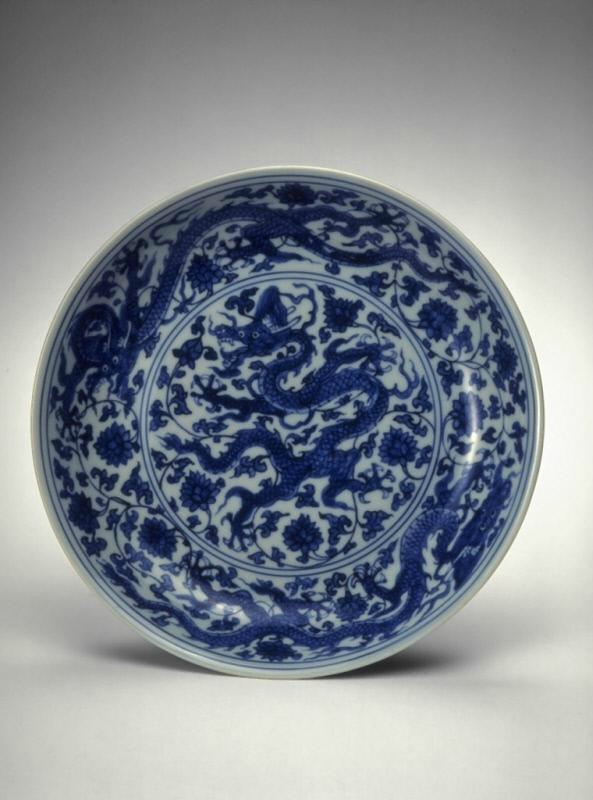 Plate with dragons, Ming dynasty (1368-1644), Reign of the Zhengde emperor (1506-1521), China, Jingdezhen, Jiangxi province. Porcelain with underglaze decoration. H. 1 3/4 in x Diam. 9 in, H. 4.5 cm x Diam. 22.9 cm. The Avery Brundage Collection, B60P1719 © 2016 Asian Art Museum Chong-Moon Lee Center for Asian Art and Culture.
Chinese and Japanese Ceramics for European Markets
Chinese ceramics were first brought to Europe by land traders traveling the Silk Road. By the Renaissance, European painters had begun to include depictions of Chinese ceramic wares in some of their portraits as a way of conveying the wealth and refined taste of their subjects. This practice was a testament to the long and lively exchange between China and the West. By the early seventeenth century, stoneware teapots from Yixing were brought back to Europe by Dutch sea traders along with shipments of tea. The interesting shapes and relief decorations of these pots had a strong influence on the English manufacturer Wedgwood along with other European stoneware makers.
European traders commissioned vessels in traditional Western shapes, but they also noted and were influenced by characteristic China wares. European stonewares and porcelains from Delft in the Netherlands and Meissen in Germany as well as from some English factories were sometimes modeled on Chinese originals.
With the shift of trade from land to sea, Japanese models joined the earlier Chinese ones as influences on European manufacturers. In 1639 the Dutch East India Company, a trading company active in Asia since 1602, acquired exclusive trade rights from the Japanese government. Thus began the company's profitable business carrying exotic goods to Japan and shipping Japanese porcelains, lacquer wares, and other goods back to Europe. The Dutch East India Company's monogram, VOC (Verenigde Oostindische Compagnie), sometimes appears on these objects.