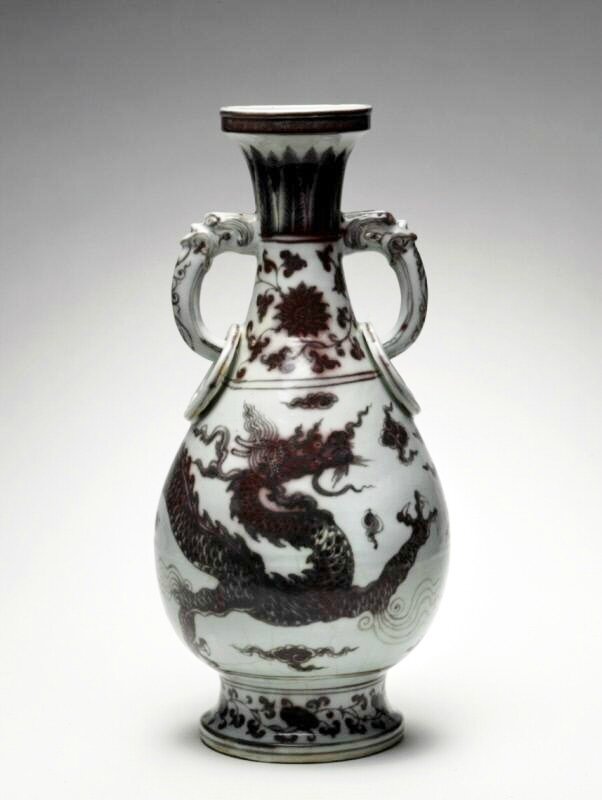 Vase with a dragon, Ming dynasty (1368-1644), Reign of the Hongwu emperor (1368-1398), China, Jingdezhen, Jiangxi province. Porcelain with underglaze copper decoration. H. 18 1/2 in x Diam. 8 3/4 in, H. 47 cm x Diam. 22.2 cm. The Avery Brundage Collection, B60P1235. © 2016 Asian Art Museum Chong-Moon Lee Center for Asian Art and Culture
Impressive for its large scale, fine white paste, and vibrant three-clawed dragon in crimson red, this vase is one of only two known examples of this type, along with a similar piece in the Shanghai Museum (Ma Chengyuan et al. 1991, p. 38). On the opposite sides of the two pieces is a corresponding pair of dragons seemingly in dialogue with each other. The pair of vases served as a rare type of ceremonial vessel produced by the Hongwu emperor's official kiln in Jingdezhen. This style of dragon—with short, straight horns, wavy hair, and strong legs with fungus-headed, long-tailed feelers—remained a primary porcelain motif from the thirteenth through fourteenth centuries.
The form of the vase, with a pear-shaped body and two elephant-head handles ending in a loose ring, recalls an ancient form of ritual bronzes. Two white-glazed porcelain vases of similar design have come to light, one from the tomb of General Song Sheng (died 1407) in Nanjing (Nagoya Municipal Government 1989, p. 41, pl. 43), and the other from the Yongle kiln strata in Jingdezhen (Urban Council et al. 1989, p. 125, pl. 21). This particular shape attained new heights in early Ming porcelain. Painted designs, undertaken first on a potted body, were covered with clear glaze for firing. The copper-containing pigment often appears dull, grayish, or diffused. Most surviving early Ming wares with underglaze copper red are dishes and bowls. The uniqueness of the type and the technical achievement in color establish this vase as one of the most important official productions of the time.
Following an essential prescribed step for all new rulers, Zhu Yuanzhang asked fengshui masters for guidance in choosing a symbol for his new reign. Since Zhu originated from the south, his astrological fortune was predicted as falling into a movement along the southern cosmic order, controlled by hot, bright power. This prediction in turn related to fire among the five elements (earth, water, fire, metal, and wood). Based on his fate and communal relationship with the cosmic elements, Zhu chose Hong, meaning "grand" or "vast," for part of his reign name. Hong can also mean "red," a symbol of fire that was associated with passionate will and utter independence. More important, red implies his surname:zhu is the Chinese term for cinnabar. The color red therefore came to appear widely in Ming art.