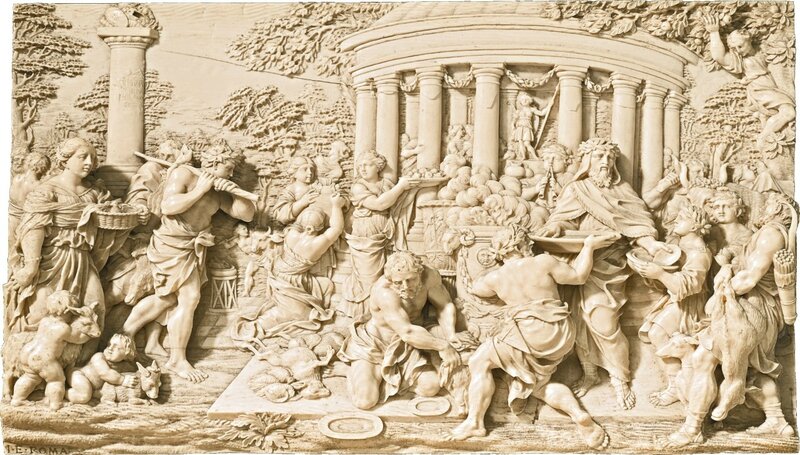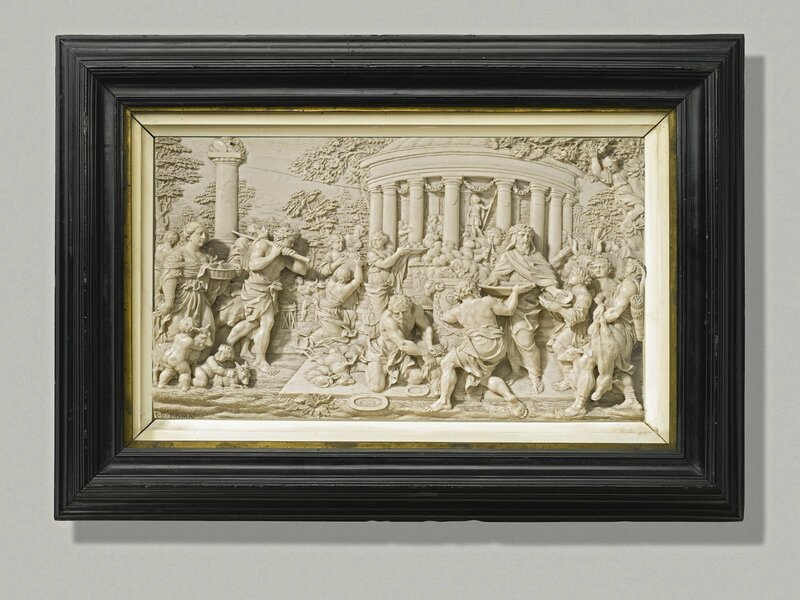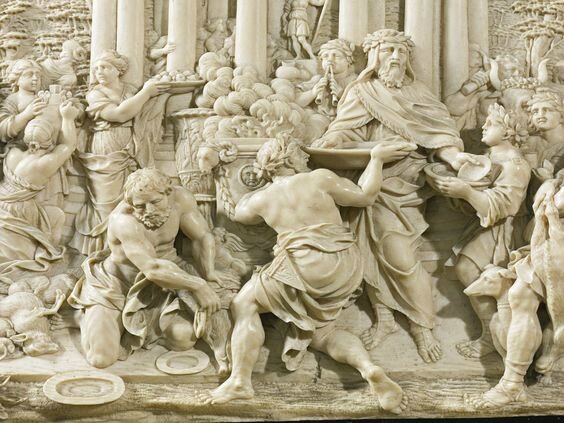 Lot 89. Ignaz Elhafen (1658-1715), After Pietro da Cortona (1596/7-1669), Austrian, circa 1680-1685, Relief with Xenophon's Sacrifice to Diana. Estimate 80,000 — 120,000 GBP. Lot sold 168,750 GBP. Photo: Sotheby's
initialled and located: I. E. ROMA - ivory, within an 18th/19th-century glazed ebonised wood, gilt metal and ivory frame with metal mounts - relief: 14.8 by 25.6cm., 5¾ by 10 1/8 in. - frame: 26 by 36.6cm., 10¼ by 14 3/8 in..
Provenance: Anselm Salomon Freiherr von Rothschild (1803-1874), Vienna;
private collection, Dusseldorf, circa 1900
Miterature: F. Schestag, Katalog der Kunstsammlung des Freiherrn Anselm von Rothschild in Wien, vol. I, Vienna, 1866, p. 22, no. 156;
C. Theuerkauff, 'Der "Helffenbeinarbeiter" Ignaz Elhafen', Wiener Jahrbuch für Kunstgeschichte, XXI, 1968, p. 124, fig. 97;
C. Theuerkauff, Studien für Elfenbeinplastik des Barock: Matthias Rauchmiller und Ignaz Elhafen, diss. University of Freiburg, Breisgau,1962, pp. 100-101, 124, no. 28, fig. 97;
C. Theuerkauff, 'Baroque ivories from the collection of Anselm Salomon von Rothschild in Vienna', Apollo, February, 2003, pp. 19, 25, no. 32, fig. 28;
Marburg Photo Index, no. 1.008235, as the Marriage at Cana
Note: Christian Theuerkauff has described the present relief as one of Elhafen's earliest works 'datable around 1680-1685 and in consequence of particular significance for ...[his] stylistic development' (Theurkauff, 2003, op. cit., p. 19). The ivory is exceptionally well carved and is undoubtedly one of the most important Elhafen reliefs to have been offered on the international art market. It is representative of the sculptor's oeuvre, in following a celebrated Roman model, in this case Pietro da Cortona's lost Xenophon's Sacrifice to Diana, formerly in the Palazzo Barberini, and exhibits the extraordinary technical abilities which mark Elhafen out as one of the great baroque Austrian ivory carvers.
Pietro da Cortona was commissioned to paint his Xenophon's Sacrifice to Diana by Cardinal Francesco Barberini (1597-1679), the eldest nephew of Pope Urban VIII Barberini. It was engraved by Pietro Aquila in 1653 and published with the description: Xenophon's Sacrifice to Diana after the Hunt. The painting has, however, often been described generically as A Sacrifice to Diana, including in inventories of the Barberini collection. Elhafen's relief is almost certainly taken from Aquila's print, since it similarly shows the composition in reverse to the original. The scene shows a heavily draped priest (ostensibly Xenophon) crowned in laurels and encircled by attendants, making a sacrifice to the goddess Diana, an effigy of whom stands within a circular shallow-domed temple in the background. To the left there is a column surmounted with spolia, partly obscured by devotees of the goddess who bring offerings to the priest. In the distance, flames rising from a brazier, to which a sacrificial bull is led.

Pietro da Cortona probably executed the painting circa 1631, as research in 1970 uncovered a payment in that year for a frame for the masterpiece. Prior to the discovery of the payment for the frame in 1631, it had been suggested that the work was commissioned specifically to commemorate the 1653 marriage of Maffeo Barberini (Cardinal Francesco Barberini's nephew) to Olympia Pamphilj Giustiniani. Just as Xenophon had returned to a Greece from exile in Asia, the new marriage alliance ended the feud between the Pamphilj and the Barberini, the latter having been driven into exile in France by Pope Innocent X Pamphilj in the 1640's. This theory was discounted following the frame discovery, though it may explain the timing of the publication of Aquila's print. Sadly, the painting was acquired from the Barberini by Hans Posse in 1941 for Adolf Hitler's Führermuseum in Linz and never seen again, presumably destroyed during the Second World War. A preparatory drawing survives in the Victoria and Albert Museum, London (inv. no. DYCE.200).
Da Cortona, Pietro; Roman sacrifice (to Diana?); A priest slaying a bull; and a second sacrifice of a goat, before the Temple of Mars; Pen and bistre, washed and heightened with white; Signed; Italian; 1615-1669. Victoria and Albert Museum, London (inv. no. DYCE.200) © Victoria and Albert Museum, London 2016.
In the present ivory Elhafen has brilliantly and faithfully translated Pietro da Cortona's composition into sculptural form, through a masterful technical execution of high and low relief, with the figures in the foreground almost carved fully in the round, those in the mid-ground in high relief, and those behind retreating into virtuoso miniaturistic low relief carving. The figures are typical of the sculptor's oeuvre, exhibiting many of his characteristic stylistic traits identified by Theuerkauff. Note the same heavy limbs, almond shaped eyes, pointed noses and drapery which appears 'as if modelled in clay and clinging to the body' (Theuerkauff, 1962, op. cit., p. 289). In the foreground, observe the woman on the far left with her hair tied behind the head with pearls running through it. Each of these characteristics are equally evident in another early work by Elhafen, his tankard with the Rape of the Sabines in the Victoria and Albert Museum (inv. no. A.3-1959). Elhafen's ingenuity and ability as an ivory carver is most apparent in the way that he has cleverly concealed a natural small split in the ivory by incorporating it into the cracks running through the columns of the temple of Diana in Aquila's engraving.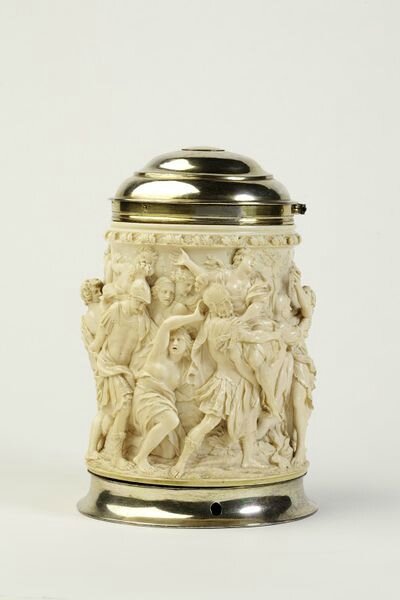 Tankard, ivory, the Rape of the Sabine Women, by Ignaz Elhafen (1658- ca. 1715), German, probably carved in Vienna, ca. 1697-1704 (mounts dated 1792). Victoria and Albert Museum (inv. no. A.3-1959) © Victoria and Albert Museum, London 2016.
Elhafen is famed for his reliefs carved after great paintings documenting Roman history or mythology. He appears to have enjoyed using Pietro Aquila's print sources, particularly those after Pietro da Cortona. He produced ivories taken from and inspired by the painter's works, including his Rape of the Sabines (see Schmidt, et al, op. cit., pp. 286-287, no. 101). Note also Elhafen's Relief of Alexander the Great Defeating Darius at the Battle of Arbela in the Liechtenstein collections (inv. no. 533), taken from the panoramic canvas with the same subject in the Palazzo dei Conservatori, Rome (Liechtenstein, op. cit., no. 71, pp. 108-112). The sculptor's fascination with Roman subject matter reflects his early training in Italy, which evidently commanded a strong influence throughout his career. The inscription ROMA on the present ivory underscores not merely the fact that it was almost certainly carved in Rome, but also that Elhafen wished his reputation to be associated with the Eternal City.
Ignaz Elhafen, The Battle of Alexander and Darius, 1680/1690. Ivory, height 14,5 cm, width 25,5 cm, signed on bottom left: I.E.; Inv.-No. SK533. Liechtenstein, The Princely Collections.
The present ivory comes from one of the most important ivory collections amassed in the 19th century: that of Anselm Salomon Freiherr von Rothschild (1803-1874). The grandson of Mayer Amschel (1744-1812), Anselm Salomon was the son of Salomon Mayer Rothschild (1774-1855), who was one of the 'four arrows' and a close supporter of Metternich. Theuerkauff describes him as being 'addicted to collecting' and observes that it was 'his delight in things, in valuable objects, and the rarity and virtuosity inherent in great works of art, together with his consciousness of social advancement they could foster, that inspired him in a passion for pieces composed of inherently precious materials, plainly in conscious competition with the Imperial Habsburg Kunstkammer' (2003, op. cit., p. 15). The core of the groupn was acquired in Vienna between 1849 and 1866, with many of the pieces having come from the collections of Prince Karl Eusebius von Liechtenstein (1611-1684). As well as reliefs by Elhafen, the collection included a magnificent Ceremonial Horn attributed to Johann Georg Kern in the Württembergisches Landesmuseum, Stuttgart; two Hercules groups attributed to the exceptionally rare Master of the Martyrdom of St Sebastian; several masterpieces by Adam Lenckhart; Leonhard Kern's Expulsion from Paradise now in the Museum für Kunst und Gewerbe, Hamburg; and important works by sculptors including Balthasar Griessmann and Antonio Leoni, Elhafen's peer at the court of the Elector Palatine in Düsseldorf. Theuerkauff lists a total of seven works by Elhafen in the collection, including the present relief and the Victoria and Albert Museum's Covered tankard with the rape of the Sabines (discussed above; inv. no. A.3-1959). This is out of a portion of 35 ivories catalogued by Theuerkauff from a total 98 baroque ivories and rhinoceros horn objects recorded in the collection. Theurkauff concludes that Anselm Soloman's obsession led to the creation of what was 'in truth a princely collection' (op. cit., p 22). On his death in 1874, the ivories, together with other works, passed to his sons Albert Salomon Anselm (1844-1911) and Nathaniel Mayer Anselm (1836-1905). Many of these were inherited by the latter's niece, Clarisse Sebag-Montefiore, and, together with the collections of other family members, were confiscated by the Nazis on 13 March 1938. These were subsequently returned to the family, with many then being taken to the United States.
Ignaz Elhafen initially trained in Innsbruck and is believed to have been working in Italy between circa 1675 and 1678. He is known to have worked in Vienna, where he was responsible for a series of reliefs for the Prince of Liechtenstein. Elhafen subsequently settled in Düsseldorf, where he entered the service of Johann II Wilhelm, Elector Palatine (1658-1716), producing small sculpture in ivory and wood. His works can be found in the greatest European public art collections, including the Bayerisches Nationalmuseum, the Kunsthistorisches Museum, the musée du Louvre, and the Victoria and Albert Museum.
RELATED LITERATURE: M. Trusted, Baroque and Later Ivories, cat. Victoria and Albert Museum, London, 2013, pp. 11-13; E. D. Schmidt and M. Sframeli, Diafane passioni Avori barocchi dalle corti europee, exh. cat. Palazzo Pitti, Museo degli Argenti, Florence, 2013, pp. 284-297, nos. 99-107; T. Rood, 'Xenophon and the Barberini: Pietro da Cortona's Sacrifice to Diana', Journal of the Warburg and Courtauld Institutes, LXXVI, 2003
Sotheby's. Old Master Sculpture and Works of Art Including Highlights from the Reinhold Hofstätter Collection, London, 06 Dec 2016