Roger Vivier for Christian Dior, Beaded evening shoes, 1958-1960 © Victoria and Albert Museum, London.
SALEM, MASS.- The Peabody Essex Museum is presenting Shoes: Pleasure and Pain, an exhibition organized by the Victoria and Albert Museum, London that explores the creative potential, cultural significance and transformative power of footwear through more than 300 pairs, ranging from elaborate vintage designs to cutting-edge contemporary works by Manolo Blahnik, Christian Louboutin, Jimmy Choo and Prada. Examples from famed shoe collectors are shown alongside a dazzling range of works from PEM's shoe collection, the largest of its kind in the country, many of which have never been displayed before. Shoes: Pleasure and Pain offers a global perspective on footwear fashion and tracks the latest developments in technology that open the possibility of ever higher heels and more dramatic shapes. The exhibition runs through March 12, 2017.
"Our feet are what ground us and help us move through the world," says Lynda Roscoe Hartigan, PEM's James B. and Mary Lou Hawkes Deputy Director and coordinating curator for the exhibition. "The shoes that we choose for walking are not just about protecting our feet. They project our mood, our identity and our place in the world. By altering stature, posture and gait, shoes signal to the world how you feel about yourself and want to be perceived by others."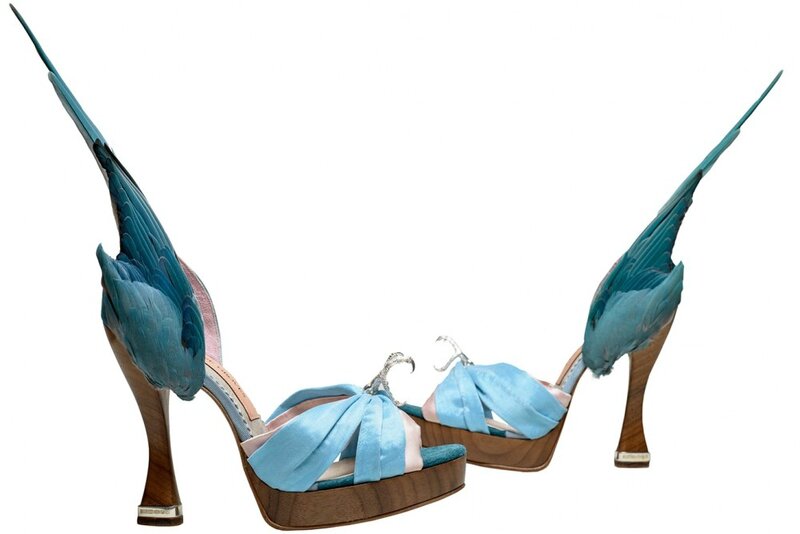 Caroline Groves, "Parakeet," 2014. Silk, parakeet wings, silver, and wood. Private collection. Photography by Dan Lowe.
The exhibition is organized by the themes – Transformation, Status, Seduction, Creation and Obsession – and features shoes worn by high profile figures such as David Beckham, Elton John, Queen Elizabeth, Queen Victoria, Kylie Minogue and Daphne Guinness, as well as the now infamous blue platforms worn by Naomi Campbell during her runway fall in 1993. Works from the V&A's superlative shoe collection are complemented by 110 pairs from PEM's collection, including historic shoes that pay tribute to New England as a meaningful center for shoe manufacture and design.

"Shoes are about the personal creativity of the designer and the person who wears that shoe," says Hartigan. "It's a partnership between two people who likely never meet. You can make something wonderful, but if someone doesn't respond to it, there is something incomplete about the act. Creation is about communication."

Fashion often conjures thoughts of creativity in our own life and can serve as a conversation-starter about personal style. In the Status section of the exhibition, for instance, visitors may ask themselves about the role of power and shoes, what someone feels and becomes when they put on a pair of tall boots or a high heel.

"A woman in heels is important because she's elevated," says Hartigan, adding, "There are many conversations today about women viewing shoes as an expression of power. A high heel makes you feel stronger, and yet, what those heels do to women's feet and backs is cause for concern and can be disempowering in the long run."
Salvatore Ferragamo, sandals, 1938. Suede, gilded leather, leather, and cork. Victoria and Albert Museum, gift of Wanda Ferragamo, T.84-1988. © Victoria and Albert Museum, London.
PUSHING BOUNDARIES
The fashion world is always pushing boundaries, and shoes are no exception. The late British architect, Zaha Hadid, designed the distinctive Nova shoe in 2013. Constructed from rubber, fiberglass and leather, with an unsupported 6+ inch heel, the Nova marked a radical departure from traditional shoe fabrication. Using rotation-moulding, the seamless form unites the sole, heel and upper around an internal cantilever system. Futuristic and swirling with energy, the shoe is also noted for its comfort and wearability.

Shoes: Pleasure and Pain embraces the advancements in shoe technology – prompting questions about the future of material, manufacture and gender division in footwear – while also celebrating extraordinary examples of historic footwear, ranging from Chinese lotus shoes made for bound feet and 19th-century towering platform Qabâqib from Egypt, to men's gilded suede shoes and noisy slap-sole shoes worn in 17th-century Europe.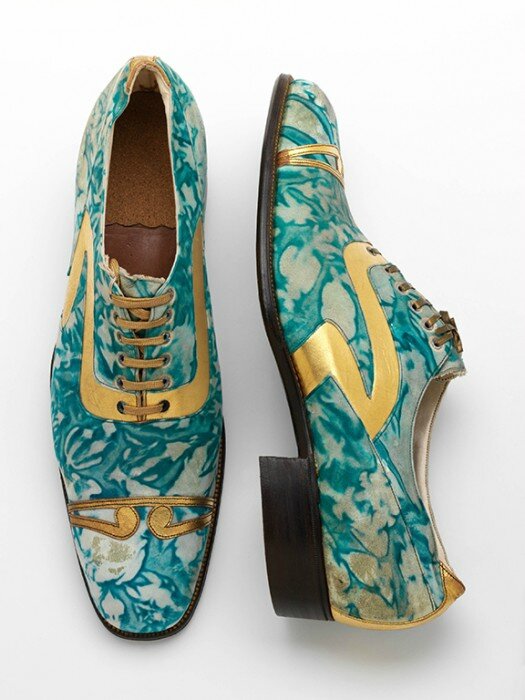 Coxton Shoe Co. Ltd (active in early 20th century), Men's shoes. Gilded and marbled leather, Northamptonshire, England, c.1925. V&A: T.52:1+2—1996. © Victoria and Albert Museum, London
A PASSION TO COLLECT
PEM's fashion collection continues to grow through recent museum acquisitions, some of which are featured in the exhibition, including ensembles from the Iris Apfel collection and late Boston style maven, Marilyn Riseman. In the Obsessions section, Apfel and Riseman's collecting prowess is accompanied by items from noted North Shore collectors, Lillian Bohlen and Jimmy Raye.

Each of these collectors choose shoes that reflect their own sense of personal style. While Bohlen's shoes from her carefully curated and organized closet are of a rainbow palette, Riseman's collection aligns with her iconic black, white and red wardrobe palate. Apfel is not only an avid collector of shoes but has also worked closely with designers to create custom pairs, made to her own specifications and creative vision. Meanwhile, Raye, a former Boston Ballet dancer, is drawn to footwear that speaks to the distinctly physical way he inhabits the world.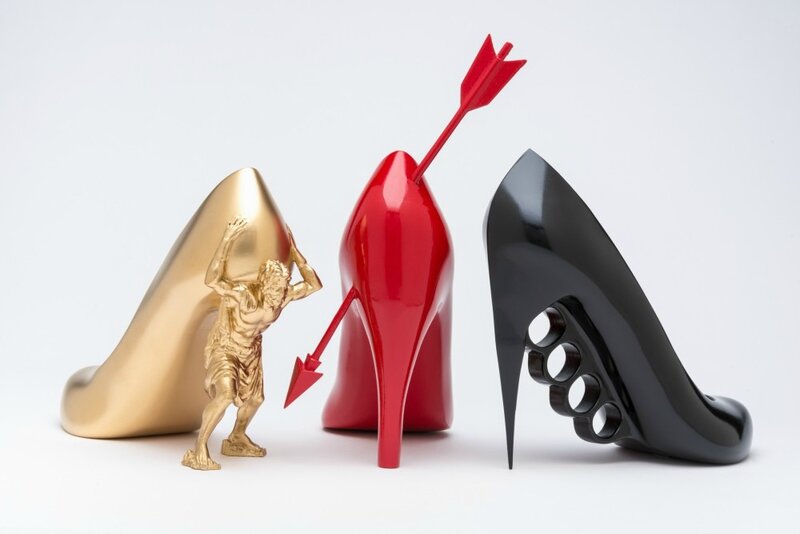 Sebastian Errazuriz, "The Golddigger," "The Heartbreaker," and "The Boss," from the "12 Shoes for 12 Lovers" collection, 2013. 3D-printed acrylonitrile-butadinene-styrene polymer, resin, and acrylic. Peabody Essex Museum, museum purchase, 2015.57.6, 2015.57.1, and 2015.57.7. © Peabody Essex Museum
PEM FASHION INITIATIVE
Shoes: Pleasure and Pain is the most recent offering from PEM's fashion initiative, undertaken as the next chapter for one of the country's leading collections of historic costumes and textiles from around the world. PEM's fashion initiative began in 2009 with Rare Bird of Fashion: The Irreverent Iris Apfel, followed by Hats: An Anthology by Stephen Jones in 2012, Future Beauty: Avant-Garde Japanese Fashion in 2013 and Native Fashion Now in 2015, and major acquisitions of 20th and 21st-century fashion.
Scotty Boots, 2010, Atalanta Weller (Born 1978). Leather and polyurethane. Designed in England, made in Portugal, T.94:1+2. Courtesy of Jaron James, V&A Photographic Studio