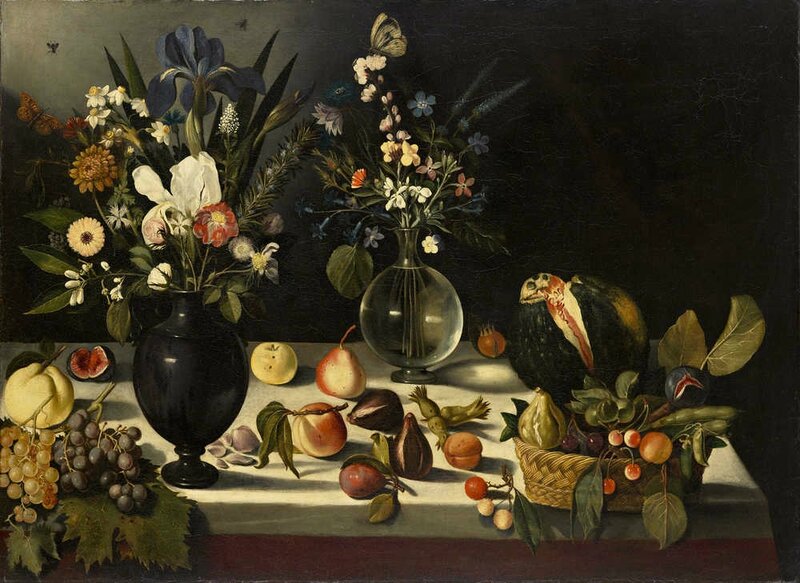 Master of Hartford, Vases of flowers and fruit on tavolo, Hartford, Wadsworth Atheneum Museum of Art © Allen Phillips
ROME.- The Galleria Borghese in Rome presents "The Origin of Still Life in Italy. Caravaggio and the Master of Hartford, an exhibition aimed at enhancing the museum's artistic heritage. The origins of Italian still life in the context of Rome at the end of the sixteenth century are analysed following the subsequent developments of Caravaggesque painting during the first three decades of the seventeenth century. The exhibition is curated by art historian and director of the Galleria Borghese Anna Coliva and by art historian and critic David Dotti, specialist in Italian baroque and particularly the themes of landscape painting and still life. In recent years, the Galleria Borghese has pursued a program of exhibitions varying in topic and approach, but all centred on the identity and perfect intense historical significance of its building and collections. The Galleria Borghese is not only a location but also the crucial protagonist and leitmotif of each exhibition. Today's inauguration is a purely philological and historiographic occasion in the course of the Galleria's activities, narrating the origins of a painting genre that only much later would be called "Still Life". In fact seventeenth-century art criticism referred to these paintings as "oggetti di fermo" (still objects) with the precise modern meaning of "motionless models", corresponding to the Anglo-Saxon locution still life.
The exhibition aims to take stock of the progress of contemporary critical studies, with the specialist essays in the catalogue which examine extremely complex philological issues concerning the origins, autography and affiliation with stylistic groups of artists. Unfortunately their identity is unknown to us due to the absence of documentary sources, but from a stylistic point of view they are sufficiently well- known for critics to have grouped them under very impressive name-pieces: firstly the Master of Hartford, the main subject of the exhibition, as his production of still lifes is closely linked to certain works of Caravaggio, such as Self portrait as Bacchus (Bacco malato), the Boy with a Basket of Fruit, the Lute Player and the Supper at Emmaus commissioned by Mattei. Furthermore, for a long time Federico Zeri had identified the Master of Hartford with the young Caravaggio. In order to attest the influence that the Master of Hartford and early Caravaggio had on painters in Rome during the first two decades of the seventeenth century, the exhibition displays works of the Master of the Vessel, the Master of the Rose Apple, the Pensionante dei Saraceni (Christ Among the Doctors), and other important well-known artists.
The exhibition also includes the painters who attended the Academy established by the Marquis Giovanni Battista Crescenzi in his Palazzo at the Rotonda near the Pantheon: Pietro Paolo Bonzi the so-called Gobbo dei Carracci, the Master of the Acquavella Still Life – who critics are inclined to identify as Bartolomeo Cavarozzi - and the same Crescenzi, to whom specialists attribute certain works including Fruit and Vegetables on Wooden and Stone Shelves from the Galleria Estense in Modena.
Caravaggio was the first to confer the same formal and interpretative dignity to natural elements portrayed from life with dazzling realism hitherto only used for figures, sacred history and mythology. As evidenced by the presence in the exhibition of Basket of Fruit (Canestra) from the Pinacoteca Ambrosiana, the Lombard painter was the first to affirm still life as an important subject in itself, full of symbolic significance that has nothing to do with "The pointless microscopies of the Flemish painters, " (Roberto Longhi). Basket of Fruit is the first work of art that simultaneously imposes a pictorial representation of things to the eye and conscience in the most convincing forms. It also brings about the reality of the object in painting, affirming the reality of the artist and the truth of the act of painting. Thus it can be affirmed that Basket of Fruit actually inaugurated the magnificent advent of modern art.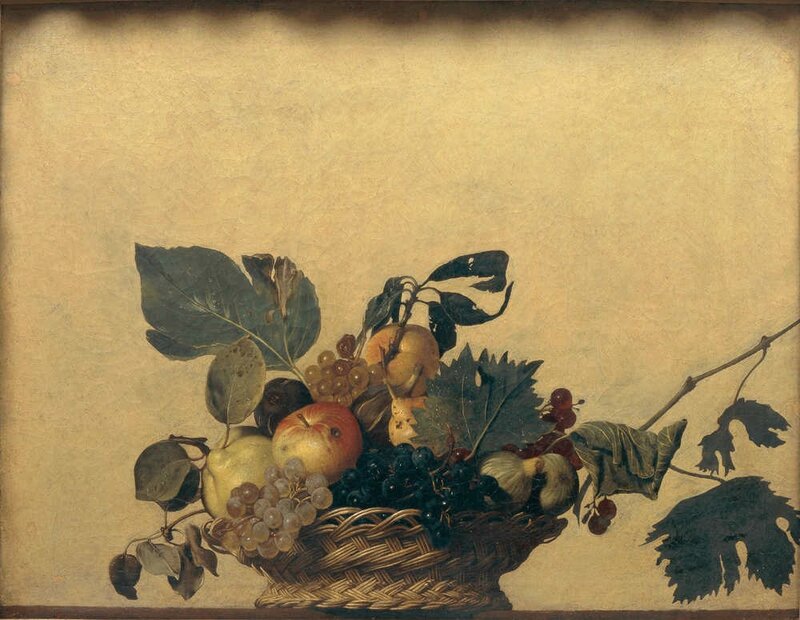 Michelangelo Merisi Caravaggio, Basket of Fruit, Milan, Biblioteca Ambrosiana © De Agostini Picture Library.
Prior to this the numerous still lifes, which certainly abounded throughout art history from its very origins, were nothing more than a parenthesis within vaster compositions, hierarchically subordinated to broader issues of representation: entirely "incidental" factors, intended merely to demonstrate the technical expertise and lenticular ability of an artist able to create perfect imitations of real life. The paintings which herald the extraordinary conceptual leap so perfectly and completely realized in Basket of Fruit of the Pinacoteca Ambrosiana, and that gave rise to what we define as a new and autonomous pictorial genre, have all been present in the Borghese collection since its formation in the early seventeenth century, thanks to Cardinal Scipione Borghese's passion for collecting works of art. Emblematic are the two works by Caravaggio: Self Portrait as Bacchus (Bacco malato) and The Boy with a Basket of Fruit along with four still lifes identified by critics under the conventional name Master of Hartford. There can be no doubt that an exhibition such as this must necessarily take place in Villa Borghese, because the vicissitudes of its birth and affirmation are intertwined with the history and protagonists of the site.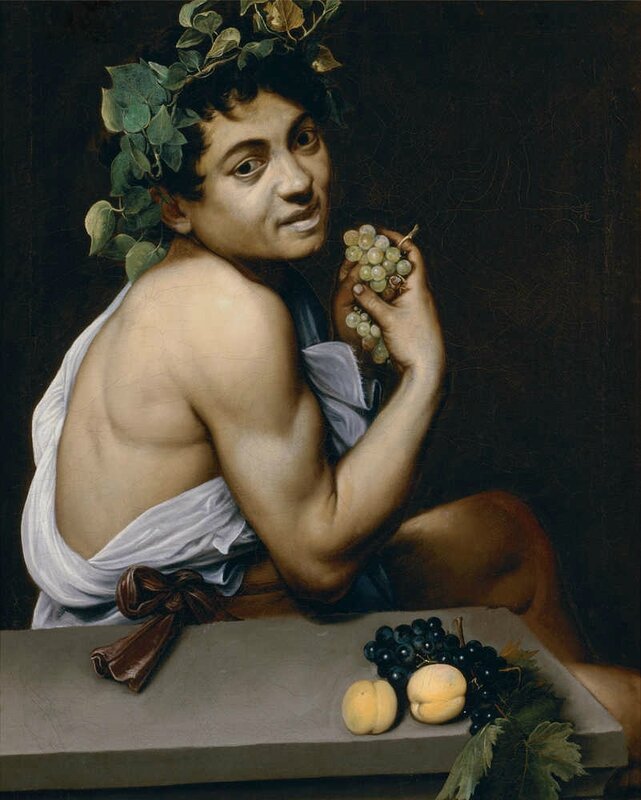 Michelangelo Merisi Caravaggio, Self-Portrait as Bacchus (Sick Bacchus), Rome, Galleria Borghese © Mibact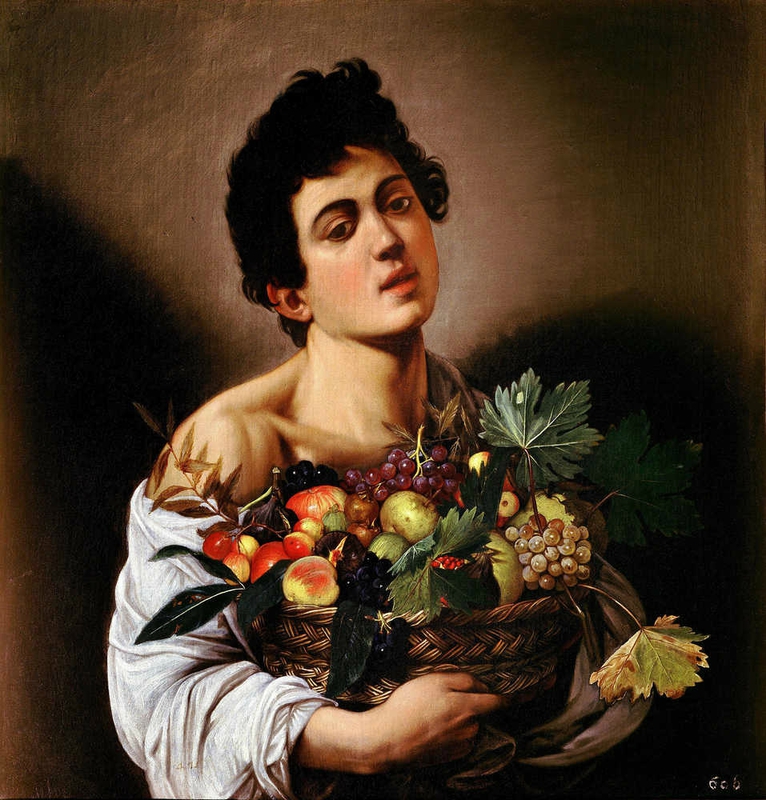 Michelangelo Merisi Caravaggio, Boy with a Basket of fruit, Rome, Borghese Gallery © Mibact - Borghese Gallery
Caravaggio, Basket of Fruit, Paris, Canesso.
Caravaggio, Basket with pumpkins. Private collection.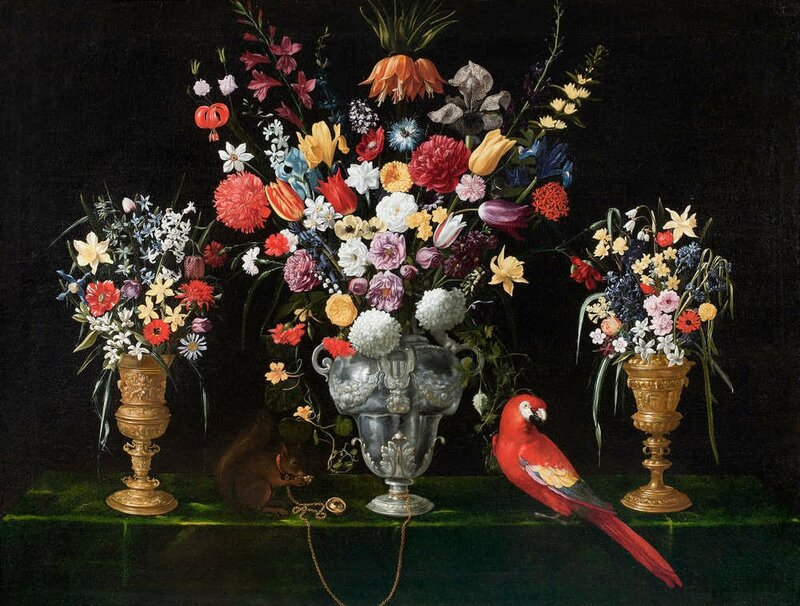 Caravaggio, Three pots of flowers, squirrel and parrot on board. Private collection.
This exhibition marks the first time these six works have been united once again after four hundred years. All six of them had been part of one hundred and five paintings seized on May 4, 1607 by a papal tax collector from Cavalier d'Arpino - the most famous and sought-after artist of his time, but who was also a great art impresario, merchant, perhaps collector - upon orders of Pope Paul V Borghese, the uncle of Cardinal Scipione Borghese, creator of the Villa and collection. The paintings were immediately donated by the Pope to his nephew to further enhance the formation and development of his already celebrated Galleria.
The very origin of the paintings seized from Cavalier d'Arpino is a philological discovery that we owe to Federico Zeri, who suggested that because of both the incidence of light as a synthetic composition factor, with its "sharp representation of the most minute details", and the strength and optical evidence of the objects represented, these four still lifes by the Master of Hartford embody the first pictorial evidence of an immature young Caravaggio still working in the studio of the older Cavalier d'Arpino.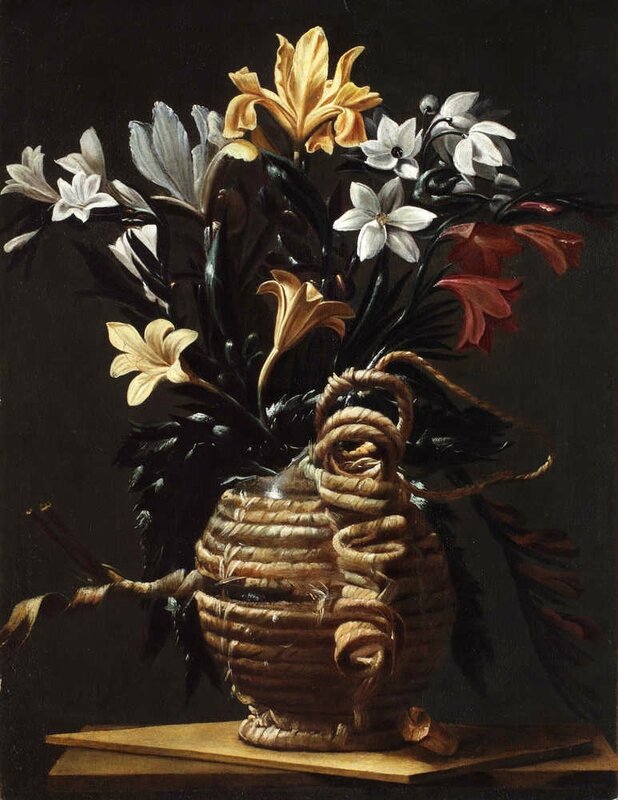 Master of the flask of Forlì, Flask spagliata with flowers, Rome, private collection.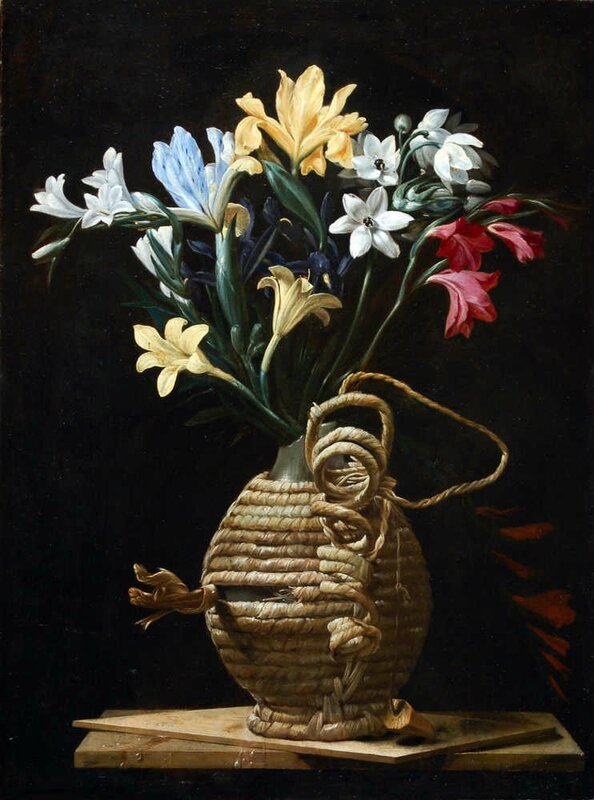 Master of the flask of Forlì, Flask spagliata with flowers. Forlì, San Domenico Museum, Civic Art Gallery, Forlì © Archive Museums.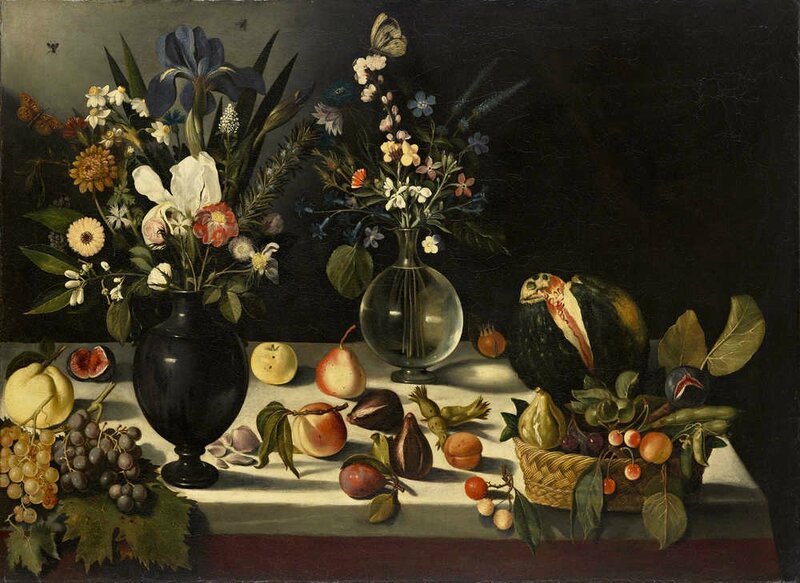 Master of Hartford, Vases of flowers and fruit on tavolo, Hartford, Wadsworth Atheneum Museum of Art © Allen Phillips
Master of Hartford, Flowerpot, elevation with figs, grapes and basket with fruit on the table. Private collection.
We owe to Roberto Longhi the most appropriate words that distinguish what happened before and after. Before were the grandiose fervid elaborations of the new still life theme; "The pointless microscopies of the Flemish painters, an extreme degeneration of the lenticular accuracy of the great, but perilous Nordic fifteenth century, which ended up degenerating into painstaking tasks typical of nuns and Carthusian monks". And after? "Mario dei Fiori was to paint festoons of plants on the mirrors of Roman princes. The 'still life' simply expired and was buried along with the spirit of Caravaggio. And as to the composite hotchpotch between 'Baroque' and the old Nordic sedulity, it is better to remain silent."
November 16, 2016 - February 19, 2017 - Rome, Borghese Gallery and Museum
Vincenzo Campi, Fruttivendola, Milan, Pinacoteca di Brera.
ROME.- La Galerie Borghèse de Rome présente l'exposition "L'origine de la nature morte en Italie. Caravage et le Maître de Hartford", avec laquelle se poursuit l'œuvre de valorisation de son propre patrimoine artistique. Au sein de cette exposition, les origines de la nature morte italienne dans le contexte romain de la fin du XVIIe siècle sont analysées en suivant les successifs développements de la peinture caravagesque pendant les trois premières décennies de l'an 1600. L'exposition a été réalisée par Anna Coliva, historienne de l'art et directrice de la Galerie Borghèse, et par Davide Dotti, historien et critique d'art qui s'intéresse au baroque italien et en particulier aux thèmes liés au védutisme et à la nature morte. Depuis plusieurs années, la Galerie Borghèse propose un programme qui met en lumière l'intense force historique de son édifice et de sa collection tout en offrant des expositions aux thématiques variées avec des approches diversifiées sans jamais trahir son identité et ses origines. Pour chaque exposition, la Galerie n'est pas une location mais la protagoniste indispensable au déroulement du thème d'exposition in se. Celle inaugurée aujourd'hui est l'occasion, purement historique et philologique, de s'immiscer dans les parcours d'exposition de la Galerie qui racontent l'origine du genre pittoresque qui sera appelé, seulement plus tard, "nature morte". En effet, la critique d'art du XVIIe siècle appelait ces tableaux "oggetti di ferma", au sens moderne de "modèles immobiles", allant de paire avec la locution anglo-saxonne still life. L'exposition est l'occasion de faire le point sur l'avancement des études critiques. Elle examine, grâce aux contributions de spécialistes publiées sous forme d'essais dans le catalogue, les questions philologiques très complexes qui concernent les provenances, les autographes et les appartenances à des groupes stylistiques d'artistes. Malheureusement, il n'a pas encore été possible de connaître leurs identités à cause du silence des sources documentaires. Néanmoins, bien connus pour leur style, ils sont regroupés par la critique sous le nom de name-pieces évocatrices.
Tout d'abord, le Maître de Hartford reste le sujet principal avec sa production de still life étroitement liés à certains travaux du Caravage comme : le Jeune Bacchus Malade, le Garçon à la corbeille de fruits, le Joueur de luth, et le Souper à Emmaüs commissioné par Ciriaco Mattei. Leur ressemblance est si nette avec les tableaux du Maître de Hartford que Federico Zeri y a vu une production de jeunesse du Caravage. Les œuvres du Maestro del vasetto, du Maestro delle mele rosa et du Pensionante del Saraceni, ainsi que d'autres tableaux de divers spécialistes de premier plan ont été exposés pour montrer comment la leçon enseignée par le Maître de Hartford avec le premier Caravage fût accueillie par les peintres actifs à Rome pendant les deux premières décennies de l'an 1600. A côté de ces peintres, qui fréquentèrent l'Académie instituée par le marquis Giovanni Battista Crescenzi dans son Palazzo alla Rotonda à côté du Panthéon, il est aussi possible de voir Pietro Paolo Bonzi, dit Gobbo dei Carracci, le Maître de la nature morte Acquavella – que la critique est en partie encline à identifier avec Bartolomeo Cavarozzi, et Giovanni Battista Crescenzi lui-même, auquel les chercheurs attribuent quelques unes des œuvres comme Frutta e ortaggi su ripiani di legno e di pietra de la Galerie Estense de Modène. Caravage est le premier qui accorde à un petit morceau de nature une image vraie, avec un réalisme fulgurant, et la même dignité formelle et interprétative réservée jusqu'alors aux figures bibliques ou d'histoire sacrée et mythologique. Comme en témoigne La Corbeille de Fruits de la Pinacothèque Ambrosienne, il est le premier à affirmer la nature morte comme sujet d'intérêt majeur in se, chargée d'une richesse symbolique qui n'a rien en commun avec les "inutils détails minuscules des peintres flamands" (Roberto Longhi). La Corbeille de Fruits est la première œuvre qui, dans les formes les plus convaincantes, impose une représentation graphique des choses simultanément à l'œil et à la conscience et qui, réalisant en peinture la réalité de l'objet, affirme la réalité du sujet qui la peint et la vérité de l'acte pictural. Il est alors possible de déclarer que La Corbeille de Fruits inaugure la grande recherche de l'art moderne. Avant cette époque et cette œuvre, les fragments de nature morte, sans auncun doute nombreux au sein de l'histoire de l'art depuis ses origines, n'étaient que des incisions à l'intérieur de plus vastes compositions, soumis hiérarchiquement à des thèmes plus amples de ce qui était représenté, et n'étaient que des faits purement "accidentels" qui avaient pour but de montrer la valeur technique dans la création d'une imitation parfaite du réel, en plus de l'habilité lenticulaire de l'artisant. Au contraire, les tableaux à travers lesquels se préparent l'extraordinaire saut conceptuel - qui de manière parfaite et complète se réalise avec La Corbeille de Fruits Ambrosienne, et qui ont donné origine à ce qui est défini comme un genre pictural nouveau et autonome, sont tous présents dans la collection Borghèse, depuis sa formation durant les premières années du XVIIe siècle grâce à la luxurieuse collectionnite du Cardinal Scipion Borghèse.
Il s'agit des deux œuvres du Caravage, le Jeune Bacchus Malade et le Garçon à la corbeille de fruits, et des quatre natures mortes ensuite réunies par la critique sous le nom conventionnel du Maitre de Hartford. Une exposition comme celle-ci devait nécessairement se dérouler au cœur de la Villa Borghèse pour la seule et bonne raison que les turbulences de sa naissance et de son affirmation s'entremêlent avec l'histoire et les protagonistes de ce lieu. A l'occasion de cette exposition, les six œuvres se réunissent à nouveaux pour la première fois depuis quatre-cents ans. Toutes les six proviennent d'un séquestre de cent-cinq tableaux effectué, le 4 mai 1607, par le collecteur apostolique contre le Cavalier d'Arpin – l'artiste plus célèbre et demandé de son temps mais aussi grand impresario d'art, marchand et peut-être collectionniste – sous l'ordre du Pape Paul V Borghèse, oncle du Cardinal Scipion, cré- ateur de la Villa et de la collection. Les tableaux furent immédiatement donnés au petit-fils du Pape pour enrichir sa galerie alors en formation mais déjà très célèbre. Cette provenance commune des six tableaux due à une confiscation à l'encontre du Cavalier d'Arpin est une découverte philologique de Federico Zeri, lequel suivit la suggestion – aussi bien pour la lumière incidente, véritable facteur de synthèse compositionnelle, que pour la "claire représentation du plus minutieux détail" et la force en plus de l'évidence optique des objets représentés – que les quatre natures mortes du Maître de Hartford puissent représenter les premiers essais picturaux, alors immatures, d'un Caravage jeune travaillant encore à l'intérieur de la boutique du vieux Cavalier d'Arpin. A l'époque (1976), cette hypothèse a fait sensation provoquant aussi quelques pertes de sang-froid. Aujourd'hui, à l'épreuve des faits, elle ne résulte plus soutenable et cette exposition, qui présentera dans le catalogue aussi les résultats des inédites enquêtes diagnostiques, servira à sanctionner définitivement l'extranéité de la main du génie lombard dans les œuvres collectées sous le nom du Maître de Hartford. Cependant, dans ces tableaux et dans cette collection – la collection Borghèse justement, cette découverte n'a enlevé aucune force à la critique de fond de Rome qui voit en la nature morte un genre autonome sous le signe du naturalisme caravagesque. Par conséquent, les confins temporels assignés à l'exposition vont de 1593 avec le Jeune Bacchus Malade jusqu'à, plus ou moins, 1630. La même année de la Fiasca con fiori en provenance de la Pinacothèque de Forlì ; une œuvre d'une invention puissante et d'une qualité tellement élevée qu'il n'a pas encore été possible de trouver un auteur certain dans le cercle des peintres actifs à cette époque et dans ce genre.
C'est à Roberto Longhi que reviennent les paroles les plus justes pour distinguer l'avant – de la grande et fervente élaboration du nouveau thème de la nature morte qui se présentait aux peintres – de l'après. L'avant : "inutils dé- tails minuscules des peintres flamands, extrême dégénération de l'acuité lenticulaire du grand, mais dangereux, le XVe siècle nordique, qui à présent finissait son déclin au travail de patience des moines et des gens minutieux". Et l'après ? "Mario dei Fiori peindra désormais des festons végétaux sur les miroirs des princes romains. La simple 'nature morte' a expiré et a été enterrée ensemble avec l'esprit caravagesque. Et quant aux fouillis composites entre le 'baroque' et la vieille prudence scrupuleuse nordique, mieux vaut se taire".