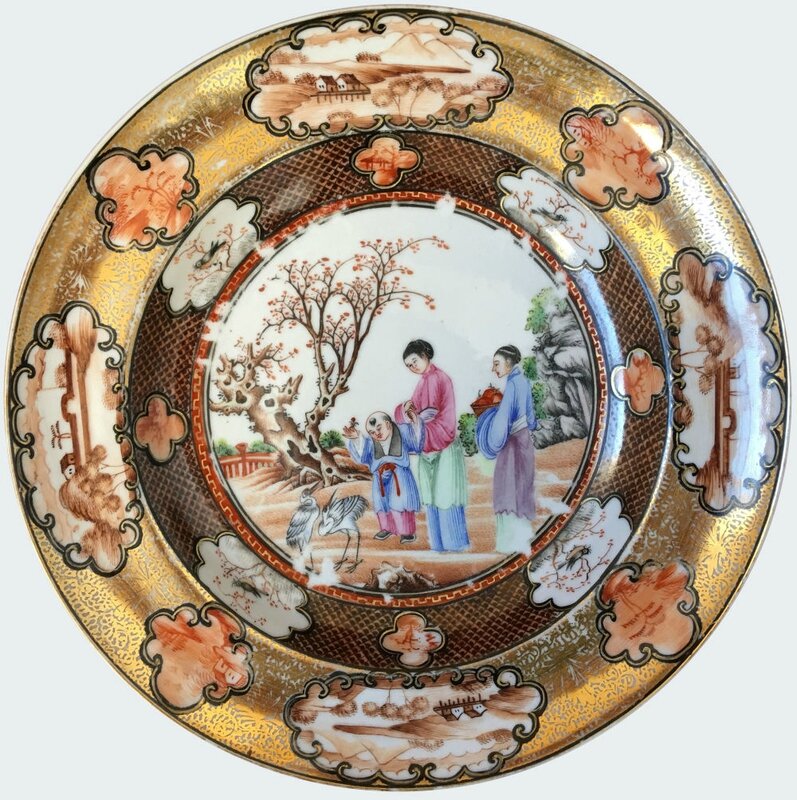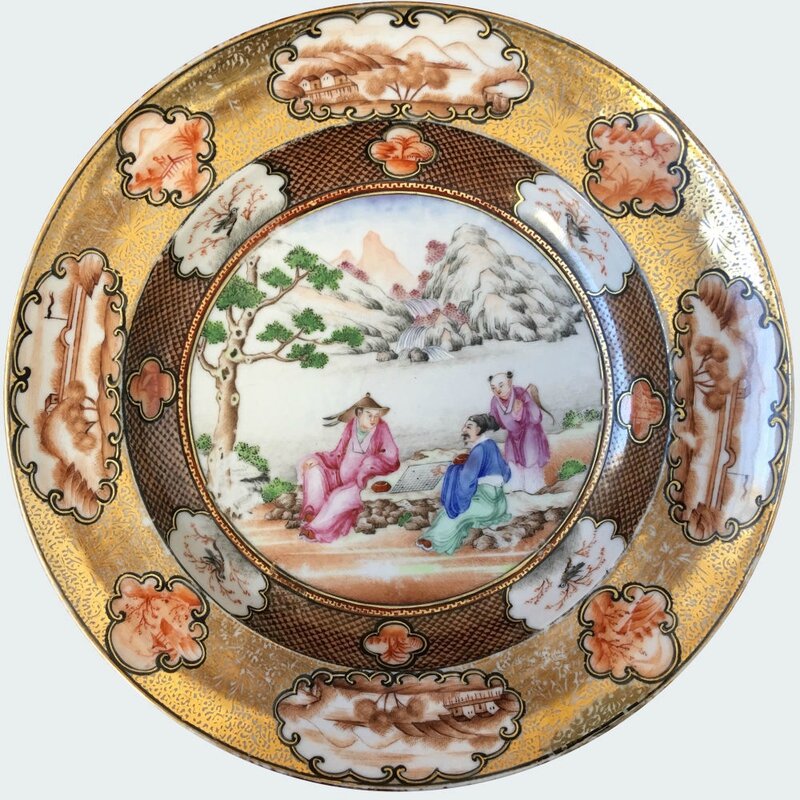 A pair of "Rockefeller Pattern" dishes, Late Qianlong (1736-1795), circa 1790-1800. © Galerie Nicolas Fournery 2016
A pair of Rockefeller pattern dishes decorated in the highest quality of the end of the Qianlong period, with Mandarin scenes within roundels center the design while finely rendered sepia landscapes float in reserve against meticulously detailed gilded ground. 7.48 in. (19.5 cm). Price upon request (Reference :B390)
Related works: For a large part dinner, property of Mr. and Mrs. David Rockefeller, see Sotheby's NYC, Chinese Export Porcelain, 14 october 1993, lot 79 and next lots.
A tea service is in the Reeves Collection at Washington and Lee University.
For another dinner service, from the descendant of John Roberts of Bonington, Hertford (1739-1810), who served as a Director of the Honourable East India Company for four terms from 1764 to 1808), see Sotheby's, 26 january 1984, lot 126.
Lloyd-Hyde, J.A., Oriental Lowestoft, Newport, 1964, pl IX no 16.
Howard, David S. ; Ayers, John, China for the West, Vol. II, 1978, pp.188-189.
Fuchs,,Ronald, Export Porcelain from the Leo and Doris Hodroff Collection at Winterthur, Winterthur, 2005, p.99, no.57.
Burdeley, Forbes & Godden had also illustrated pieces with this pattern.
Howard, David S., The Choice of the Private Trader, p. 139, no. 147.
Notice: This was an extraordinarily expensive service to order in its day, probably for the English market. It features a design loosely known as "Palace ware" (a term used by the generation of collectors in New York, Boston and Philadelphia in the 1930's because of the quality of the gilding), or "Rockefeller pattern". This is not an 18th century name, but it reflects the fact that a very handsome and extensive service of this pattern was once owned by the distinguished American collector John D. Rockefeller Jnr. The sobriquet became accepted terminology when approximately forty pieces from the estate of his son, Nelson A. Rockefeller, were sold at Sotheby's (20 november 1980, lot 565-582). The meticulous painting-each piece has its own unique scene-and its elaborate gilded scrolling borders, these wares were from special order services and represent the best quality of the China Trade of the period. A small number of very fine services were ordered between 1790 and 1800 by the families of Drummond, Bonington or Stirling of Keir, in particular by Andrew John Drummond, who was a General in the East India Company and visited Canton in the 1790's.