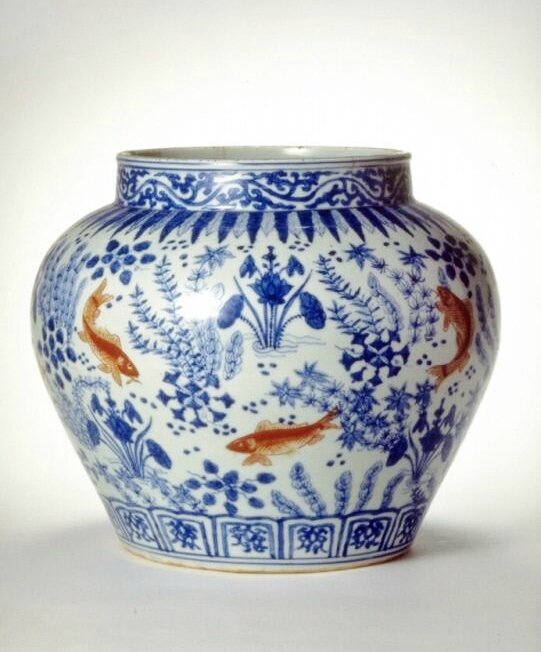 Jar with fish in lotus pond, Ming dynasty (1368-1644), Reign of the Jiajing emperor (1522-1566), China, Jingdezhen, Jiangxi province.Porcelain with underglaze blue and overglaze polychrome decoration. H. 11 1/2 in x Diam. 13 5/8 in, H. 29.2 cm x Diam. 34.6 cm. The Avery Brundage Collection, B60P79. © 2016 Asian Art Museum Chong-Moon Lee Center for Asian Art and Culture.
Fish in a lotus pond, symbolic of eternal prosperity, had been a widespread motif in Yuan porcelain and became repopularized in the Xuande and later periods. With charming naturalism, fish-in-lotus-pond motifs commonly adorned daily wares, particularly blue-and-white and polychromedecorated porcelain. From the sixteenth century onward, fishpond vessels increased in size, the primary subject varying in composition and components. The round, generous shapes of large jars were an especially suitable format for suggesting the fluid world of a fishpond. Along with their practical functions as fishbowls, display pieces, warmers, or storage containers, jars with such auspicious motifs satisfied clients' demands for intergenerational symbolism.
The exterior of this large jar is decorated with golden red fish swimming through layers of blue water plants in a deep pond. This vessel is an example of a method developed by the Xuande imperial kiln. On high-stemmed cups, bowls, and plates, potters depicted red dragons or mythic beasts against a blue ocean, or conversely blue creatures against red seas, by combining two processes: over a prefired blue-andwhite piece, red pigment was applied in empty areas drawn by the blue, and then fired again at a temperature of 700 to 800°c. This method was employed for broader subjects from the sixteenth century onward. Attesting to the level of potters' skill during this period, the red color with tints of orange and yellow served to express the glittering scales of the fish.