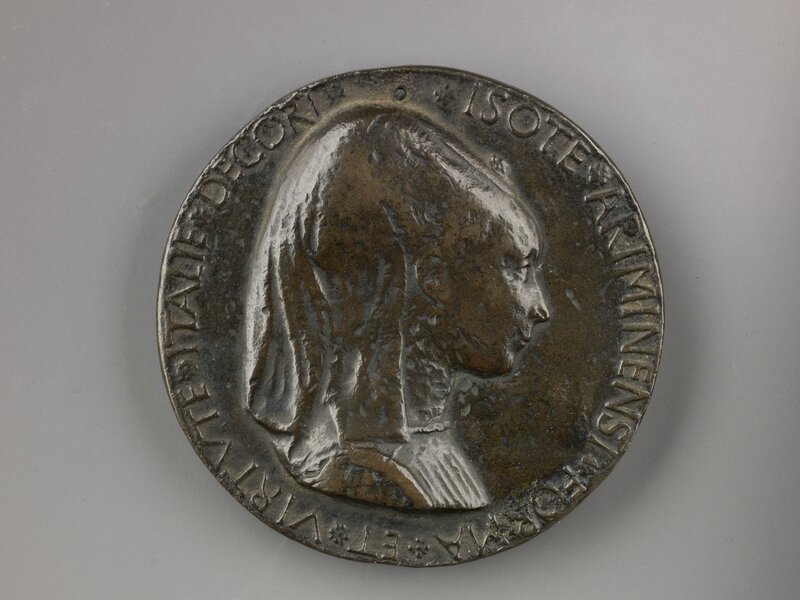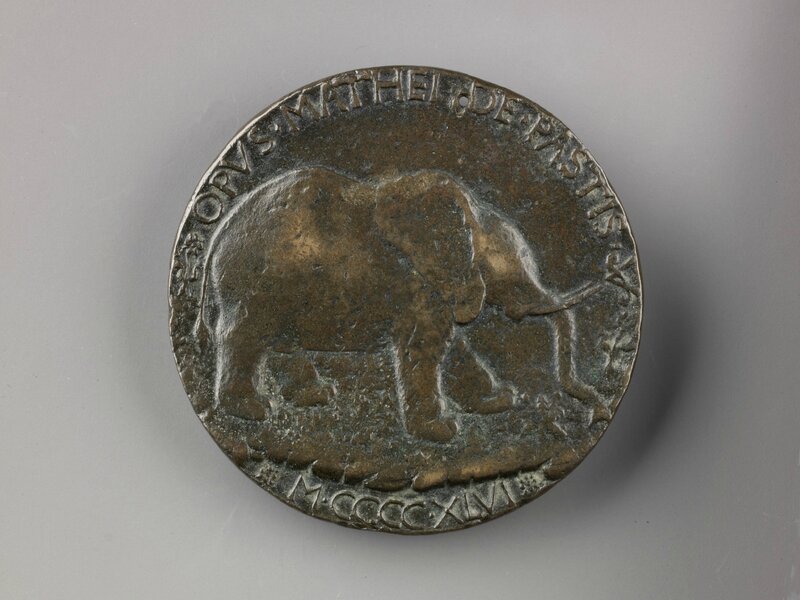 Matteo de' Pasti (Italian, Verona ca. 1420–after 1467 Rimini), Portrait medal of Isotta degli Atti (obverse); An Elephant (reverse), model 1446 or later (possibly cast 16th century). Bronze (copper alloy with a brown patina under a worn layer of dark brown wax). Diam. 8.5 cm, wt. 275.79 g. Robert Lehman Collection, 1975; 1975.1.1284 © 2000–2016 The Metropolitan Museum of Art.
A beautiful merchant's daughter, the thirteen-year-old Isotta degli Atti inspired the passion of Sigismondo Malatesta, the ruler of Rimini. The date 1446 commemorates the year Sigismondo consolidated his political power and won Isotta as his mistress; she later became his wife. Sigismondo embedded portrait medals of himself and Isotta in the walls of his buildings as a legacy of his triumphant reign. Here, Matteo captures the teenage beauty with tenderness and sensitivity.
The elephant portrayed on the medal's reverse is a masterpiece of animal representation, at once naturalistic and richly symbolic. As one of the favorite heraldic devices of the Malatesta family of Rimini, the elephant signifies regal strength and the fame that confers immortality. In the context of a portrait medal devoted to Isotta degli Atti, the elephant symbolizes her piety and chastity, in addition to fame and power.
An Italian medallist, architect, painter, and illuminator, Matteo de Pasti resided at the court of Rimini where he worked on the construction and decoration of two large funerary chapels for Sigismondo Malatesta and Isotta in San Francesco (known as the Tempio Malatestiano). Like Pisanello, who had produced medals for the Malatesta, Matteo was also active as a medallist at the Rimini court.