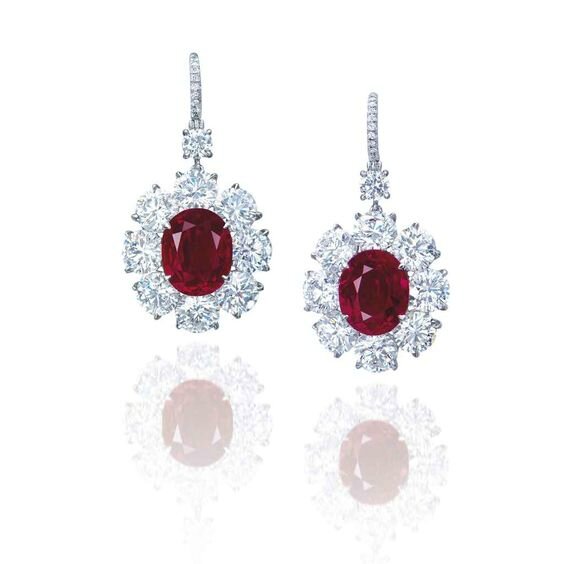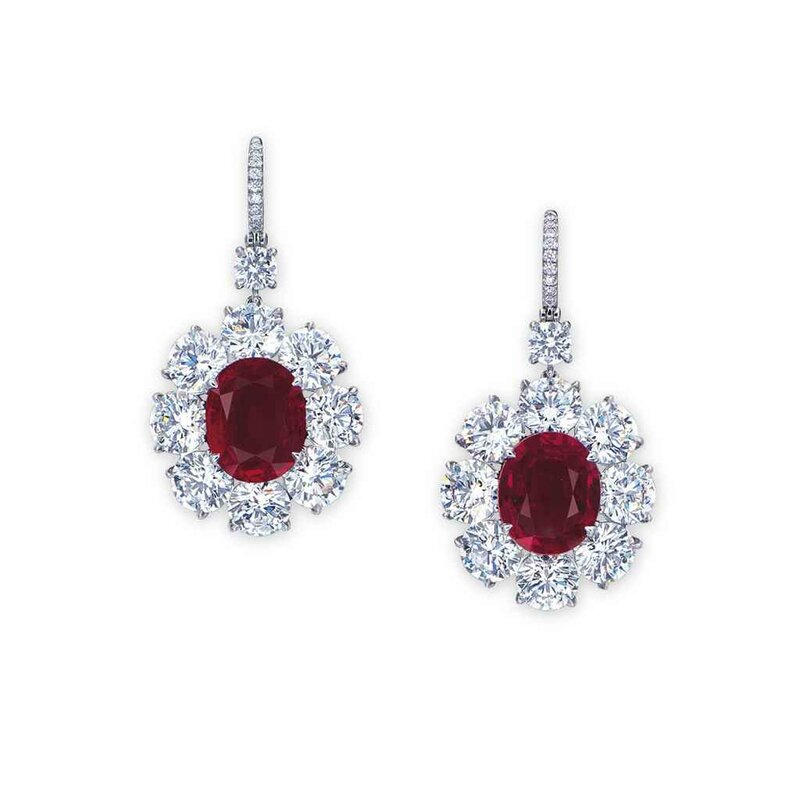 Lot 2067. A superb pair of 4.25 and 4.18 carats Burmese No Heat Pigeon's Blood Red ruby and diamond ear pendants. Estimate: HK$20,000,000 – HK$30,000,000 ($2,591,736 – $3,887,604). Price realised HKD 23,640,000 HKD (USD 3,061,477). Photo: Christie's Images Ltd 2014.
Each set with an oval-shaped ruby weighing approximately 4.25 and 4.18 carats, within a surround set with brilliant-cut diamonds weighing approximately 0.80 to 0.73 carat, to the similarly-cut diamond surmount and hook, mounted in platinum, 3.7 cm long
Accompanied by two reports nos. 75201 and 71065 dated 24 june 2014 and 16 september 2013 from the SSEF Swiss gemmological institute stating that the 4.25 and 4.18 carat rubies are of Burma (Myanmar) origin, with no indications of heating and the colour of the rubies may also be called pigeon blood red in the trade
Also accompanied by reports nos. cs 59154 and cs 61773 dated 21 february 2014 and 17 june 2014 from the American Gemological Laboratories stating that based on available gemological information, it is the opinion of the laboratory that the rubies weighing 4.25 and 4.18 carat are natural, the origin of this material would be classified as classic Burma (Myanmar), no gemological evidence of heat, clarity enhancement: none; also accompanied by two letters stating that the 4.25 and 4.18 carat rubies are exemplary of why burma is considered the premier ruby source. it possesses all the quintessential gemological characteristics that permit the acclaimed provenance of burma and the Mogok valley to be conclusively determined. in addition, the rubies possess an intense and homogeneous 'pigeon blood' red colour. gem burmese rubies of such provenance, quality and size are rare.
Sixteen reports dated from 12 december 2011 to 7 august 2014 from the Gemological Institute of America stating that the brilliant-cut diamonds weighing from 0.80 to 0.73 carat range from d colour, internally flawless to vs1 clarity