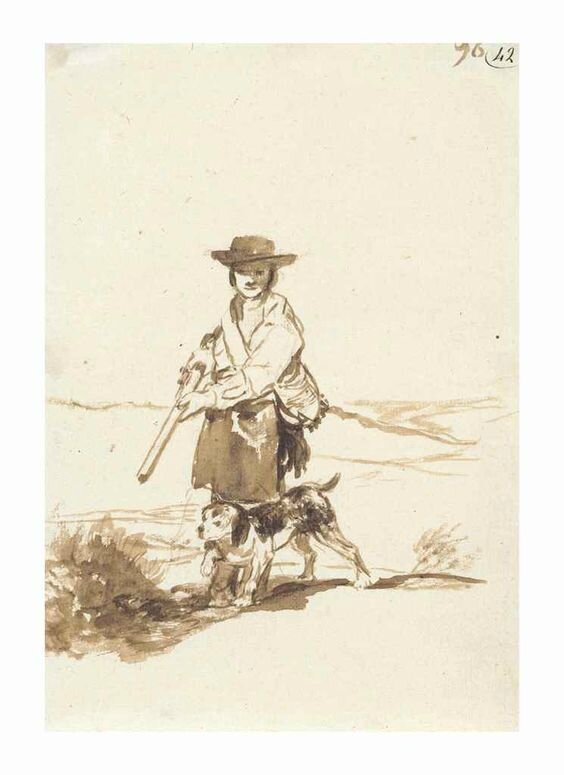 Lot 75. Francisco José de Goya y Lucientes (Fuendetodos 1746-1828 Bordeaux), A hunter with his dog in a landscape. Estimate USD 600,000 - USD 800,000 © Christie's Image Ltd 2017
numbered by the artist '96' and with number in pen and ink '42' (Madrazo album III), point of the brush and brown ink, scraping, fragmentary watermark crest surmounted by a cross, 8 x 5½ in. (20.2 x 14.1 cm.)
Provenance: By descent to the artist's son
Javier Goya y Bayeu (by 1828), and by descent to his son
Mariano Goya y Goicoechea, after 1854.
Federico de Madrazo and/or Román Garreta y Huerta, around 1855-60.
Paul Lebas; Hôtel Drouot, Paris, 3 April 1877, lot 55, where acquired by
Baron de Beurnonville; Hôtel Drouot, Paris, 16-19 February 1885, part of lot 49, where acquired by
Maurice de Beurnonville.
George Ortiz.
Anonymous sale; Hôtel Drouot, Paris, 25 June 1986, lot 21, where acquired by
Peter Jay Sharp.
Anonymous sale; Sotheby's, New York, 28 January 2009, lot 99, where acquired by the present owner.
Literature: P. Gassier, 'Une Source inédite de dessins de Goya en France au XIXe Siècle', Gazette des Beaux Arts, LXXX, no. 6, 1972, pp. 109-20.
P. Gassier, Francisco Goya. Drawings. The Complete Albums, London 1973, p. 497, 'lost drawing' F.j.
Exhibited: New York, National Academy of Design, European Master Drawings from the Collection of Peter Jay Sharp, 1994, p. 76, ill. p. 77 (catalogue note by J. Tomlinson).
Notes: An avid hunter himself, Goya devoted several drawings to the theme of the hunt, including at least ten in one of the 'private' albums of independent works which he formed at the end of his life, the so-called album F (or Sepia Album), generally dated to 1815-20 (see, in addition to the present sheet, P. Gassier and J. Wilson, Vie et œuvre de Francisco Goya, Freiburg and Paris, 1970, nos. 1510-8, ill.; and Gassier, op. cit., 1973, nos. F.97-F.106, ill.). Drawings from the series can be found at The Metropolitan Museum of Art (inv. 35.103.22, 35.103.23), The Morgan Library and Museum (inv. EVT 296), and the Museum Boijmans Van Beuningen, Rotterdam (J. Wilson-Bareau, Goya: Drawings from his Private Albums, exh. cat. London, Hayward Gallery, 2001, no. 66, ill.); one formerly in the Krugier collection was recently sold, Sotheby's, London, 6 February 2014, lot 113.
Of the group, the present sheet counts among the most elaborate, showing a young man in an open landscape, holding his gun and accompanied by his dog. The animal's pose, his mottled fur, the man's gear and the shadow cast on his face by his hat are all evidence of Goya's extremely agile yet subtle brushwork. The dog's alertness stands in contrast to the man's seemingly pensive mood, while the hunters' prey remains invisible, adding to the viewer's impression of witnessing a moment suspended in time. The landscape is reminiscent of that of Goya's youth in Aragon.
Christie's. Old Master Drawings, 24 January 2017, New York, Rockefeller Center