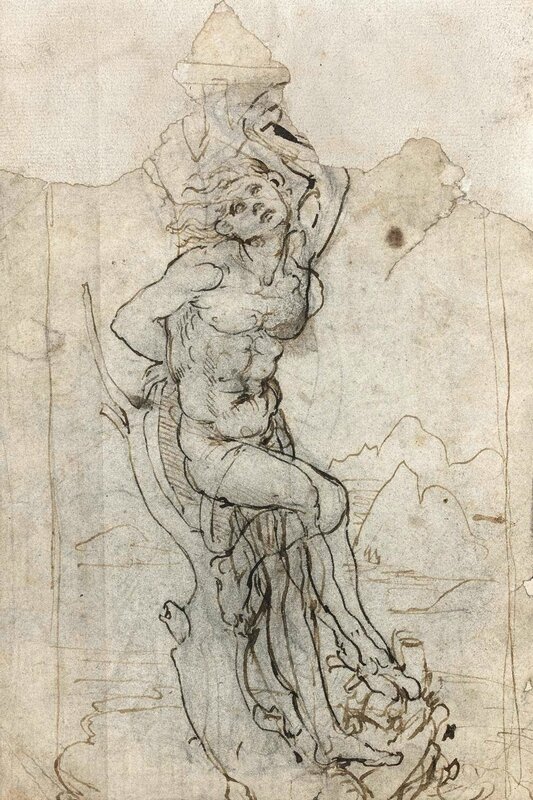 Léonard de Vinci, Saint Sébastien, vers 1478 - 1483. © Tajan
PARIS (AFP).- L'étude de Léonard de Vinci découverte dans la collection d'une famille française a été classée trésor national fin décembre: l'État a désormais trente mois pour trouver les 15 millions d'euros demandés par le vendeur, a indiqué mardi la maison de ventes aux enchères Tajan.
Confiée à cette maison pour être initialement vendue aux enchères, cette étude sur le martyre de Saint Sébastien a été repérée par l'expert en dessins Patrick de Bayser; son attribution à Vinci a été confirmée par une spécialiste de l'artiste, Carmen C. Bambach, conservatrice du département des dessins et estampes au Metropolitan Museum de New York.
Des experts du Louvre ont examiné l'œuvre fin octobre. Le classement en trésor national est intervenu le 29 décembre, a indiqué la maison Tajan lors d'une présentation du dessin à la presse.
L'œuvre, datant de la période florentine de l'artiste, entre 1478 et 1483, ne peut pas quitter le territoire français pendant deux ans et demi.
La maison Tajan a précisé qu'elle ne se trouvait pas, pour l'instant, en négociations avec le Louvre.
Le dessin de petite taille (19,3 x 13 cm), réalisé à la plume avec de l'encre brume sur un papier très fin, n'est collé que sur un bord. Au verso, il comporte deux croquis scientifiques sur la répartition de la lumière derrière un obstacle et deux annotations en écriture spéculaire (qu'on peut lire dans un miroir), une technique très fréquemment employée par Vinci.
Le dessin faisait sans doute partie d'un de ces carnets de croquis fabriqués par l'artiste pour y noter ses idées.
Le propriétaire de cette étude, un médecin de province souhaitant conserver l'anonymat, a reçu l'œuvre de son père, qui l'avait achetée chez un libraire. © 1994-2017 Agence France-Presse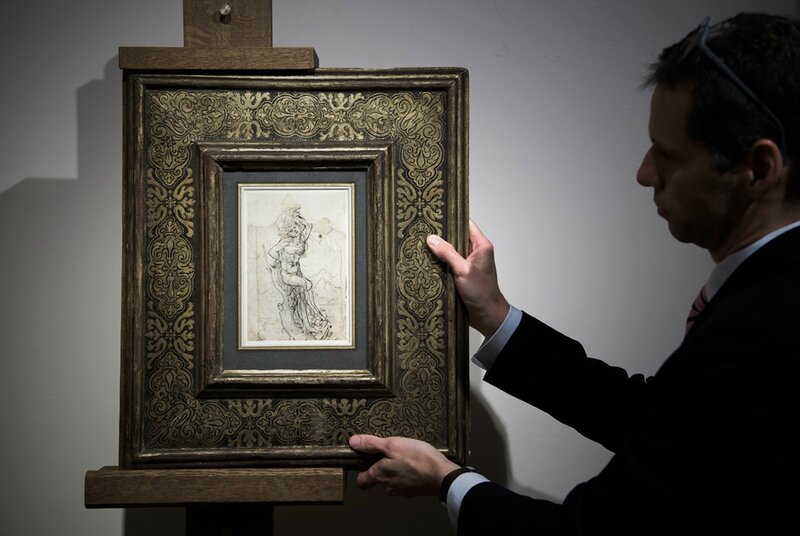 This file photo taken on December 13, 2016 shows a member of Paris auctioneer Tajan displaying a previously undiscovered drawing by Leonardo da Vinci at the auction house in Paris. The French state has thirty months to find the 15 million euros requested by the seller, said the auctioneer Tajan on January 10, 2017. PHILIPPE LOPEZ / AFP.
PARIS (AFP).- France has deemed a newfound Leonardo da Vinci sketch to be a national treasure and now has 30 months to raise 15 million euros ($15.8 million) to purchase it, an auction house said Tuesday.
The Renaissance master's dreamily sensual sketch of Saint Sebastian was classified as a French national treasure on December 29, Tajan auctioneers in Paris said during an unveiling of the work to the press.

The French government has a "right of pre-emption" under which it has 30 months to purchase items that it deems should remain in France.

Discovered in the papers of a French provincial doctor who wants to remain anonymous, the drawing measures 19.3 x 13 centimetres (7.6 x 5 inches) and was authenticated by leading Da Vinci experts.

The dramatic study, which it is thought Leonardo did in his late 20s or early 30s, is one of eight he is known to have drawn of Saint Sebastian.

It is thought the sketch, done with a quill pen on thin paper, may have come from one of the artist's famous notebooks.

A couple of scientific sketches are on the back, as well as some back-to-front writing, a technique Da Vinci used regularly so that his writing could be read only by using a mirror.

The find is extremely rare, with the last Da Vinci drawing that came to market -- a sketch of a horse and rider -- equalling the world record for an Old Master drawing when it sold for $10 million in 2001. © 1994-2017 Agence France-Presse