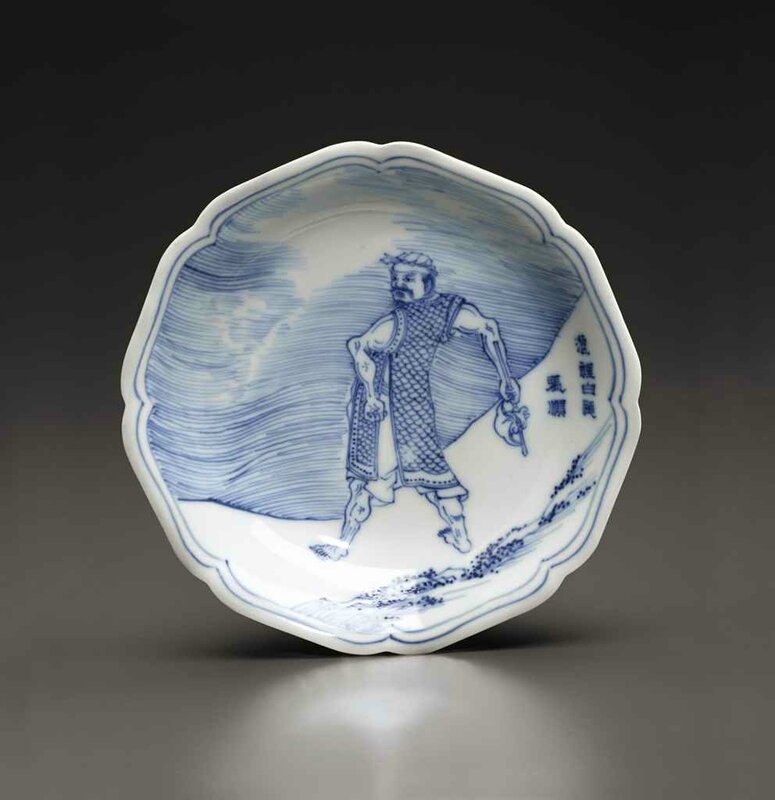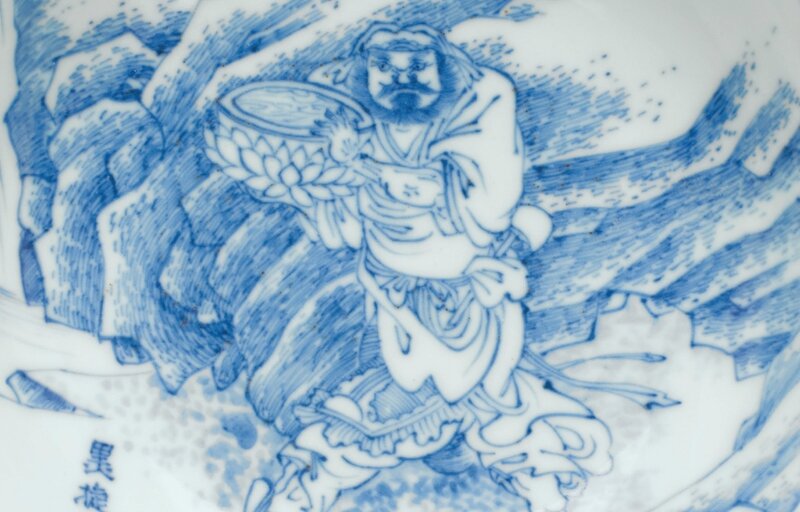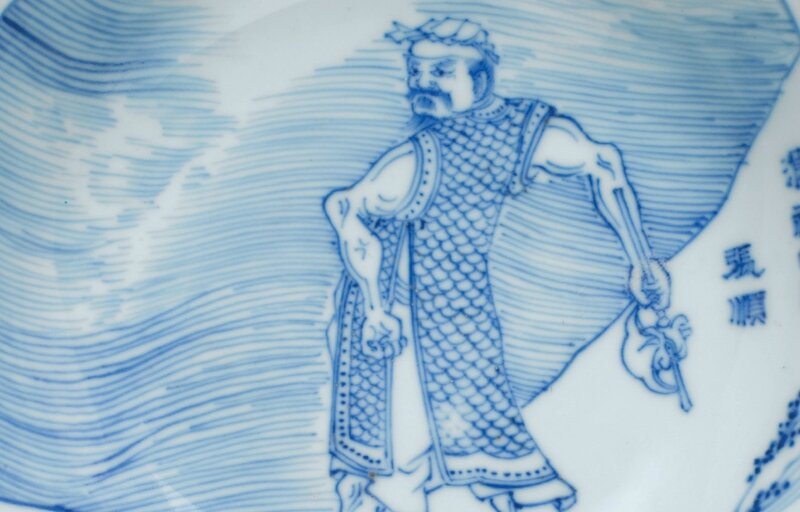 Lot 3556. Eight rare small blue and white dishes, Shunzhi period, circa 1655. Estimate $50,000 – $70,000. Price Realized $100,000. Photo Christie's Image Ltd 2015
Each dish, with bracket-lobed rim, is painted in the 'Master of the Rocks' style and bears an apocryphal Jiajing mark on the base. Four are decorated with a character from The Water Margin, accompanied by identifying inscriptions and nicknames. Two dishes are decorated with scenes of ladies and two have river landscapes. 6 ½ in. (16.5 cm.) diam.
Provenance: John Berwald, London, 1996.
Collection of Julia and John Curtis.
Literature: Michael Butler, Julia B. Curtis, and Stephen Little, Shunzhi Porcelain: Treasures from an Unknown Reign, 1644-1661, Alexandria, VA, 2002, pp. 188-191, figures 56.1- 56.2, also on p. 28, illustrated as detail of no. 56 (two dishes from the group).
Exhibited: Honolulu Academy of Arts, Honolulu, Hawaii, Shunzhi Porcelain: Treasures from an Unknown Reign, 1644-1661, 2 May – 8 September 2002.
The Trammell & Margaret Crow Collection of Asian Art, Dallas, Texas, Shunzhi Porcelain: Treasures from an Unknown Reign, 1644-1661, 3 October 2002 – 5 January 2003.
University of Virginia Art Museum, Charlottesville, Virginia, Shunzhi Porcelain: Treasures from an Unknown Reign, 1644-1661, 25 January – 23 March 2003.
Notes: Four of the dishes in this group of eight depict characters from The Water Margin (Shuihu zhuan), a historical novel traditionally attributed to Shi Nai'an (c. 1296–1372) from Suzhou, although authorship is debated. The tale, which would have undoubtedly appealed to Ming loyalists at the end of the dynasty, was written in vernacular Chinese, rather than classical Chinese, but is nevertheless regarded as one of the great novels of Chinese literature. The story is set in the Song dynasty and revolves around a group of some 108 outlaws, who assemble at the marshes of Liangshan and form a sizeable army. Eventually they are granted amnesty by the authorities, who then send them to repel foreign invaders and suppress rebels. On 17th-century porcelain, as is the case on the present dishes, it is usually one or more of the characters from the book who is depicted, often with their names inscribed beside them, rather than a recognizable episode from the story (see lot 3572 in this catalogue for a small blue and white vase decorated with Huyan Zhuo and Wu Song in battle, each with an identifying inscription).
The four characters on the present dishes are each accompanied by their name (two-character inscription) and their nickname (four-character inscription). Li Kui, also known as 'Black Whirlwind', appears striding towards a waterfall holding a lotus bowl. He is muscular with a dark complexion and brows over his glaring eyes meet in the middle. Zhang Shun is depicted in a strong stance glancing over his shoulder at the viewer and holding a weapon, with his nickname 'White Fish' or 'White Stripe in the Waves' to his right. He is tall and powerfully built and is a strong swimmer who can dive to significant depths. The figure standing by rocks with his attendant is Zhu Wu, or 'Resourceful Strategist'. Described as having a long beard and blazing eyes, he is dressed in Daoist robes and carries a fan made of crane feathers. The standing figure holding a bird and accompanied by two small dogs is Zhie Zhen, also known as 'Double-headed Serpent'. He is described as having a purple face, trousers made of leopard skin and a tiger skin wrapped around his body. For a further discussion of the story and the first two characters mentioned here see Michael Butler, Julia B. Curtis and Stephen Little, Shunzhi Porcelain: Treasures from an Unknown Reign, 1644-1661,Alexandria, VA, 2002, pp.188-189.
CHRISTIE'S. AN ERA OF INSPIRATION: 17TH-CENTURY CHINESE PORCELAINS FROM THE COLLECTION OF JULIA AND JOHN CURTIS, 16 March 2015,New York, Rockefeller Plaza