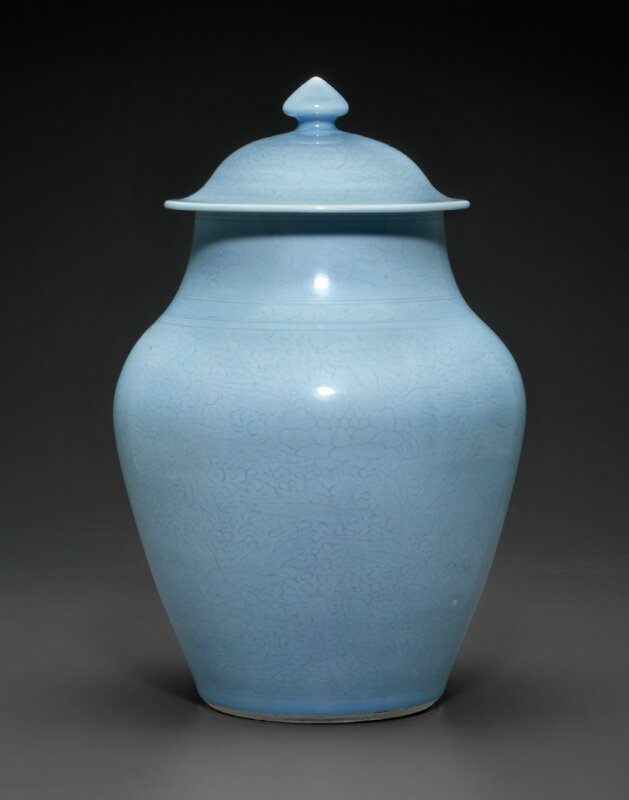 Lot 3549. A very rare incised lavender-glazed vase and cover, Shunzhi period, circa 1650. Estimate $50,000 – $70,000. Price Realized $257,000. Photo Christie's Image Ltd 2015
The jar, of ovoid form with pronounced shoulders and a short neck, is incised on the body with large blossoming peony branches surrounded by curling leaves and small tendrils, beneath a narrow scroll band and a wider border of freely incised flowers. All but the brown-dressed rim and the unglazed base is covered in a pale lavender-blue glaze. The domed cover, with bud-form finial and everted rim, is incised with similar peony blooms to those on the body of the vase, and is similarly glazed. 15 ¼ in. (38.7 cm.) high.
Provenance: S. Marchant & Son, Ltd, London, 2002.
Collection of Julia and John Curtis.
Literature: Recent Acquisitions, S. Marchant & Son, London, 2003, pp. 42-43, no. 27.
Notes: According to Sir Michael Butler, the lavender-blue-tone glaze seen on the present lot was not used before the Shunzhi period, and was rare even at that time and into the early Kangxi period. (Michael Butler, Julia B. Curtis and Stephen Little, Shunzhi Porcelain: Treasures from an Unknown Reign, 1644-1661, Alexandria, VA, 2002, p. 156). Very few examples of this type have survived. One (without a cover) is in the Butler Family Collection, illustrated ibid., p. 157, no. 41. Another is in the Victoria and Albert Museum, London, gift of Mrs. Walter Bentley, inv. no. c.217-1915. (S. Marchant & Son, Recent Acquisitions, London, 2003, p. 42). The shape is more typically found decorated in the wucai palette.
CHRISTIE'S. AN ERA OF INSPIRATION: 17TH-CENTURY CHINESE PORCELAINS FROM THE COLLECTION OF JULIA AND JOHN CURTIS, 16 March 2015,New York, Rockefeller Plaza