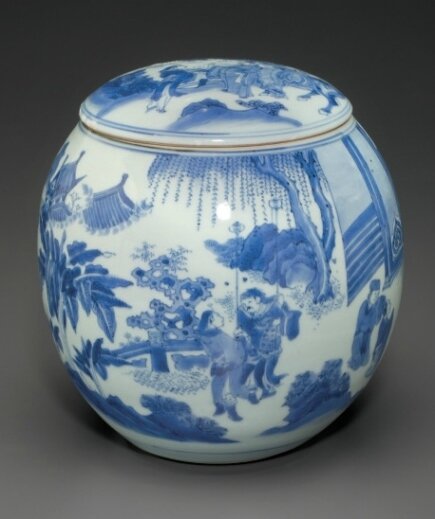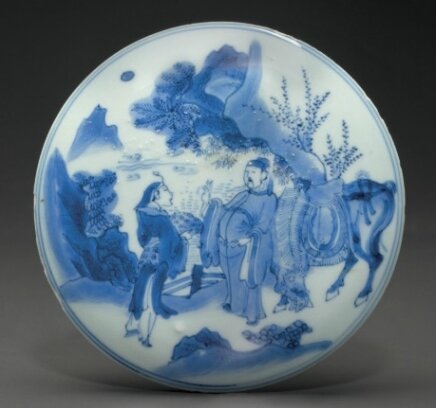 Lot 3536. A rare blue and white jar and cover, Chongzhen period, circa 1640. Estimate $60,000 – $80,000. Price realised USD 161,000. Photo Christie's Image Ltd 2015
The jar, of well-proportioned compressed ovoid form, is decorated with a continuous scene of an official in a garden setting with a large landscape screen behind and a yoke-back chair draped with a brocade cloth, with attendants holding fans and offerings, and two figures kneeling in supplication. The domed cover is painted with an official and his horse in a landscape, with an attendant offering a cloth-wrapped box. The recessed base and foot are unglazed. 8 ½ in. (21.5 cm.) high.
Provenance: Collection of Mr. and Mrs. S.E. Alleyne, Hong Kong.
Bluett & Sons, Ltd., London, 1988.
Collection of Julia and John Curtis.
Literature: Richard Kilburn, Transitional Wares and Their Forerunners, The Oriental Ceramic Society, Hong Kong, 1981, p. 119, no. 77.
Exhibited: The Oriental Ceramic Society, Hong Kong, Transitional Wares and Their Forerunners, 29 January – 29 March 1981.
Notes: The scene on this rare jar almost certainly depicts an episode from The Romance of the Three Kingdoms, although the specific scenes are difficult to identify. However, the composition and painting style, especially that of the two figures holding lanterns, can be compared to that seen on the large brush pot in the Curtis Collection (lot 3533). It is likely that the inspiration for the decoration on both vessels may have come from the same illustrated edition of the story, and indeed that the two vessels may have been painted in the same workshop, although probably not by the same hand.
Another rare jar of similar shape with very low-domed cover, also decorated in underglaze blue but with birds perched on flowering branches, is in the Palace Museum, Beijing, illustrated by Chen Runmin in Selected Chinese Ceramics from the Palace Museum (Volume 1): Blue and White Ceramics in Shunzhi and Kangxi Periods (Qing Shunzhi Kangxi chao qing hua ci), Beijing, 2005, p. 70, no. 35.
CHRISTIE'S. AN ERA OF INSPIRATION: 17TH-CENTURY CHINESE PORCELAINS FROM THE COLLECTION OF JULIA AND JOHN CURTIS, 16 March 2015,New York, Rockefeller Plaza