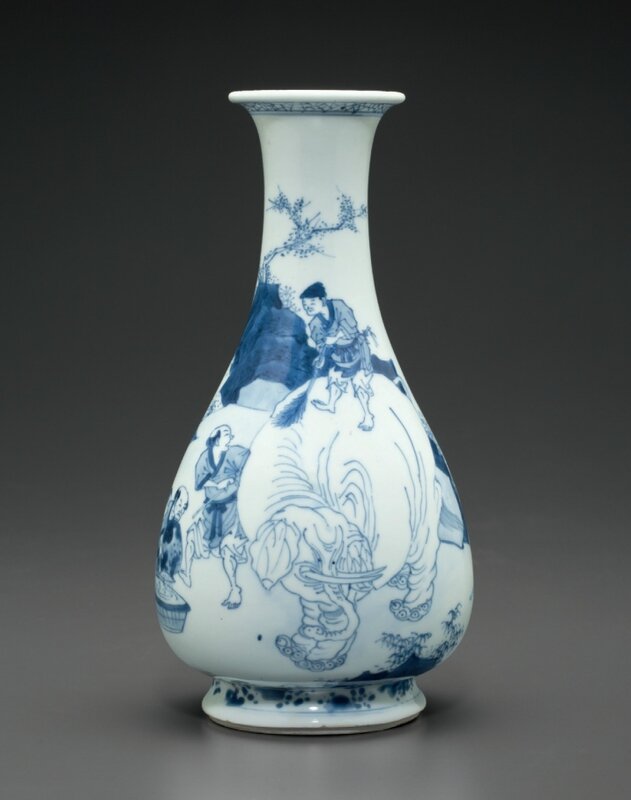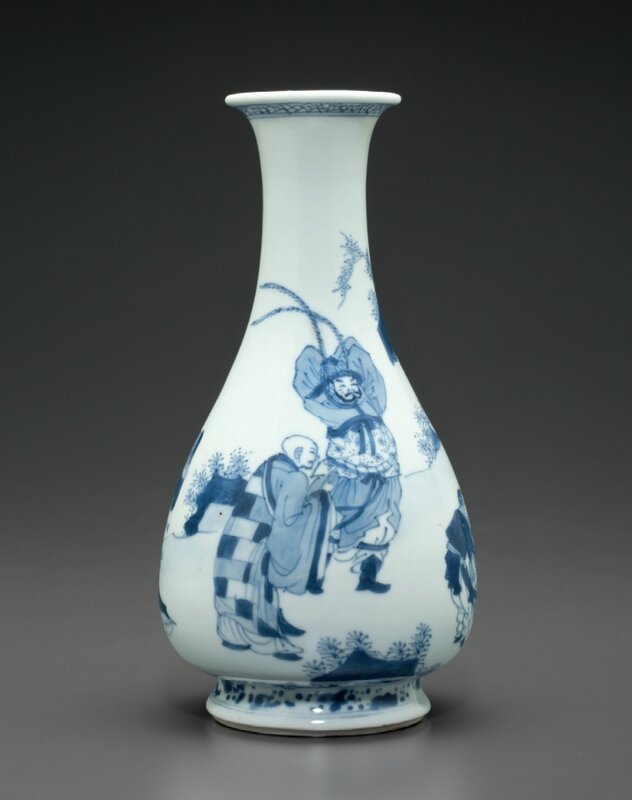 Lot 3569. A blue and white 'Washing the elephant' vase, early Kangxi period, circa 1670. Estimate $40,000 – $60,000. Price Realized $137,000. Photo Christie's Image Ltd 2015
The pear-shaped vase is decorated with a finely drawn scene of an elephant being washed by four Chinese grooms, one of whom is standing on top of the elephant with a large brush, as two dignitaries and a monk in a patchwork robe look on. 10 in. (25.2 cm.) high
Provenance: S. Marchant & Son, Ltd., London, 1987.
Collection of Julia and John Curtis.
Notes: The decoration on this early Kangxi-period vase depicts a scene known as 'Washing the Elephant' (saoxiang , literally 'sweeping the elephant'). A white elephant is depicted being washed by four servants – one standing on top with a broom, one holding the elephant, and two filling a large jar from a water-filled wooden tub. They are watched by a Buddhist monk and a military officer. An initial link between the white elephant and Buddhism was revealed in connection with the birth of the Buddha. According to legend his mother, Queen Maya, was childless for many years after her marriage, but one night had a very vivid dream in which she was transported by four devas (spirits) to Lake Anotatta in the Himalayas. She was then visited by a white elephant holding a white lotus in its trunk, which walked around her three times before entering her womb through her right side. Tradition has it that the Buddha took the form of a white elephant in order to be reborn for the last time on Earth. In the Buddhist pantheon, a white elephant is also associated with the bodhisattva Samantabhadra, who is often depicted riding the elephant.
The origin of this scene of washing or sweeping a white elephant is not clear. In his Record of Clouds and Mist Passing Before One's Eyes (Yunyan guoyan lu) – a volume on art collecting in the early Yuan dynasty – Zhou Mi (c. 1232-1309) mentions paintings of Sweeping the Elephant by the Tang dynasty artists Yan Liben (c. 600-674) and his brother Yan Lide (died AD 656). The Yan Liben painting is also mentioned in the Xuanhe huapu – imperial painting catalogue of the Northern Song completed in around AD 1120, along with several others also with the theme 'Washing the Elephant'. The Metropolitan Museum of Art has a hanging scroll (accession number 1976.191) of this subject by Chen Zi (1632-1711). This painting bears an inscription suggesting that Ming dynasty scholars saw this subject as a pun for 'sweeping away illusions'. The interpretation of sweeping away illusions is also given in the colophon to the illustration of 'Washing the Elephant', designed by Ding Yunpeng (fl. 1584-1618), in Fang Yulu's (fl. 1570-1619) Fangshi mopu (A Manual of Mr. Fang's Ink [Cake Designs]) published around AD 1588. (fig. 1)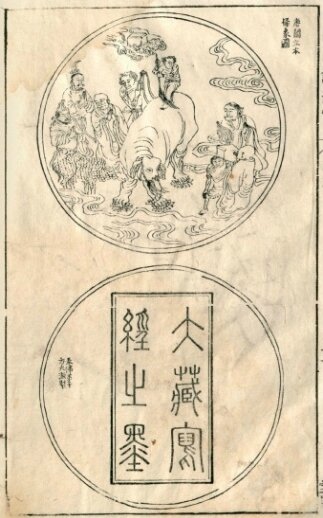 Fig. 1: Woodblock illustration to Fang Shi Mopu (Catalogue of Fang's Ink Cake Designs), by Fang Yulu, active 1570-1619.
This interpretation comes from the fact that the word for elephant is pronounced xiang – the same as the word for illusion. Showing the elephant being washed using a broom, suggests sweeping, and indeed the Chinese name for this subject is saoxiang , literally 'sweeping the elephant' – thus 'sweeping away illusions'. Comparing the Ding Yunpeng illustration in the Fangshi mopu, which interestingly refers to the Tang dynasty Yan Liben painting, with the image on the porcelain vase shows how confusion may arise in transference between media. The elephant in the woodblock illustration is standing with each foot on an open lotus blossom. This has been misinterpreted on the vase to suggest that the elephant has numerous extended toes.
Illustrations of this scene were popular on late Ming and early Qing dynasty porcelains. For two small brush pots decorated with versions of this scene see Julia B. Curtis, 'Decorative Schemes for New Markets: The Origins and Use of Narrative Themes on 17th-Century Chinese Porcelain', International Ceramics Fair & Seminar, London, 1997, p.18, fig. 1, and S. Marchant & Son, Exhibition of Chongzhen-Shunzhi Transitional Porcelain From A Private American Collection, London, 2007, p. 5, no. 1.
CHRISTIE'S. AN ERA OF INSPIRATION: 17TH-CENTURY CHINESE PORCELAINS FROM THE COLLECTION OF JULIA AND JOHN CURTIS, 16 March 2015,New York, Rockefeller Plaza