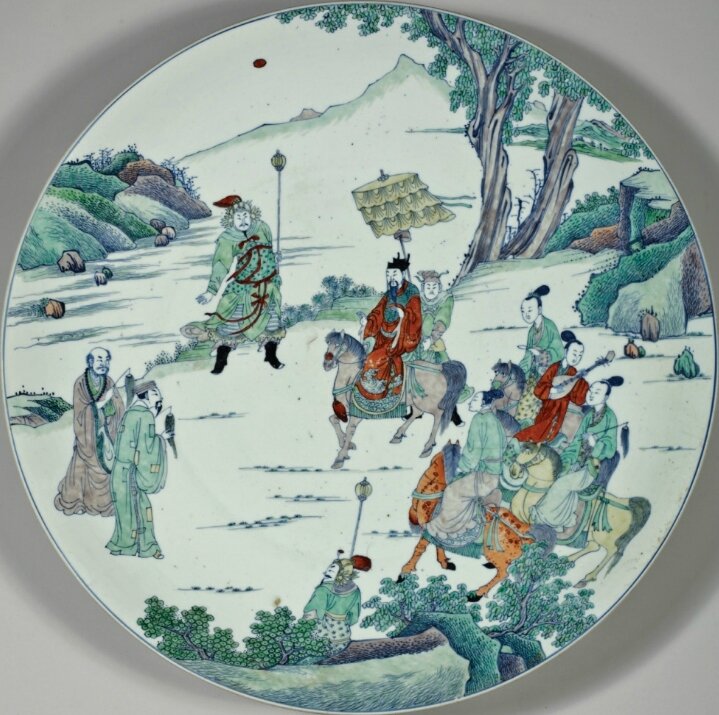 Lot 3591. A large doucai dish, Kangxi period, circa 1670. Estimate $18,000 – $25,000. Price Realized $131,000. Photo Christie's Image Ltd 2015
The large dish, with wide, flat, everted rim, is decorated with a scene of King Ding Xing on horseback approaching a Buddhist monk and a Daoist priest on the left, and accompanied by ladies on horseback and attendants. The channeled foot encloses a double circle on the base. 20 1/8 in. (51.1 cm.) diam.
Provenance: S. Marchant & Son, Ltd., London, 1995.
Collection of Julia and John Curtis.
Notes: The scene on this doucai dish comes from the wholly fictitious historical drama Jiao you Dian hua. In this scene, known as 'Ding Xing Wang Ventures Out', King Ding Xing is seen riding out in state – he has even given himself the dignity of being followed by an attendant carrying an official canopy. He is accompanied by two guards carrying lanterns and a group of his palace ladies, one of whom is playing a pipa, ride with him. As he progresses through the countryside he meets a Buddhist monk and a Daoist priest – shown on the left – who enter into discussion with him.
CHRISTIE'S. AN ERA OF INSPIRATION: 17TH-CENTURY CHINESE PORCELAINS FROM THE COLLECTION OF JULIA AND JOHN CURTIS, 16 March 2015,New York, Rockefeller Plaza