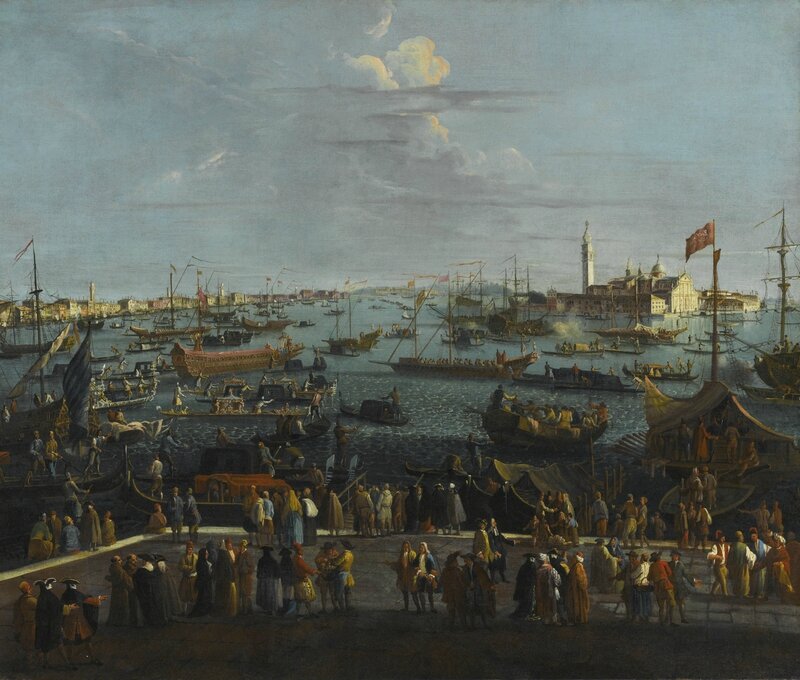 Lot 43. Venetian School, mid 18th century, Venice, a view of the Bacino with the Bucintoro on the feast of the Ascension, oil on canvas, 44 by 52 in.; 112 by 132 cm. Estimate 250,000 — 350,000 USD. Photo: Sotheby's;
Notes: This large and striking view of Venice was painted in the mid-18th century by an artist keenly aware of Luca Carlevarijs's work. Despite the evident similarities with Carlevarijs' style, particularly in the figures, his authorship can be excluded since the particular version of the bucintoro depicted (center left) was not gilded and launched until 1729, the year after Luca was struck by illness and left unable to paint. Moreover, the onion-shaped dome on the campanile of San Giorgio Maggiore in the distance center right, which was not erected until 1728 (and taken down in 1780), discounts Luca's paternity for the same reason.
The bucintoro was the state barge of the the Venetian doge. It was used every year on Ascension Day (the Festa della Sensa) up to 1797, the fall of the Venetian Republic, to take the doge out to the Adriatic to perform the Marriage of the Sea, the ceremony that symbolically wedded Venice to the sea. The bucintoro shown was the last and most impressive of the historic bucintori, making its maiden voyage in 1729 during the reign of Doge Alvise III Sebastiano Mocenigo. The ship was 35 meters long and more than 8 meters high.
Sotheby's. Master Paintings & Sculpture Evening Sale, New York, 25 janv. 2017, 06:00 PM