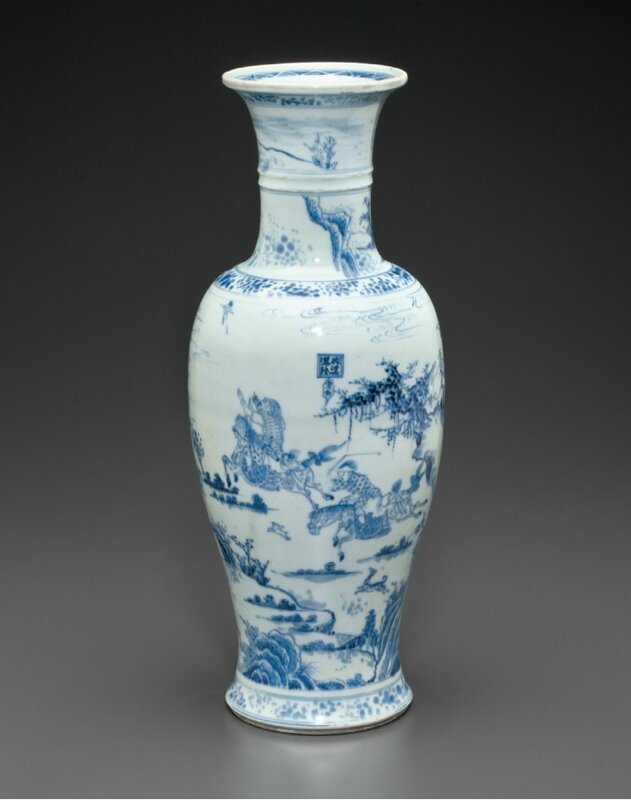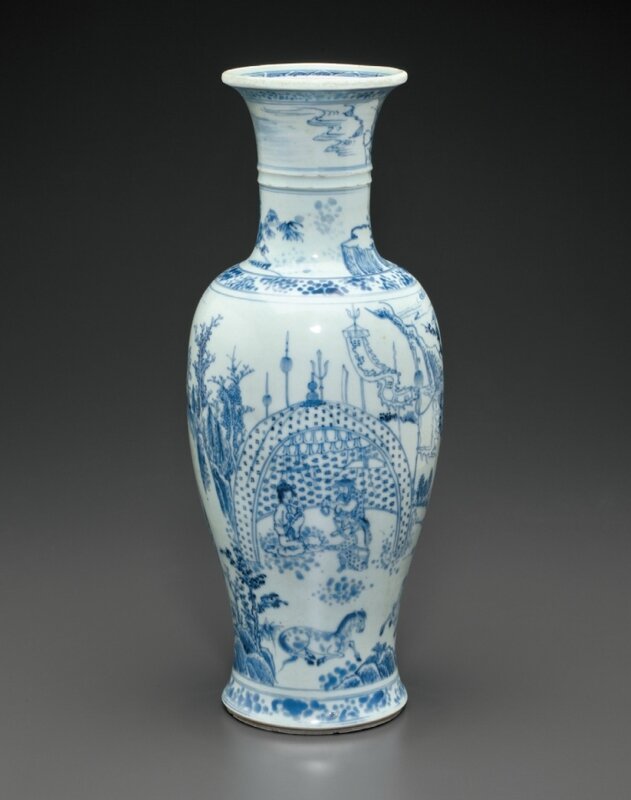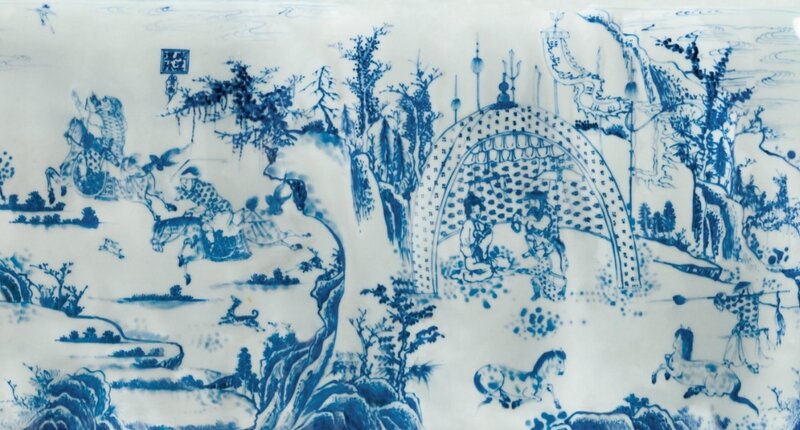 Lot 3586. A rare large blue and white vase with hunting scene, Early Kangxi period, circa 1680. Estimate $25,000 – $35,000. Price Realized $35,000. Photo Christie's Image Ltd 2015
The vase is decorated on the body with an action-filled scene of a mother, Cai Wenji, holding an infant and seated within a curtained tent as two barbarians kneel before her. Outside the tent huntsmen on horseback pursue a small hare as another huntsman successfully shoots a goose with an arrow above. A four-character illegible square seal is inscribed above the scene. The neck is decorated with a further landscape scene, and all scenes are set within splashed borders. The base bears an apocryphal Xuande mark. 16 ¼ in. (41 cm.) high
Provenance: Heirloom & Howard, Ltd., London, 1984.
Collection of Julia and John Curtis.
Notes: The scene on this vase depicts Cai Wenji (c. AD 170-220), a poet and musician from the Eastern Han period. She married in AD 192 aged 16, but was widowed, childless, shortly thereafter. In AD 194-5 she was captured by the Xiongnu during an invasion and taken back to their homelands in the north. During her captivity she was forced to marry Liu Bao, the Xiongnu chieftain, to whom she bore two sons. Some twelve years later the warlord Cao Cao paid a high ransom in her deceased father's name for her return to China where a further marriage was arranged for her. However, she grieved for her children, who she had to leave behind in the north.
On one side of this vase Cai Wenji is shown seated, cradling a baby, in a Xiongnu tent accompanied by two barbarians. On the other side of the vase mounted huntsmen are shown shooting at flying geese. In a poem relating Cai Wenji's tale, Eighteen Songs of a Nomad Flute by the 8th century poet Liu Shang, she writes a letter in her own blood but is prevented from getting the migrating geese to carry it to her homeland as the huntsmen have frightened the geese away. In the poem the migrating geese also symbolise the passage of time and point the way home to China.
A handscroll depicting the story of Cai Wenji is in the Metropolitan Museum of Art, New York and was published by Robert A. Rorex and Wen C. Fong in Eighteen Songs of a Nomad Flute: Story of Lady Wen-Chi, New York, 1975. (fig 1, 2) The text of Liu Shang's poem is inscribed on the handscroll in the style of the Southern Song Emperor Gaozong, who probably commissioned the original painting, as his own mother had suffered a similar fate to that of Cai Wenji.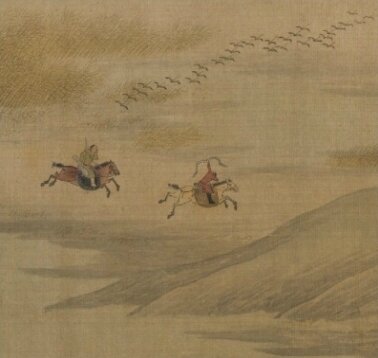 Figs. 1, 2: Details of scenes 9 and 10, Eighteen songs of a nomad fute: the story of Lady Wen-chi ; a fourteenth-century handscroll in the Metropolitan Museum of Art. Introd., commentary, and translation of poems by Robert A. Rorex and Wen Fong. Image copyright © The Metropolitan Museum of Art. Image source: Art Resource, NY
CHRISTIE'S. AN ERA OF INSPIRATION: 17TH-CENTURY CHINESE PORCELAINS FROM THE COLLECTION OF JULIA AND JOHN CURTIS, 16 March 2015,New York, Rockefeller Plaza