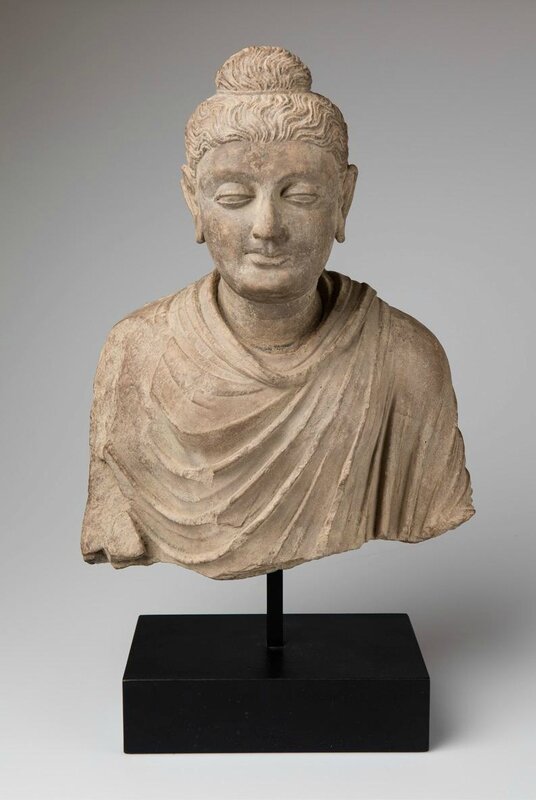 Bust of Buddha, Gandharan (Pakistan), 3rd-4th century. Schist. Gift of David and Richard Nalin '63 2010.6.16. © University of Vermont
BURLINGTON, VT.- This winter, the Fleming Museum of Art opened a new Gallery of Asian Art highlighting exemplary works from its permanent collection, focusing on China, Korea, Japan, India, Sri Lanka, Thailand, Myanmar, Cambodia, and Indonesia. The objects on view span ancient to contemporary examples of courtly, religious, and fine arts as well as everyday objects, including bronzes, ceramics, furniture, clothing and textiles, arms and armor, masks, sculpture, paintings, ink drawings, woodblock prints, and historic photographs. The gallery, which opened on January 17, places objects in the context of the social, political, and religious systems and practices that have shaped the diverse cultures of East, South, and Southeast Asia.

"We're thrilled to provide a beautiful new home for the highlights of our Asian collection, where works we've been given in the last few decades will dialogue with objects that have been in our collection for over a century," says Andrea Rosen, the Fleming's curator and the organizer of the installation.
Man's surcoat (detail), China, 19th century. Silk. Gift of Robert E. Lewis 1919.1.27. © University of Vermont
The Fleming's Asian holdings have grown more than any other aspect of the collection in the past twenty years, through generous gifts from donors such as David and Richard Nalin '63, William Pickens III '58, the Doris Duke Southeast Asian Art Collection, Henry D. Ginsburg, Anna Rosenblum Palmer G'88, Lester and Monique Anderson, and others. The legacy of early Fleming donors, such as Henry LeGrand Cannon and Katherine Wolcott, also plays an important role in the installation, demonstrating the ways that collecting and display, by both private citizens and museums, have molded the perception of Asia in the West.

Faculty and students in UVM's Asian Studies Program have been involved in the process of planning the installation through classes and internships. In particular, the Honors College class Visualizing History: India, taught by Professor Abigail McGowan, generated student proposals for the installation of the South Asian collection. Interns Olivia Ambo '17, Marissa McFadden '17, G'18, Alaina Hendrickson '18, and Siera Carusone '18, made significant research contributions; and Professors Erik Esselstrom, John Seyller, Kevin Trainor, and Thomas Borchert, among others, provided invaluable input and support.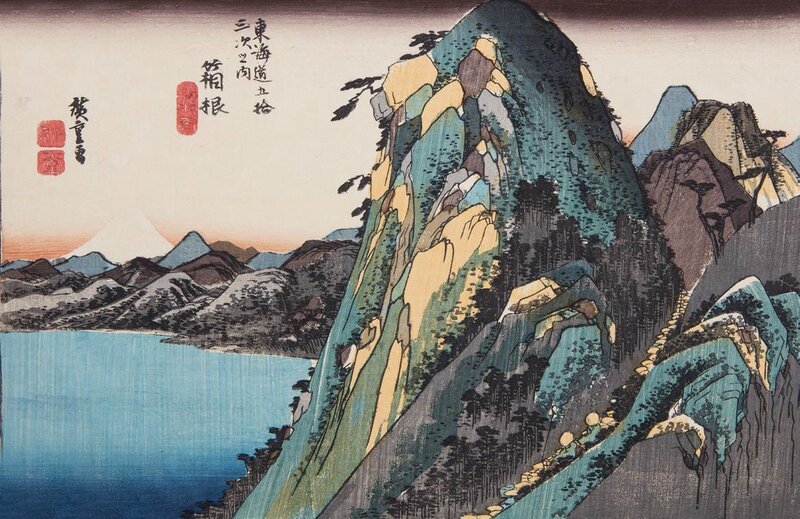 Andō Hiroshige (Japanese, 1797-1858), Hakone: View of the Lake from the series Fiftythree Stations of the Tôkaidô Road, 1833. Woodblock print; ink and color on paper. Florence Hold Collection 1934.9.11. © University of Vermont
The installation is set in the Fleming's historic Wilbur Room. The room is named after James Wilbur, who donated his collection of Vermontiana to the University of Vermont in 1928, as well as funds to help build a new museum to house it. At various points in the Museum's history, the Wilbur Room has functioned as a library, a print-study space, and a gallery for student-curated exhibitions. The Gallery of Asian Art is the first major long-term display of permanent collection objects in this room. With refinished floors, a new layout, and a spectacular installation, the space has been transformed, while its historic essence—the walnut-paneled walls, leaded-glass bookcases, and dedications to historic Vermont figures—remain. The new Gallery of Asian Art was generously supported by Eric Hanson, with loans from Elizabeth van Merkensteijn '79, David and Richard Nalin '63, and the Middlebury College Museum of Art.

Complementing the opening of this gallery is a semester-long contemporary exhibition of composited photographs created by American artist Catherine Jansen of the people, places, and animals of India in the Museum's Wolcott Gallery, an exhibition titled Imbibe: Drinking in Culture features drinking vessels and containers from all over the world, curated from the Museum's permanent collection.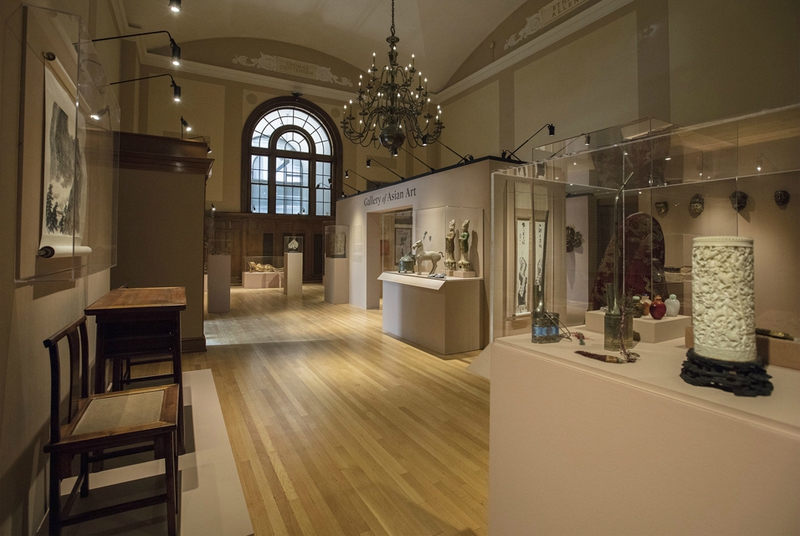 Installation view. © University of Vermont