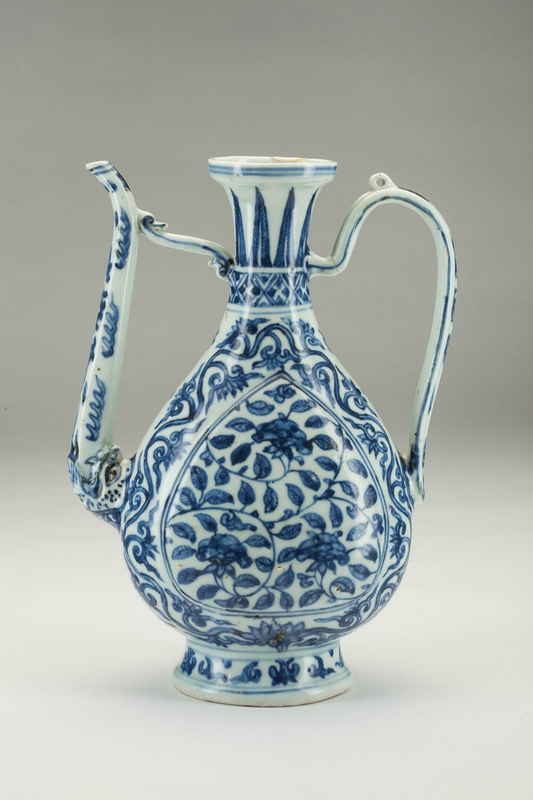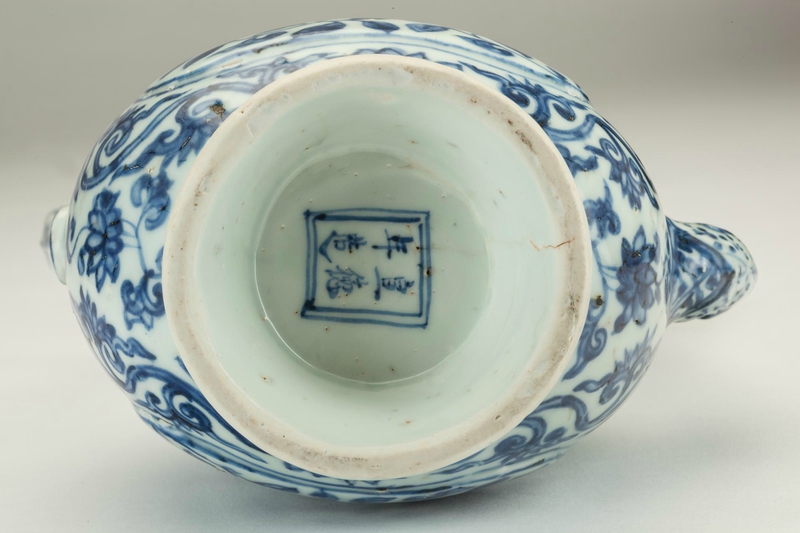 Blue and white ewer, China, Ming Dynasty, Jiajing Period with apocryphal four-character Xuande mark, 24cm high. Amir Mohtashemi Ltd at Brafa Art Fair, Brussels, 21-29 january 2017.
The flattened pear-shaped body is painted with cobalt blue lotus scrolls on a white ground. Each side of the ewer is decorated with three floral sprays on a scrolled leafy ground on a central tear-shaped raised panel. Upright leaves are painted on the tapered neck with a diamond-pattern band set below the neck. The curved spout is decorated with floral scrolls and flames; the spout is connected to the body with the head of a makara. The end of the spout is connected to the neck with a cloud-shaped strut. The tapered neck of the ewer has an everted rim; the arched flat-handle strap is painted with floral scrolls. The top of the flat handle strap has a small circular loop. The splayed foot is also accented with lotus scrolls; there is an apocryphal four-character Xuande mark to the base.

This Ming blue and white ewer was made during the Jiajing Period (1522-1566) in China; however, its form is based on Persian metal prototypes.

A similar flattened pear-shaped blue and white ewer, Jiajing period (1522-1566), is illustrated in Krahl with Erbahar, Chinese Ceramics in The Topkapi Saray Museum, Istanbul: A Complete Catalogue, II, Yuan and Ming Dynasty Porcelains, Sotheby's Publications, London, 1986, p. 656-657, fig. 1018.
Amir Mohtashemi Ltd. Indian and Islamic Works of Art, 69 Kensington Church Street, London W8 4BG, United Kingdom