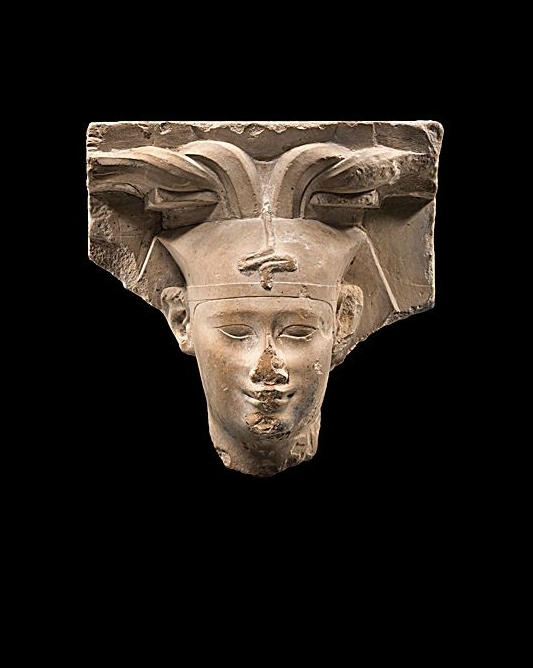 Head of a pharaoh wearing the Nemes with ram's horns, Egypt, Ptolemaic period, circa 330-30 BC. Sculptor's mode.; White limestone. H 10 x W 10 x D 3 cm. Courtesy David Ghezelbash Archéologie
Provenance: former private collection of Mr Bernard Daydé (1921-1986), theatre designer and director of the National Lyrical Theatre from 1971 to 1977, Paris, France; given to him in 1950 by King Farouk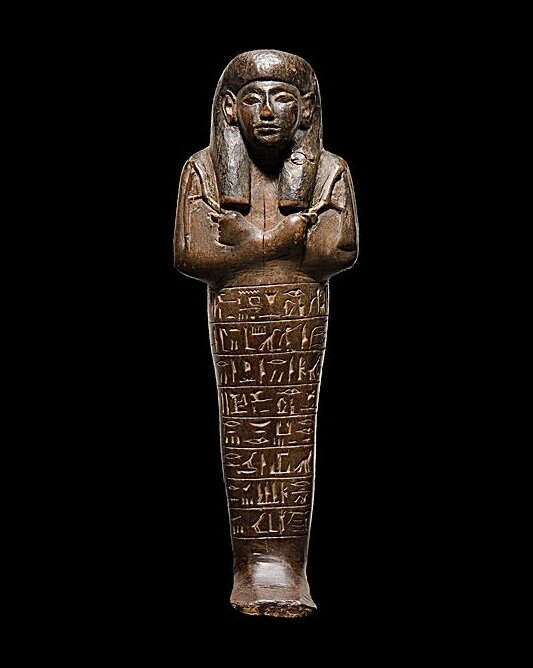 Funerary statuette of a servant or 'Shabti', Egypt, New Kingdom, Ramesside period, 1295 to 1069 BC. Tripartite wig, crossed arms and attributes on the chest. Wood with red, black and yellow pigments. H 26 cm. Courtesy David Ghezelbash Archéologie
Inscription in hieroglyphic characters engraved in eight registers mentioning
1. illuminating Osiris, the ? of the prison HAT true of voice
2. he says "O thou shabty
3. if one counts, if one
4. reckons the Osiris HAT true of voice
5. to perform all the works which are carried out
6. in the necropolis, you shall make
7. arable the fields, shall irr –
8. -igate the river banks'
Provenance: former private collection of a naval officer, acquired in Egypt at the end of the 19th century; former private collection of Mr Alfred Duringe, acquired in Lyon from a dealer who acquired it circa 1875, Marseille
Literature: G. Maspero, 'Recueil de travaux relatifs à la philologie et à l'archéologie égyptiennes et assyriennes pour servir de bulletin à la mission française du Caire', 1897, p 86; Alfred Duringe, 'Study of the Egyptian monuments in the archaeological museum of Cannes', 1907.
Steatopygous feminine idol sitting cross-legged, Anatolia, Neolithic period, 6th-5th millennium BC. Black steatite. H 5.4 x W 4.2 x D 3.5 cm. Courtesy David Ghezelbash Archéologie
Smooth, curved body. Hands on the chest. Long almond-shaped eyes. Hairdo with headband and a plait

Provenance: former Swiss private collection, acquired circa 1960.
La galerie David Ghezelbash Archéologie a ouvert ses portes en 2008, au coeur de Saint-Germain-des-Prés. Elle présente une sélection d'oeuvres d'art archéologique du bassin Méditerranéen: Art Grec, Romain, Egyptien et Proche Oriental. Membre du Syndicat National des Antiquaires (SNA) et de la IADAA (International Association of Dealers in Ancient Art), elle participe à des salons en France et à l'étranger comme le Frieze Masters à Londres et Showcase à TEFAF Maastricht. Elle s'attache à offrir un choix d'oeuvres d'un intérêt non seulement archéologique mais aussi esthétique et publie chaque année un catalogue disponible sur demande ou visible sur son site: www.davidghezelbash.com (rubrique: catalogue). Fondé en : 2008.
David Ghezelbash Archéologie. Stand 84c. Brafa Art Fair, 21-29 janvier 2017