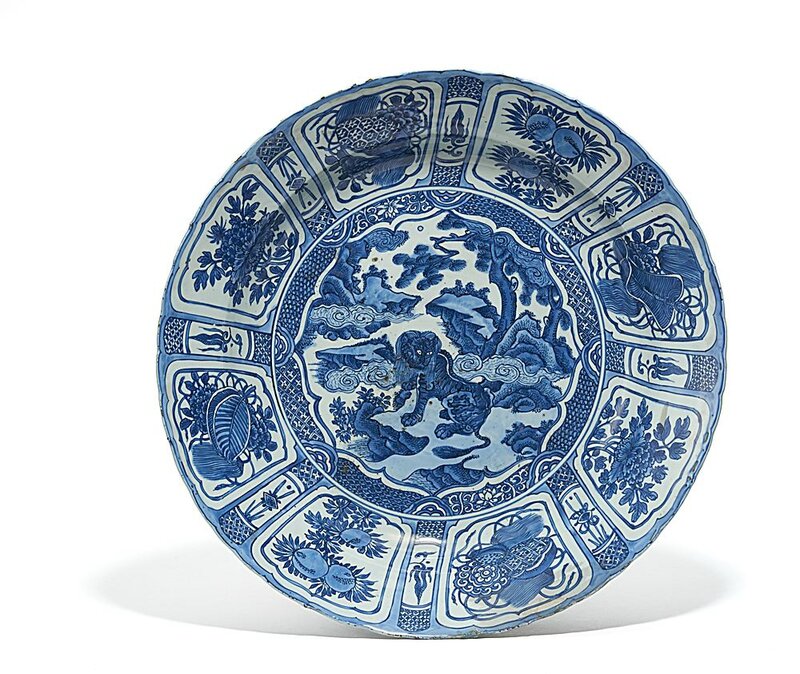 Large plate, Wanli, Ming period, 1563-1620. Ø 51 cm. Courtesy Marc Michot
Chinese porcelain painted in very bright underglaze-blue. The scene in the centre illustrates the 'chilong' (qilin ), a mythological hornless dragon, sitting on a rock under a pine near a river. On the large rim are eight cartouches figuring peonies and precious symbols
Known as 'kraak-porcelain', a type of Chinese export porcelain produced from the Wanli reign (1573) to the Chongzhen reign (1644), probably named after the Portuguese ships, 'carracks', in which it was transported overseas. It is an example of a sub-class of Jingdezhen-ware, decorated with motifs from nature in a style not used on pieces made for the domestic Chinese market.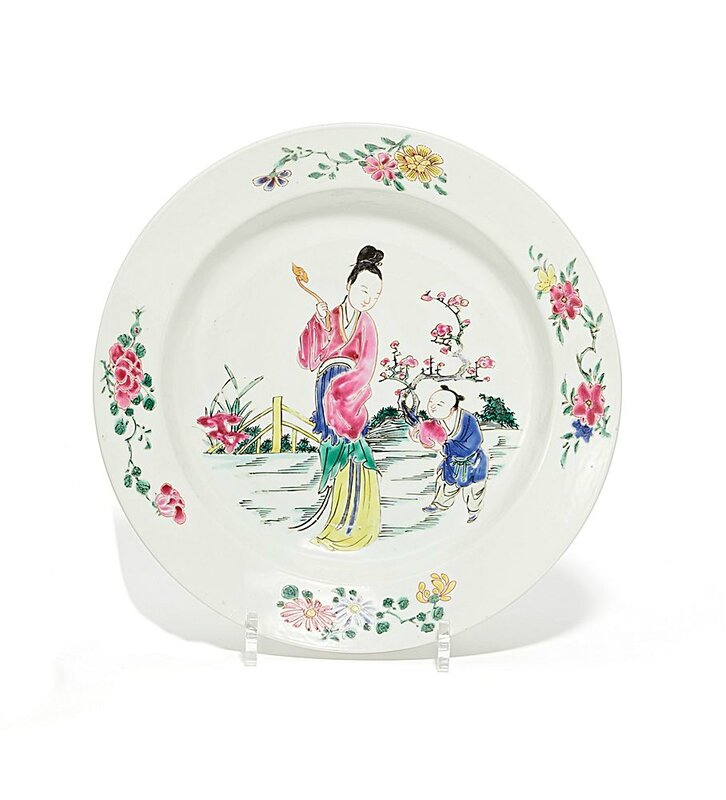 Famille rose plate, Yongzheng period, 1723-1735, Ø 23 cm. Courtesy Marc Michot
Chinese porcelain, semi-eggshell. Central scene illustrating Xiwangmu, the Queen Mother of the West, holding a 'ruyi-scepter' in her hand with a young boy next to her with a 'longevity-peach' in his hand. On the rim are four flowers representing the four seasons
'Tianqiuping', Early 19th century. H 44 cm. Courtesy Marc Michot
Vase painted with very fine, bright Doucai enamels. Four iron-red lotus flowers and stylised 'baths' surrounded by peony scrolls and flowers. Around the top, the middle and the base are rows of 'ruyi-heads' on an underglaze-blue ground. On the neck are two gilt 'Shou' characters. On the base: apocryphal seal mark in a Qianlong underglaze-blue
Marc Michot a fondé sa galerie en 1970. Il est également co-fondateur de l'association des 'Antiquaires de la Céramique ancienne'. Il est membre de la Chambre Royale des Antiquaires et des Négociants en Œuvres d'Art de Belgique, de la Chambre Belge des Experts en Oeuvres d'Art et de 'The Oriental Ceramic Society' (UK). Chaque année, il participe à la BRAFA et organise une exposition dans sa galerie. Il écrit mensuellement dans la 'Kunst- en Antiekrevue'. Fondé en : 1970.
Marc Michot. Stand 118b. Brafa Art Fair, 21-29 janvier 2017