Conical Parade helmet, Urartian, 9th-8th century BC. Bronze. H 30 cm. Courtesy Phoenix Ancient Art
Relief decoration in repoussé of giant serpents with animal heads inclining downwards as if to protect the royal figures facing each other in the central heraldic composition, incised on each side of the winged sun disk of Shamash next to the Tree of Life. Around the band are smaller devotional figures. The iconography reflects Assyrian art, and the cultural exchanges of the time. Almost entirely preserved
Provenance: formerly collection of G.Ligabue, collected before 1970; French Art Market, 2012
Literature: Aruz J., Graff S. & Rakic Ye, 'Assyria to Iberia: at the Dawn of the Classical Age, New York, 2014, pp. 88-90, n° 30; Born H., Seidl U.,' Schutzwaffen aus Assyrien und Urartu: Sammlung Axel Guttman IV', Mainz, 1995, pp. 48-49, 107-134, 172-173, ill. IV-V AG424; Castellucia M., Dan R., 'Urartian Bronze Helmets, in Ancient Civilizations from Scythia to Siberia 19 (2)', 2013, pp 277-313; Frankel D., 'The ancient kingdom of Urartu', London, 1979: Merhavr R., 'Urartu: a metalworking centre', Jerusalem, 1991; Piotrovskii B., 'Urartu: The Kingdom of Van and Its Art', New York, 1967, pp 45-47, ill. 16-20
Exhibition: Frieze Masters London 2016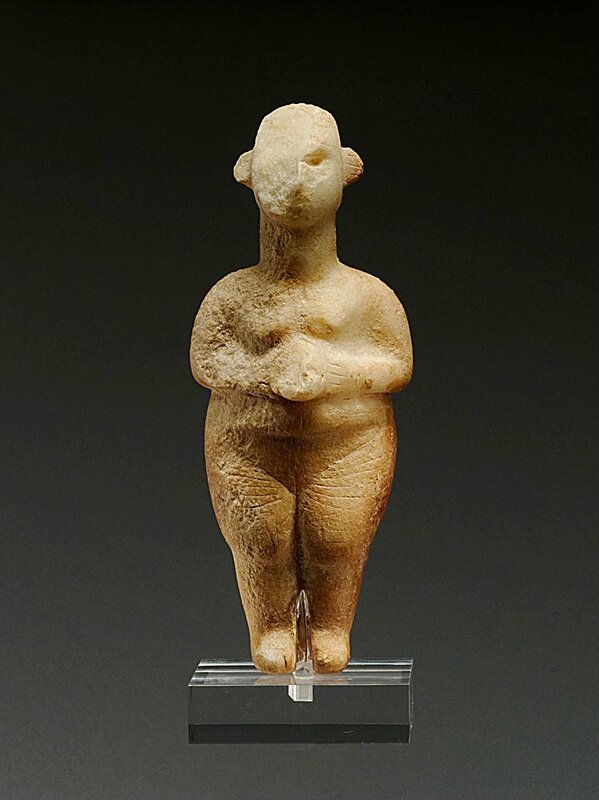 Steatopygic statuette, perhaps holding a child, Aegean, late Neolithic period, circa 3500-3000 BC. Marble, surface partially covered with concretions and a brownish patina. H 19.1 cm. Courtesy Phoenix Ancient Art
Representing a nude woman with generous proportions and rounded forms, standing upright with her arms placed on her belly, conveying a sense of plenitude. Overall good condition with losses on face, right arm and hand.
This sort of sculpture was very popular in the Anatolian, Greek and Balkan world throughout the Neolithic period and early Bronze Age. Two elements differentiate it from other known works: the incised lines on the skin, that are clearly visible on the thighs and belly, and the vaguely rounded shape the woman holds before her. These figures had religious value, for they were associated with the Mother Goddess who protected human fertility as well as the health of animals and crops
Provenance: former Swiss private collection, 1950s
Literature: Getz-Gentle P., 'Personal Style in Early Cycladic Sculpture', Madison (Wisconsin), 2001, ill. 4-6; 'In Pursuit of the Absolute, Art of the Ancient World', The G. Ortiz Collection, Bern, 1994, n° 46; 'The Anatolian Civilisations', Istanbul, 1983, n° A.272, p 121; von Bothmer M. (ed.), 'Glories of the Past, Ancient Art from the S. White and L. Lévy Collection', New York, 1990, n° 8-9
Exhibition: PAD London Art + Design 2016.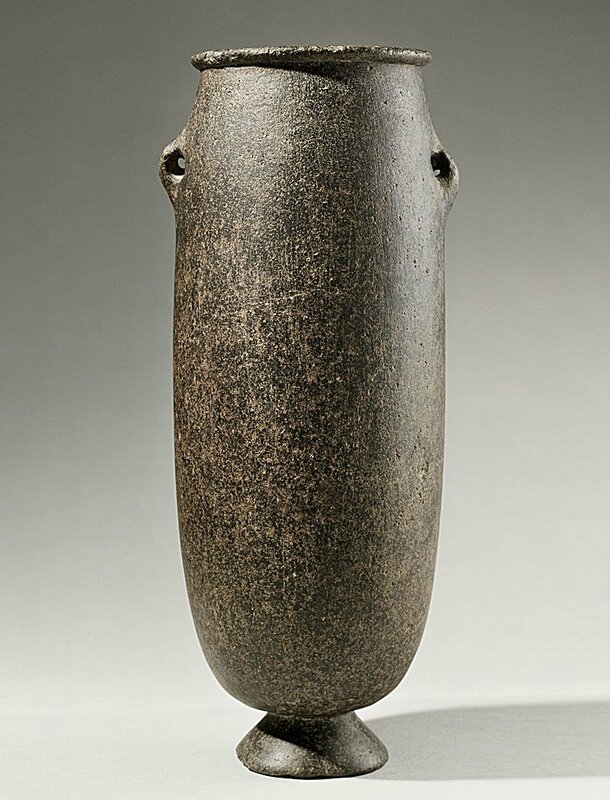 Nagada II Jar with handles, Egyptian, Predynastic period, 4th millennium BC. Charcoal-black basalt (?). H 27.6 cm. Courtesy Phoenix Ancient Art
Simple, elegant ogive-shaped body. Below the thick rounded lip, two small prominent handles for transport. Small trunconical foot. Virtually intact, with minor cracks and chips, smooth uniform surface. In Ancient Egypt such stone vases were luxury goods and only appear in royal tombs and in the graves of high-ranking individuals. They served as containers for ointments and cosmetic oils, used in daily life and in religious and funerary contexts. Their manufacture is a frequent theme on wall paintings in the Old Kingdom
Provenance: former Henry Blackmer collection, England; ex-American private collection, New York, acquired in 1991
Literature: Aston B.G.,' Ancient Egyptian Stone Vessels, Materials and Form (SAGA 5)', Heidelberg, 1994; El-Khoulia A., 'Egyptian Stone Vessels: Predynastic to Dynasty III', 3 vol., Mainz/Rhine, 1978; Page-Gasser M. & Wiese A.B.,' Egypte, Moments d'éternité', Mainz/Rhine, 1997, pp. 26, n° 6
Exhibition: PAD London Art + Design 2016
Phoenix Ancient Art est spécialisée dans les œuvres d'art ancien qui constituent l'essence même de la civilisation occidentale, allant de la Mésopotamie à l'Egypte, la Grèce et la Rome classique, l'Europe centrale, l'Eurasie, et le Sud-Ouest asiatique, du VIe millénaire avant JC jusqu'au XIVe siècle. Chaque objet témoigne de la grande virtuosité des artisans de l'époque et du raffinement de ces glorieuses cultures disparues. Qu'il s'agisse de sculptures de divinités, de bronzes harmonieux et majestueux, de verreries fines et élégantes, d'exquises mosaïques ou de bijoux étincelants, tous ces objets sont à jamais uniques et font partie de l'Histoire de l'Humanité.
Phoenix Ancient Art. Stand 8v. Brafa Art Fair, 21-29 janvier 2017