PITTSBURGH, PA.- Fashion designer Iris van Herpen (Dutch, b. 1984) marries precision and meticulous handcraft, inventive technological solutions, and a striking, futuristic aesthetic. Organized by the High Museum of Art, Atlanta, and the Groninger Museum, The Netherlands, Iris van Herpen: Transforming Fashion gathers seven years of van Herpen's original haute couture for this exhibition: her first North American tour. On view at Carnegie Museum of Art, it presents works from 15 of her collections across a bewildering range of materials and techniques. This Pittsburgh presentation is its easternmost US venue.
Exhibition Highlights
Refinery Smoke Collection
July 2008
Refinery Smoke is based on the astonishing beauty, the ambiguity, and the elusiveness of industrial smoke. Seen from a distance, smoke provides a fascinating and dynamic spectacle: at times it seems to be alive, but it also harbors something sinister and can even be toxic.

Van Herpen has manifested smoke's flowing texture in a metal gauze that she had specially woven for the Refinery Smoke collection. This unusual, stiff material consists of innumerable fine, metal threads, appearing soft and light. The dresses started as silver gray but have oxidized overtime to a reddish brown, reflecting the dual nature of industrial smoke.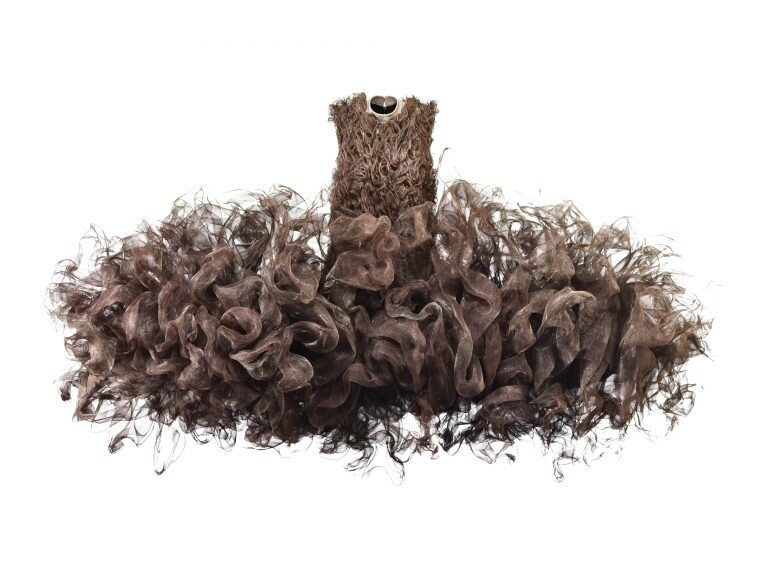 Iris van Herpen, "Refinery Smoke", Dress, July 2008, Untreated woven metal gauze and cow leather, Groninger Museum, 2012.0196 Photo by Bart Oomes, No 6 Studios
Radiation Invasion collection
September 2009
Iris van Herpen considers the flows of digital information that surround us at every moment and in every place, typically accessed through smartphones and other devices. What would we do with our daily overdose of electromagnetic waves and digital information streams if we could see them with our own eyes?

In Radiation Invasion, the wearer seems to be surrounded by a complex of wavy rays, flickering patterns, vibrating particles, and reflecting pleats. Here van Herpen imagines how it might look if we could detect and manipulate the radiation that surrounds us. This collection is the start of a theme that pervades her work: the role of technology and its relationship to the body.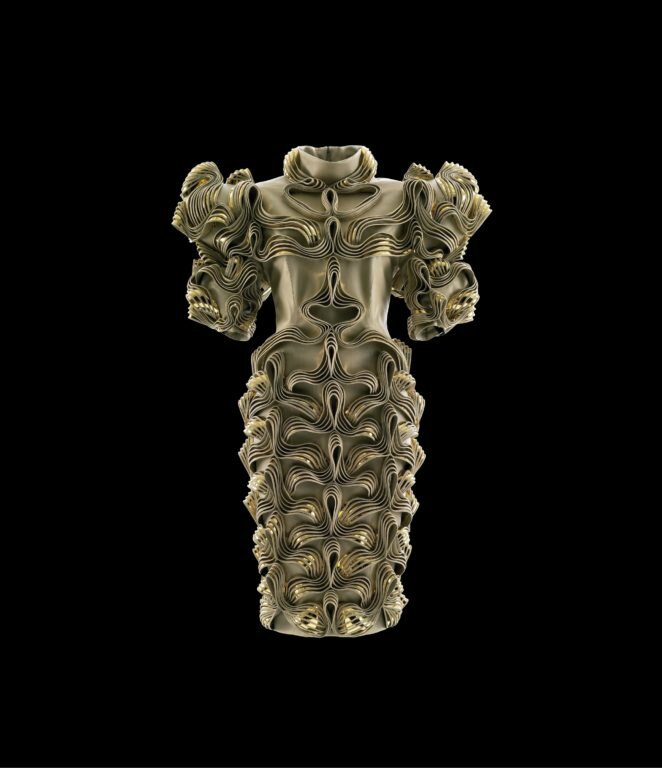 Hybrid Holism collection
July 2012
Canadian architect and artist Philip Beesley's work Hylozoic Ground provided the inspiration for Iris van Herpen's collection Hybrid Holism. Hylozoism is the ancient belief that all matter is in some sense alive. Beesley's seemingly living environment breathes, shifts, and moves in response to the people walking through it, touching it, and sensing it.

Intrigued by the possibility of constructing semi-living systems, van Herpen imagined a new form of fashion where designs can grow, evolve, and even exist independently from us. In a culture where obsolete designs are often discarded, van Herpen proposes that clothes and objects might instead evolve and transform over time. Combining diligent craftsmanship with cutting-edge technology, including 3-D printing, van Herpen translated this futuristic vision into a collection that is highly complex and diverse in terms of shape, structure, and material.
Iris van Herpen, "Hybrid Holism," Dress, July 2012 3-D-printed UV-curable polymer In collaboration with Julia Koerner and Materialise, High Museum of Art, Supported by the Friends of Iris van Herpen, 2015.170 Photo by Bart Oomes, No 6 Studios
Magnetic Motion collection
September 2014
Early in 2014, Iris van Herpen and Canadian architect Philip Beesley visited CERN (the European Organization for Nuclear Research) to see the Large Hadron Collider, which has a magnetic field that is 100,000 times more powerful than Earth's. Van Herpen was fascinated by the interplay of magnetic forces, saying: "I find beauty in the continual shaping of chaos, which clearly embodies the primordial power of nature's performance."

Van Herpen's layered, three-dimensional structures—which combine innovative techniques like 3-D printing with intricate handwork—explore the dynamic forces of attraction and repulsion. Van Herpen collaborated with Beesley to create luminous, three-dimensional textiles comprising tiny webs of laser-cut acrylic that echo the body's movements.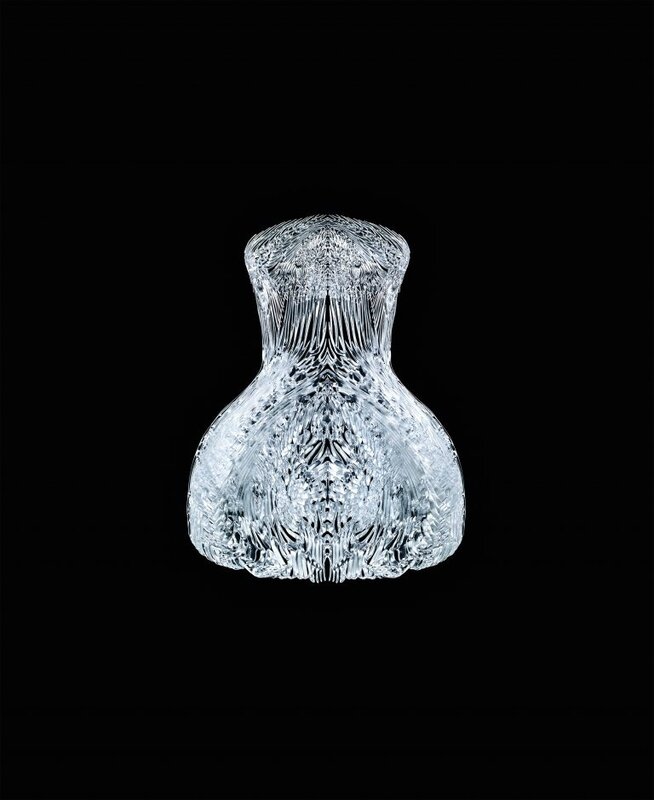 Iris van Herpen, "Magnetic Motion," Dress, September 2014, 3-D-printed transparent photopolymer and stereolithography resin, High Museum of Art, Purchase with funds from the Decorative Arts Acquisition Trust and through prior acquisitions, 2015.82 Photo by Bart Oomes, No 6 Studios
Iris van Herpen: Transforming Fashion is co-organized by the High Museum of Art, Atlanta, and the Groninger Museum, The Netherlands.

The exhibition was curated by Sarah Schleuning, High Museum of Art, and Mark Wilson and Sue-an van der Zijpp, Groninger Museum.

The CMOA presentation of Iris Van Herpen: Transforming Fashion is organized by Rachel Delphia, The Alan G. and Jane A. Lehman Curator of Decorative Arts and Design.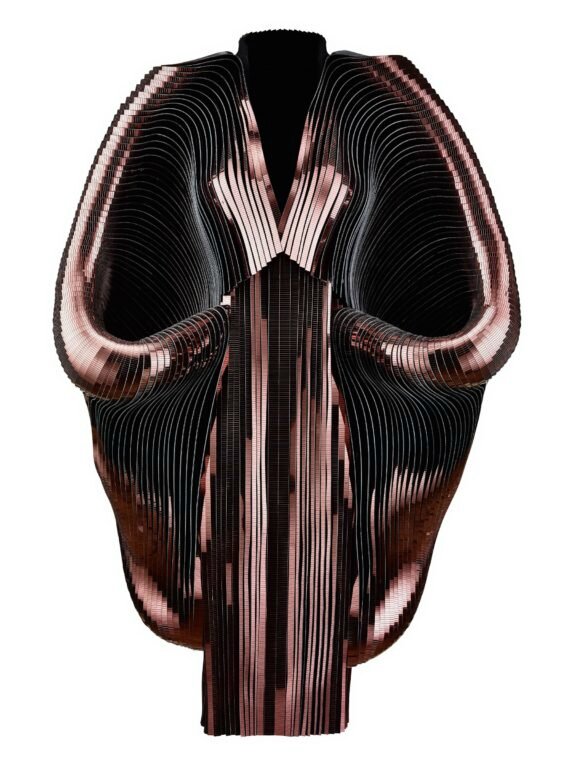 Iris van Herpen,"Hybrid Holism," Dress, July 2012. Metallic coated stripes, tulle, cotton. Collection of the designer. Photo by Bart Oomes, No 6 Studios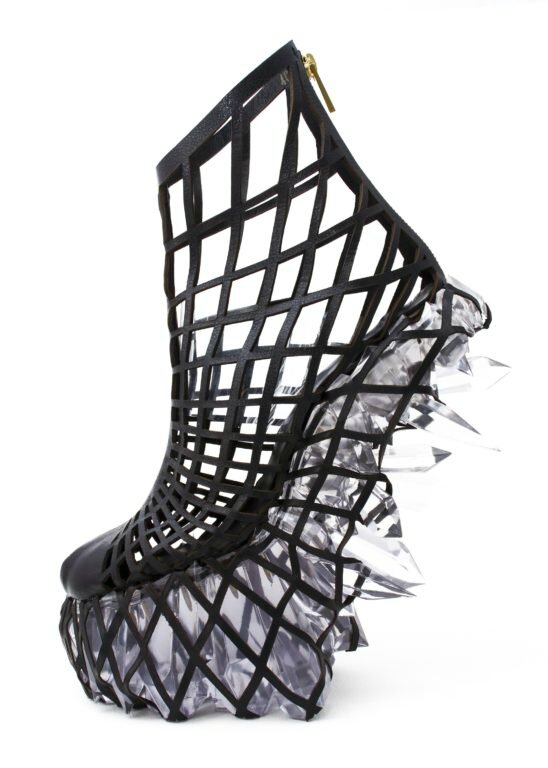 Iris van Herpen, "Hacking Infinity," Shoes, 2015, In collaboration with Noritaka Tatehana and 3D Systems Laser-cut cow leather, 3-D printed photopolymer, and stereolithography resin, Collection of the designer, Photograph ©NORITAKA TATEHANA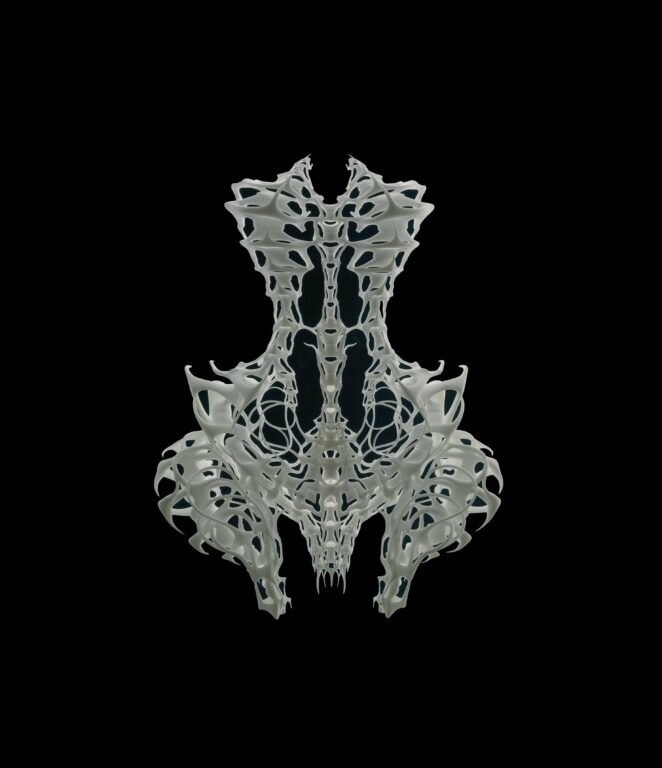 Iris van Herpen, "Capriole," Ensemble, July 2011, In collaboration with Isaïe Bloch and Materialise 3-D-printed polyamide, Groninger Museum, 2012.0209. Photo by Bart Oomes, No 6 Studios
Iris van Herpen, "Biopiracy," Dress, March 2014, In collaboration with Julia Koerner and Materialise 3-D-printed thermoplastic polyurethane 92A-1 with silicone coating. Collection of Phoenix Art Museum. Gift of Arizona Costume Institute. Photo by Bart Oomes, No 6 Studios