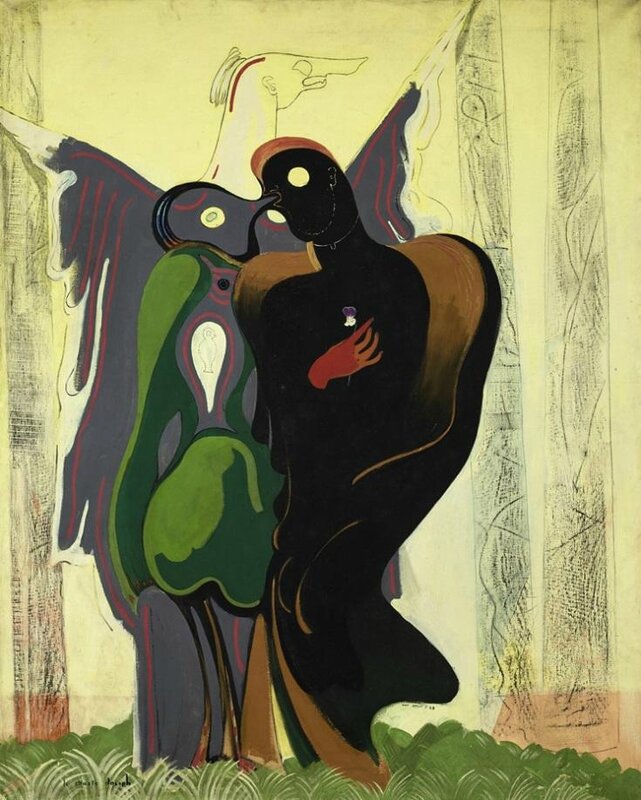 Max Ernst (1891-1976), Le Chaste Joseph, 1928.
'I was visited nearly every day by the Superior of the Birds named Loplop, my private phantom, attached to my person.' – Max
Ernst
LONDON - Max Ernst (1891-1976)'s fascination with nature – and in particular, birds and forests – will be brought into the spotlight with an exhibition of eleven rare and important works by the artist from 1921 – 28. Ernst was Paris' foremost Surrealist artist, and these paintings showcase a dynamic period in the capital's art scene. Having remained in private hands since they were painted, these exquisitely fantastical artworks will go on public view in London for the first time in almost three decades, from 13 February – 2 March 2017. The exhibition coincides with Sotheby's Surrealist Art Evening Sale on 1 March 2017.
Samuel Valette, Sotheby's Senior Specialist in Impressionist & Modern Art, commented: "We are honoured to have been loaned a selection of Max Ernst's greatest works to present a public exhibition that places a much-deserved spotlight on the artist who was at the very forefront of the Surrealist movement's aesthetic innovation.Presented in a specially created gallery display to evoke Ernst's magical yet dark account of the first time he entered a forest, this small but gem-like show will envelop visitors in Ernst's mastery of the natural and the fantastic. It provides a greater understanding of the artist himself and his profound influence on many of the greatest artists who followed him."
With over half of these works still in their original constructed frames designed by Ernst himself, the paintings present an incomparable insight into the most innovative period of the artist's career. An academically trained artist, he had been involved in the German Expressionist movement as well as the Cubism of Pablo Picasso. However, with the outset of the First World War and a spell as a soldier, he emerged deeply traumatised – the world he was living in was completely changed and consequently so was his artistic outlook.
The 1920s were the Âge d'Or of Surrealism and pushing the boundaries of what art could be. It was through Dadaism – an art movement born out of disgust for the degradation of social, political and cultural values – that Ernst found his way to this avant-garde. His dark and powerful works pushed him to the forefront of the new atmosphere of creativity, as he experimented with techniques that no one before him had even attempted and became the leading surrealist artist in Paris. These works encapsulate the nature of what it was that was taking place in that moment in that part of the world.
This was the period in which his emblematic obsession with birds first began, and from this point onwards almost everything in his oeuvre featured the motif. These birds became part of Ernst's personal mythology, in particular the recurring character Loplop – a metamorphic avian alter-ego. This deep connection was in part a recapitulation of his childhood memories and also perhaps a reference to Leonardo da Vinci, who had a fixation with a vulture. Indeed, Ernst himself was said to be birdlike in his dainty appearance, sharp movements and quick senses. In 1926 Paul Éluard, one of the founders of the Surrealist movement and one of Ernst's closest friends, wrote a poem entitled Max Ernst, which contains the following lines: 'Devoured by feathers and left to the sea / He has let his shadow pass into flight / Of the birds of freedom...'1
The jewel of the exhibition is Le Chaste Joseph, loosely based on an account in the Old Testament - one of the greatest masterpieces by Max Ernst in private hands. Most of the works were formerly exhibited in a show at The Matthiesen Gallery in 1956, with a few then on view at the Tate's landmark retrospective on Ernst in 1991 on the centenary of his birth. Thus this exhibition is a unique opportunity to view one of the most special groups of early Max Ernst works in recent history.
Highlights on View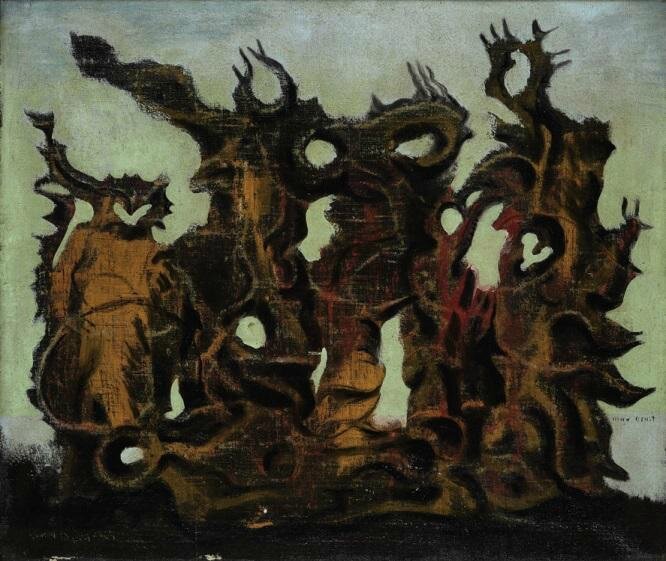 Max Ernst (1891-1976), Jeunes gens piétinant leur mère, 1927.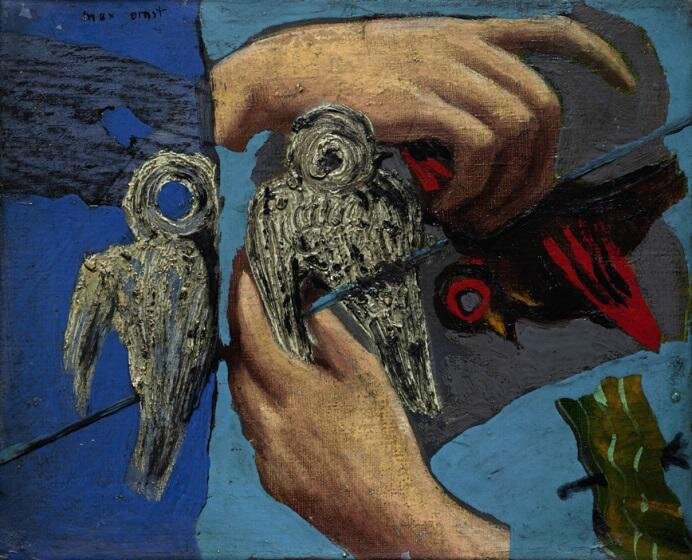 Max Ernst (1891-1976), Les Mains aux oiseaux, 1925.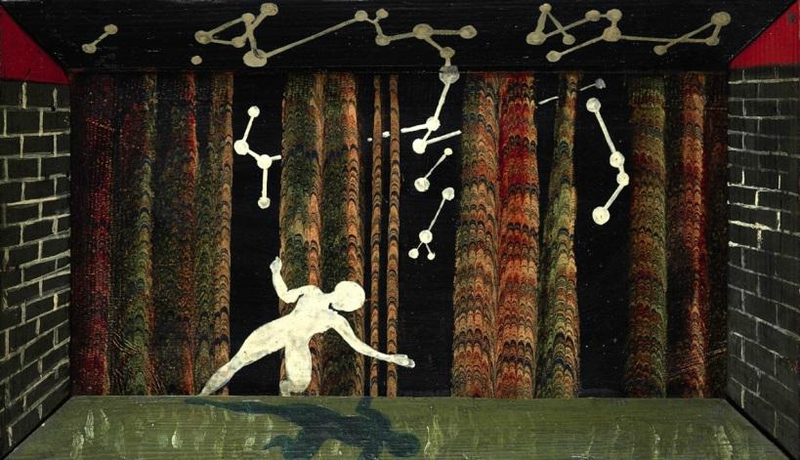 Max Ernst (1891-1976), Danseur sous le ciel (Le Noctambule), circa 1922.
Max Ernst (1891-1976), Cage et oiseaux, 1924.
Monday 13 February – Thursday 2 March 2017 (Closed on the 18 – 19 February)