Attributed to Gyeju (flourished ca. 1680s). Seated Buddha, Korea, 17th century, Joseon Period (1392–1912). Wood, lacquer, gold, and rock crystal. Newark Museum, Purchase 2013 Mr. and Mrs. William V. Griffin Fund, 2013.26.
NASHVILLE, TENN.- This winter and spring, visitors to the Frist Center will enjoy opportunities to examine the art of Buddhism in unusual depth. Organized by the Newark Museum exclusively for the Frist Center, Secrets of Buddhist Art: Tibet, Japan, and Korea explores one of the great faiths of the world through paintings and sculptures by Japanese, Korean, and Tibetan artists. On view in the Center's Ingram Gallery from February 10 through May 7, 2017, the exhibition features 109 paintings and sculptures from the Newark Museum's world-renowned collection of Buddhist art made between the late thirteenth and early twentieth centuries.
Secrets of Buddhist Art provides a basic understanding of how these artistic objects function within the esoteric or "secret" Vajrayana branch of Buddhism. Between the fourth and third centuries BCE, Buddhism split into two main branches: Mahayana and Theravada. Seven-hundred years later, in the third century, a third form, called Vajrayana, rose within the Mahayana branch. This esoteric school dominates Tibetan practice and is also prominent in Japan. Its devotees participate in initiation and empowerment ceremonies kept secret from outsiders. "A key to understanding these secrets is to study the complex array of both human and divine figures within esoteric Buddhism, as well as the rich, multilayered vocabularies of motifs that instruct and assist practitioners," says Katherine Anne Paul, curator, Arts of Asia, Newark Museum.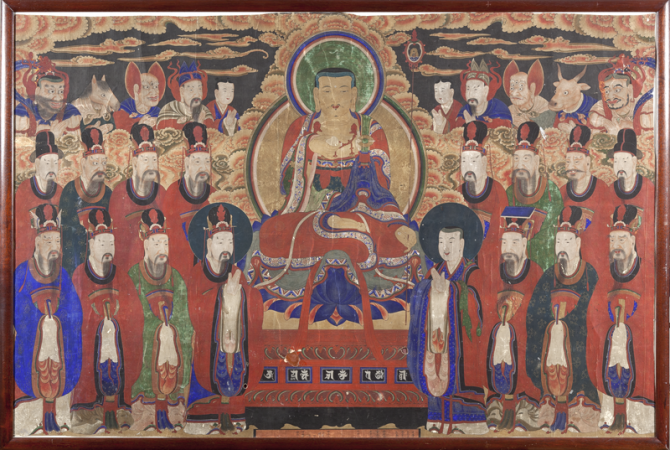 Bodhisattva Kshitigarbha and the Kings of Hell, Korea, late 19th or early 20th century, late Joseon period (1392–1912). Colors and cloth. Newark Museum, Gift of Dr. and Mrs. John P. Lyden, 2001, 2001.75.1.
This exhibition marks the first time that a selection of traditional Korean art—including a major depiction of the Geumgangsan Diamond Mountains on a folding screen, as well as 15 other pieces—will be presented in Nashville. "The thematic groupings of objects intentionally transcend national boundaries and encourage viewers to compare each cultures' interpretations of Buddhism and their distinguishing aesthetic forms and styles," says Frist Center curator Katie Delmez.

Images of the historical Buddha, born Siddhartha Gautama in the sixth century BCE in present-day Nepal, are prevalent throughout the Buddhist world, as are depictions of great events from his many lifetimes, especially his miraculous birth, departure from home, attainment of enlightenment, first sermon at Deer Park, and realization of nirvana upon his final death.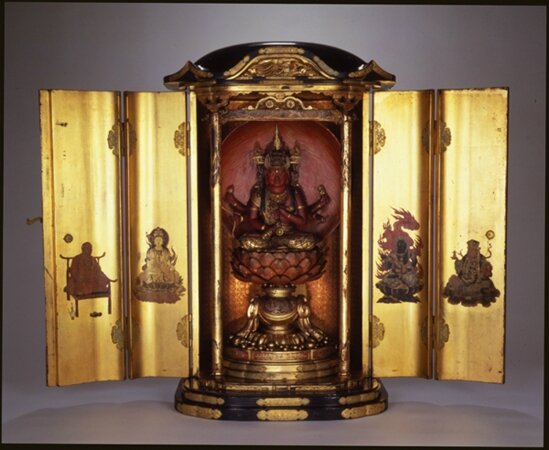 Shingon Religious Order. Ragaraja (King of Bright Passion) Shrine with Vaishravana (Guardian of the North), Acala (Immovable Protector), Eleven-Headed Avalokiteshvara (Bodhisattva of Compassion), and the Monk Kukai (774–835), Japan, Edo period (1603–1868). Wood, gold, colors, lacquer, wires, and metal fastenings, Newark Museum, Purchase 1909 George T. Rockwell Collection, 9.858
Buddhist practices of Tibet, Japan, and Korea are also populated with other non-historical Buddhas as well as numerous bodhisattvas. "Bodhisattvas are spiritually realized figures who have attained enlightenment but postpone nirvana (the ceasing of cyclic existence) to assist other sentient beings until all become enlightened," says Paul. "In art, bodhisattvas frequently are distinguished from Buddhas by jewelry—diadems, earrings, necklaces, armlets, bracelets, anklets—and by luxurious, often gravity-defying clothing that floats around them."

Secrets of Buddhist Art includes sections that examine how Buddhism explains the cycle of birth, death, and rebirth and which particular Buddha and bodhisattvas are worshipped to promote good health, longevity, and increased wealth. The exhibition also features portraits of teachers and students not only from different regions and periods of time, but also from different Buddhist schools within each region. Particularly rare for any museum collection are the two complete sets of biographical paintings. The detailed hagiographies (biographies of saints) include fifteen Tibetan paintings that illustrate the life of Tsongkhapa and four Japanese paintings that illuminate the life of Tokuhon.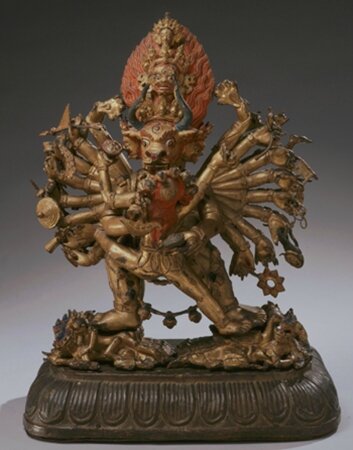 Gelug Religious Order. Yamantaka Embracing Vajravetali, Tibet, 17th–18th centuries. Mercury gilding, copper alloy, cold gold, and colors. Newark Museum, Gift of Dr. Wesley Halpert and Mrs. Carolyn M. Halpert in memory of Rudi, 1996, 96.84.
Belmont University's Asian Studies Symposium
Representations of Buddhism, the 2016–2017 Asian Studies Symposium at Belmont University, will be held Monday–Friday, February 13–17, and will support Secrets of Buddhist Art: Tibet, Japan, and Korea, with speakers on divergent facets of Buddhism in art, literature, popular culture, social activism, and personal journeys.
Buddha, Tibet, 15th–16th centuries. Mercury gilding, copper alloy, and turquoise. Newark Museum, Purchase 1920 Shelton Collection, 20.45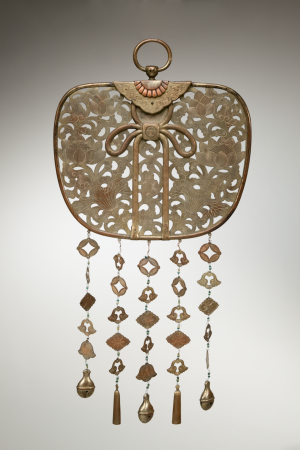 Keman Ritual Banner with Flower Decoration, Japan, Edo Period (1603–1868). Gilded bronze, copper alloy, and glass. Newark Museum, Gift of Mrs. A.H. Gibbes, 1924, 24.1011.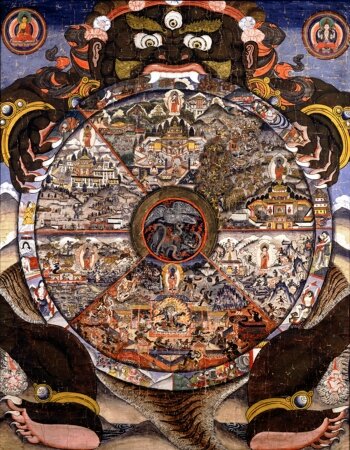 Wheel of Existence, Tibet, 18th–19th centuries. Colors and cloth. Newark Museum, Purchase 1936 Carter Holton Collection, 36.535A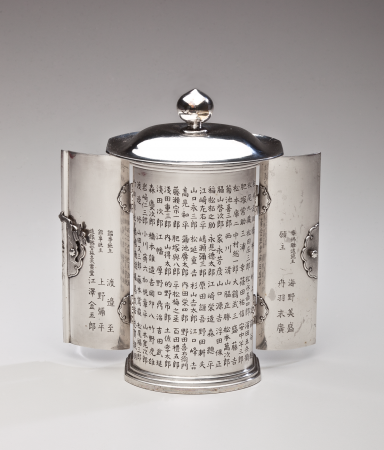 Commissioned and created by Hoshimori Unno and Eizawa Kingoro. Amitabha (Buddha of Limitless Light) Shrine, Japan, 1897, Meiji Period (1868–1912). Silver, gold, diamond, and ruby. Newark Museum, Gift of Herman A. E. Jaehne and Paul C. Jaehne, 1937, 37.59A-H
King Yama of Hell, Korea, late Joseon Period (1392–1912). Colors on cloth. Newark Museum, Gift of Dr. and Mrs. John Lyden, 1996, 96.41.2