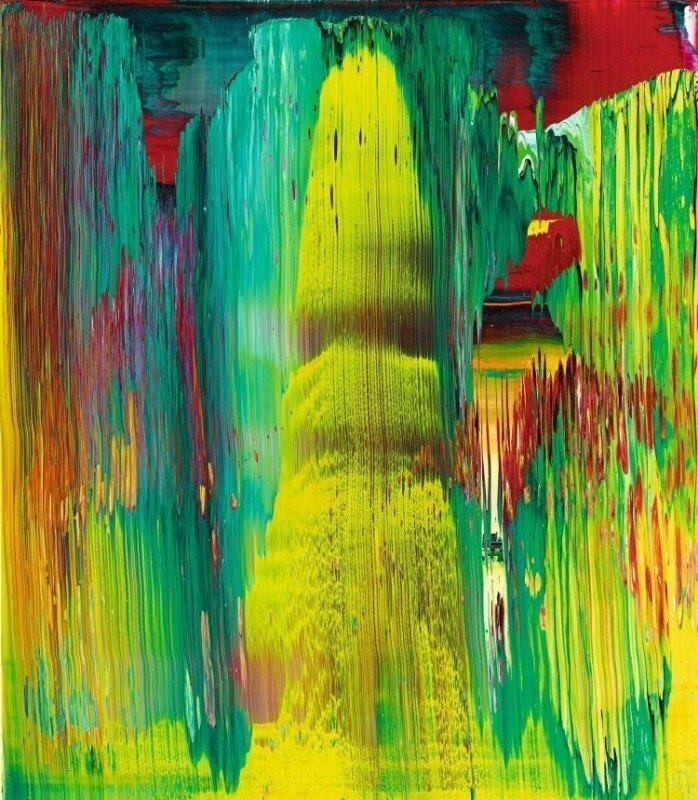 Lot 5. Gerhard Richter (B.1932), Abstraktes Bild (843-4), signed, dated 1997 and numbered 843-4 on the reverse oil on aluminum 21 5/8 by 18 7/8 in. 54.9 by 47.9 cm. Estimate 600,000 — 800,000 USD. Photo: Sotheby's.
Provenance: Anthony d'Offay Gallery, London
Acquired from the above by the present owner in January 1999
Exhibited: Venice, Biennale di Venezia: XLVII, June - November 1997
London, Anthony d'Offay Gallery, Gerhard Richter, 1998, September - October 1998, p. 15, illustrated in color
Literature: Rosana Alberti and Francesca Barzazi, Biennale di Venezia XLVII Future Present Past, Milan 1997, p. 528, illustrated in color
Guy Tosatto, Gerhard Richter: Le sentiment d'avoir approché quelque chose de la réalité des apparences, Grenoble 1998, p. 39, illustrated in color
Rainer Metzger, Flächenland. Anmerkungen zu Gerhard Richter's Arbeit an der Evidenz, Noema 1999, p. 48, illustrated in color
Exh. Cat., Düsseldorf, K20 Kunstsammlung Nordrhein-Westfalen, Gerhard Richter, 2005, p. 280, illustrated in color
Note: "For works like those, as Richter wrote to Buchloh in 1977, the premise is "that I can communicate nothing, that there is nothing to communicate, that painting can never be communication, that neither hard work, obstinacy, lunacy nor any trick whatever is going to make the absent message emerge of its own accord from the painting process." Consciously or not, Richter is citing Samuel Beckett, who called for an "expression that there is nothing to express, nothing with which to express, nothing from which to express, no power to express, no desire to express, together with the obligation to express." Not surprisingly, Richter soon discovered that a message nonetheless does emerge from the painting process, that something is communicated."
Barry Schwabsky, The Perpetual Guest: Art in the Unfinished Present, Brooklyn 2016, p. 98
Gerhard Richter's Abstraktes Bild series represents the paragon of the artist's treatise on the aesthetic and conceptual capacities of painting. Executed in 1997, Abstraktes Bild (843-4) is an outstanding example from this celebrated body of work. The artist's process is expressed in the gestural tide of color that pulls from both edges of the aluminum support, revealing a kaleidoscopic world within.
Richter's practice of abstract painting began in 1976. Reflecting on his process Richter said, "I want to end up with a picture that I haven't planned. This method of arbitrary choice, chance, inspiration and destruction may produce a specific type of picture, but it never produces a predetermined picture...I just want to get something more interesting out of it than those things I can think out for myself" (Richter interviewed in 1990, in Hubertus Butin and Stefan Gronert, Eds., Gerhard Richter. Editions 1965-2004: Catalogue Raisonné, Ostfildern-Ruit, 2004, p. 36). Richter's work is forged through an encounter with his painting tool of choice, the squeegee. With this tool, Richter abandons the traditionally soft and nimble brush, surrendering instead to the uniformly firm rubber edge of the squeegee. Stating the importance of the squeegee , Richter noted, "It is a good technique for switching off thinking. Consciously, I can't calculate the result. But subconsciously, I can sense it. This is a nice 'between' state" (Gerhard Richter in Stefan Koldehoff, "Gerhard Richter,'Malerie ist eine moralilsche Handlung,'" Wolkenkratzer Art Journal, April - June 1985, p. 40).
The Abstraktes Bild paintings can be related to an earlier series of works in which Richter painted from photographs, then blurred them while still wet. Richter explained of this process: "I blur things to make everything equally important and unimportant. I blur things so that they do not look artistic or craftsman like but technological, smooth and perfect. I blur things to make all the parts a closer fit. Perhaps I also blur out the excess of unimportant information" (Gerhard Richter, "Notes, 1964-1965," in DPP, p. 34). The present work's aesthetic mimics a photographic quality accentuated by out-of-focus sweeping swaths of paint. Richter is denying the viewer the ability to see anything conclusive in his work, but rather suggesting that the work's significance can extend in infinite directions and have innumerable meanings. By suggesting that the perception of a painting does not necessarily depend on what can be seen, Richter's ability tests the limits of representation.
Sotheby's. Contemporary Curated featuring works from "In Its Own Light: Property from the Collection of Ed Cohen and Victoria Shaw", New York, 02 Mar 2017, 10:00 AM