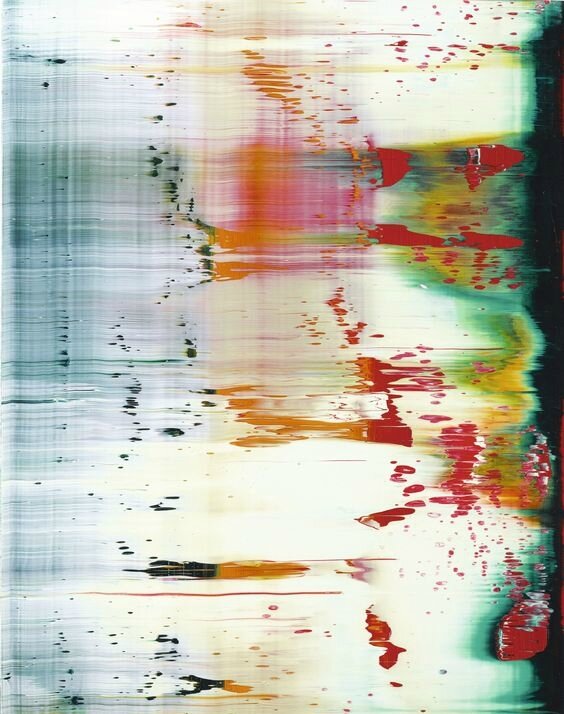 Lot 228. Gerhard Richter (B.1932), Fuji (839-68), signed on the reverse oil on aluminum 14 1/2 by 11 1/2 in. 36.8 by 29.2 cm. Executed in 1996. Estimate 400,000 — 600,000 USD. Photo: Sotheby's.
Provenance: Galerie Fred Jahn, Munich
Private Collection, USA
Private Collection, New York
Literature: Hubertus Butin and Stefan Gronert, Eds., Gerhard Richter: Editions 1965-2004, Ostfildern 2004, cat. no. 89, p. 238, another example illustrated in color
Hubertus Butin, Stefan Gronert, and Thomas Olbricht, Eds., Gerhard Richter: Editions 1965-2013, Ostfildern 2014, cat. no. 89, p. 260, another example illustrated in color
Note: With its chromatically spectacular arrangement of red, green and white oil paint on a shimmering aluminum base, Gerhard Richter's (839-68) is an energetically accomplished example from the artist's celebrated abstract paintings. Beautifully fusing his distinctive interest in chance and control, (839-68) captures Richter's unique visual language and echoes the arresting aesthetic of his monumental paintings from the 1990s on a domestic scale.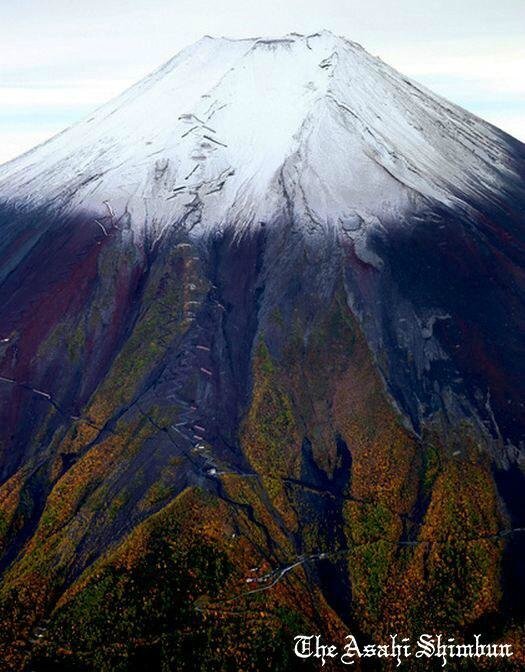 Mount Fuji Covered With First Snow of The Season, Fujiyoshida, Japan, October 11, 2015. Photo by The Asahi Shimbun / Getty Images
The Fuji series was conceived in 1996 as a series of 110 unique paintings. Each Fuji painting was individually produced by applying separate layers of red, Indian yellow and emerald green paint on an aluminum surface, after which the artist applied another layer of white paint with his signature squeegee tool on top. By spreading out these different layers of oil paint over the smooth surface, unexpected gradients and ruptures emerge that produce the unmistakable aesthetic of Richter's abstract paintings and create a beautiful contrast between soft color transitions and abrupt breaks where the underlying paint layers become visible. This combination of a controlled, pre-conceived process and the unexpected effects of the squeegee are characteristic for Richter. "We only find paintings interesting because we always search for something that looks familiar to us. I see something and in my head I compare it and try to find out what it relates to. And usually we do find those similarities and name them… When we don't find anything, we are frustrated and that keeps us excited and interested." (Gerhard Richter in conversation with Robert Storr, Exh. Cat., New York, The Museum of Modern Art, Gerhard Richter: Forty Years of Painting, 2002, p. 304)
As one of the most brightly colored and beautifully constructed paintings, the present painting is an exceptional work from the series, as well as an outstanding example of Richter's iconic abstract paintings. With deep reds, yellows and greens appearing from underneath the white top layer, the particularly vivid colors and tangible surface make (839-68) an unmistakably important work from one of the leading artists of Contemporary Art today.
Sotheby's. Contemporary Curated featuring works from "In Its Own Light: Property from the Collection of Ed Cohen and Victoria Shaw", New York, 02 Mar 2017, 10:00 AM