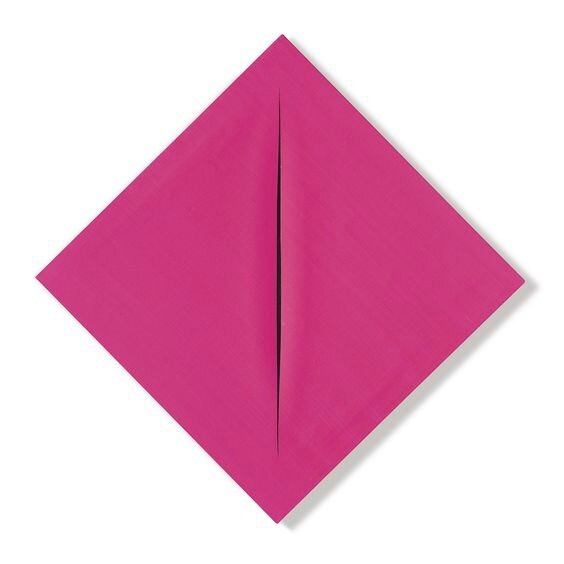 Lot 62. Lucio Fontana (1899 - 1968), Concetto Spaziale, Attesa, signed, titled and inscribed hoy es un dia meravilloso on the reverse, waterpaint on canvas, overall: 84.5 by 84.5 cm. 33 1/4 by 33 1/4 in., each edge: 60 cm. 23 5/8 in. Executed in 1965. Estimate 500,000 — 700,000 GBP. Photo: Sotheby's.
Provenance:

Franco Passoni, Milan
Acquired from the above by the present owner in the early 1980s
Exhibited:

Turin, Galleria Civica d'Arte Moderna,

Lucio Fontana,

February - March 1970, n.p., no. 225, illustrated
Literature:

Vero Pizzigoni, Ed.,

Enciclopedia Universale Seda della Pittura Moderna,

Vol. III, Milan 1969, p. 1125, illustrated
Vero Pizzigoni, Ed.,
Enciclopedia Universale Seda della Pittura Moderna,
Vol. III, Milan 1969, p. 1125, illustrated
Enrico Crispolti,
Lucio Fontana, Catalogue Raisonné des Peintures et Environments Spatiaux
, Vol. II, Brussels 1974, p. 161, no. 65 T 34, illustrated (colour incorrectly described)
Enrico Crispolti,
Fontana: Catalogo Generale
, Vol. II, Milan 1986, p. 563, no. 65 T 34, illustrated (colour incorrectly described)
Enrico Crispolti,
Lucio Fontana, Catalogo Ragionato di Sculture, Dipinti, Ambientazioni
, Vol. II, Milan 2006, p. 752, no. 65 T 34, illustrated (colour incorrectly described)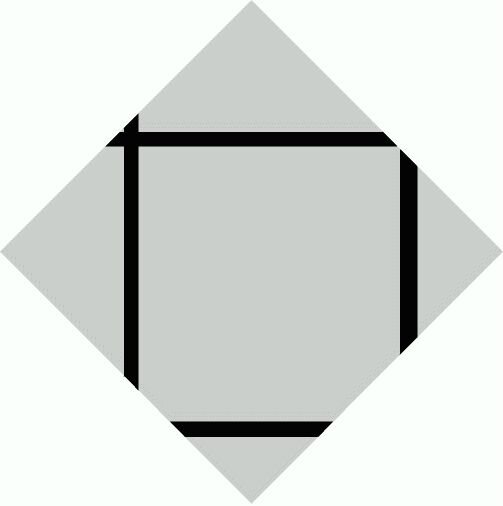 Piet Mondrian, Composition C, 1920, The Museum of Modern Art, New York. Image: © The Museum of Modern Art, New York/Scala, Florence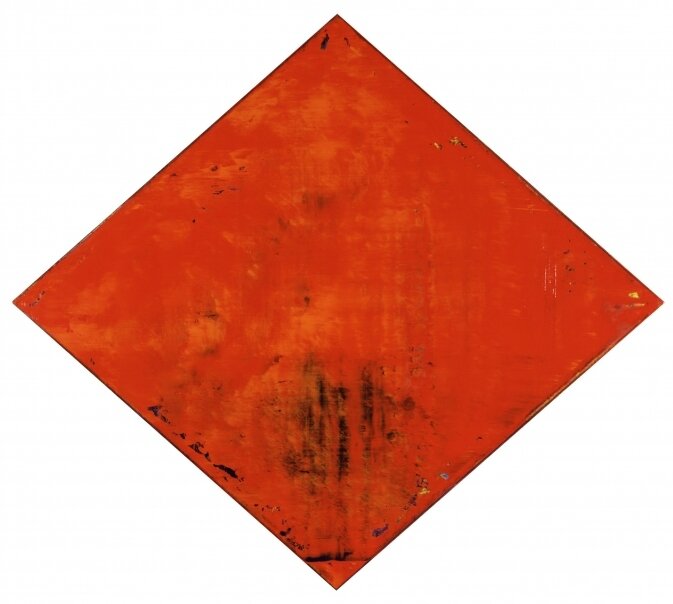 Gerhard Richter, Abstraktes Bild, Rhombus, 1998, The Museum of Fine Arts, Houston. Image/Artwork: © Gerhard Richter 2017
Note: Piercing an expanse of arrestingly luminescent pink monochromy with a single clean incision, Lucio Fontana's Concetto Spaziale, Attesa performs a sensuous veneration of the artist's most iconic gesture – the tagli (cuts). This pierced fuchsia body liberates painting from the dimensional limitations of abstraction and is emblematic of the artist's profound contribution to the history of the medium. Rare within Fontana's prolific corpus, the present work is one of only five paintings where he oriented a perfectly square canvas at an oblique 45 degree angle, each time enshrining a central cut that exquisitely maintains a conversely vertical planarity. This poignant formal deviation re-formulates the artist's synonymous motif as both a corporeal and a devotional object. With visceral tonal illusions to the body and flesh, it is in the present work that Fontana makes one of his most radical conceptual consolidations as he positions the notion of human creation and origins of life within his grand schema; one that designates art as a vehicle for realising the absolute essence of existence.
Initiating this motif in the autumn of 1958, Fontana's tagli constitute the zenith of his oeuvre, having been proclaimed by the artist as the conclusive endpoint of his conceptual enquiry: "I have invented a formula that I think I cannot perfect. I succeeded in giving those looking at my work a sense of spatial calm, of cosmic rigor, of serenity with regard to the infinite. Further than this I could not go" (Lucio Fontana cited in: Giorgio Bocca, 'Il taglio è il taglio: Incontro con Lucio Fontana, il vincitore di Venezia', Il Giorno, 6 July 1966, n.p.). Here the exquisite simplicity of a single impassioned rupture tears down the aesthetic dogma of two-dimensional pictorial rule and the perspectival boundaries of illusionistic painting, opening up an enigmatic cerebral void. Ultimately the tagli express a new conception of physical space in the Twentieth Century and manifest a zeitgeist enlivened by historic events such as the burgeoning space race and Albert Einstein's theoretical fusion of time and space.
In the present example, however, Fontana's indulgence in a sensual and hot pink brings a profoundly human element into his theoretical concerns. Developing the notion of Cartesian three-dimensional space and the division between inner and outer body, Fontana crafts an enigmatic orifice-like rupture that alludes not only to the astrophysical make-up of the universe but also the ontological existence of humanity and the biological origins of human life. Inscribed on the back with the maxim "hoy es un dia meravilloso" (today is a wonderful day) Concetto Spaziale Attesa becomes a jubilant metaphor for birth and man's conception of his own life-force within the endless cycles of reproduction that constitute the universe in all its systemic dynamism.
Fontana's intuitive understanding of conceiving form through absence and presence recalls his background as a sculptor and, most poignantly in this instance, his Natura sculptures which often bear the same violent incision across a dense body and encourage a phenomenological appreciation of basic matter. The artist's famed Fine di Dio series also bear an iconography of 'creation' that traverses biology and physics. The egg-shaped canvases punctured with holes that evoke Luna craters each offer a poetic visualisation of man's interminable bond to the progenitive cosmos. The charismatic physical presence of these shaped canvases is recalled by the present work's unique orientation; the oblique format detracts from the sense of expansive psychological space associated with the standard rectangular frame, historically viewed as a window to the world. Privileging object over image, Fontana only ever made five canvases in the diamond format. The present work is the largest of these, alongside another canvas of the same dimensions created in the same year. Painted in the contrastingly gendered colour of blue, together they embody the stereotypical and dichotomous tonal paradigm of boy and girl and the biological origins of human creation.
Nuancing his quest for the absolute through a nod to the most absolute origin of humanity, the artist forges a philosophical nexus that expresses the eternal dimensions of man, the universe and art. As Fontana had originally conceived in his very first Spatialist manifesto: "The work of art is not eternal; and his creations exist in time, and where man ends, the infinite continues" (Lucio Fontana, 'Technical manifesto of Spatialism', 1951, reproduced in: Guido Ballo, Lucio Fontana, New York 1971, pp. 228-31). With a major exhibition planned to take place at the Metropolitan Museum of Art in New York this year, undoubtedly the sheer genius of Fontana remains equally enduring.
Sotheby's. Contemporary Art Evening Auction, London, 08 Mar 2017, 07:00 PM