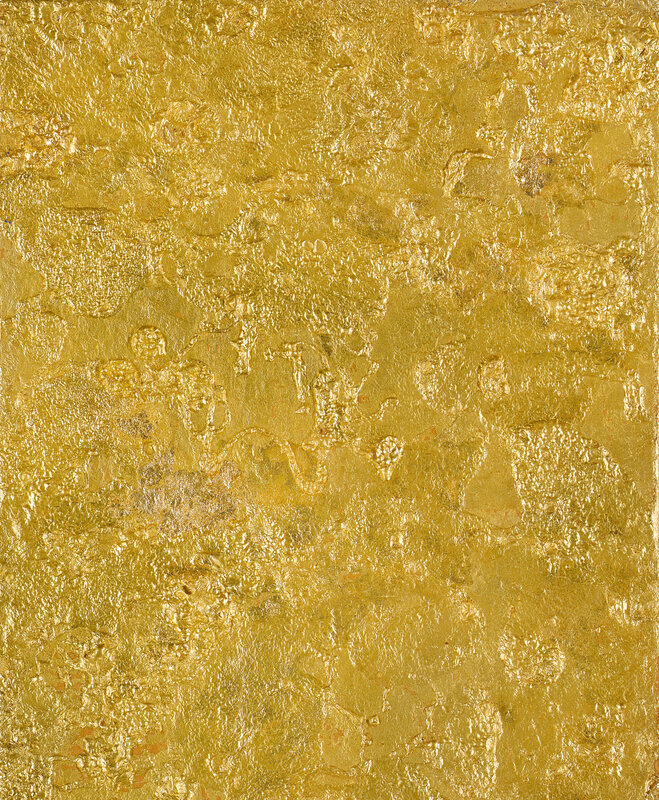 Lot 11. Yves Klein (1928 - 1962), Untitled Monogold (MG 47), gold leaf on wood panel, 21.5 by 17.3 cm. 8 1/2 by 6 7/8 in. Executed in 1959. Estimate 700,000 — 900,000 GBP. Lot Sold 908,750 GBP. Photo: Sotheby's.
This work is registered in the Yves Klein Archives under number MG 47.
Provenance: Gift from the artist to the family of the present owner in 1961
Note: Gold was hugely important to Yves Klein. As a formal element, the shimmering and resplendent hue formed one third of the chromatic trio upon which the vast majority of his oeuvre was based. As a material, the metal provided him with a medium already imbued with so many of the qualities he sought in his work. Subsequently, the Monogolds are considered to be of immense significance to the interpretation this artist's cruelly curtailed career. Given to the family of the present owner during the year of its creation, this work is as delicate in aesthetic as it is ferocious in conceptual vigour, and as such it is filled with the artistic impetus that defined Klein's production.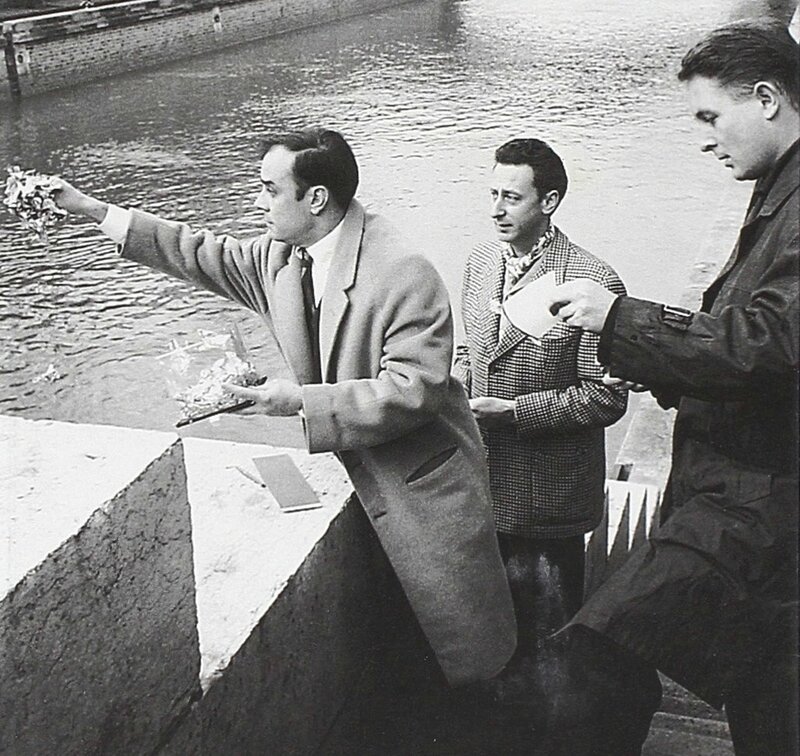 Transfer of a Zone of immaterial pictorial sensibility to Claude Pascal, Paris, February 4th, 1962. © Photo Gian Carlo Borri
Gold is one of three hues upon which Klein's dramatic praxis is based. He loved the manner in which material and colour were one and the same, and automatically imbued with a sense of inherent importance and value. Speaking of his interest in gold, in his famous treatise 'Yves Klein: The Monochrome', Klein recalled: "In London I worked secretively for about a year, to earn my living, in the Old Brompton Road framing shop of one of my father's friends, Robert Savage. It was there that in assisting in the preparation of glues, colors, varnishes, and gildings that I first came near raw materials and handling them in bulk. In applying coat after coat on frame between sanding, taking great pains to avoid any undesired imperfection or irregularity, I first glimpsed a beautiful white distemper, clean and dry. Then, after the second coat, it was a very pale reddish gray or a translucent pink... And then, the gold! Those leaves literally fly away with the slightest movement of air and have to be caught in flight with a knife in one hand and the gilders cushion in the other. The leafs are delicately placed on the surface to be gilded, prepared with a base and moistened with gelatinous water before hand. What material! What better schooling with respect to pictorial matter!" (Yves Klein, 'The Monochrome Adventure' (1958) in: Klaus Ottmann, trans., Overcoming the Problematics of Art: The Writings of Yves Klein, New York 2007, p. 142).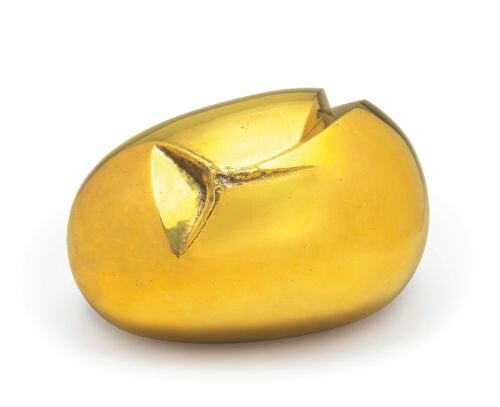 Constantine Brancusi, Le premier cri, 1917. Image: © Bridgeman Images. Artwork: © Succession Brancusi - All rights reserved. ADAGP, Paris and DACS, London 2017
He also loved Gold for its vibrancy. As well as a conceptualist of abstruse complexity, Klein was an artist of great technical skill who had conducted extensive investigations into how to suspend pigment so that it retained its freshness and vitality. He even patented his signature hue: International Klein Blue. When working with the metallic sheen of gold – eternally shimmering and catching the light – this problem disappeared. The present work typifies his bold enigmatic style and, for its delicacy and subtlety, should be viewed in keeping with the most lauded works of the series.
Sotheby's. Contemporary Art Evening Auction, London, 08 Mar 2017, 07:00 PM