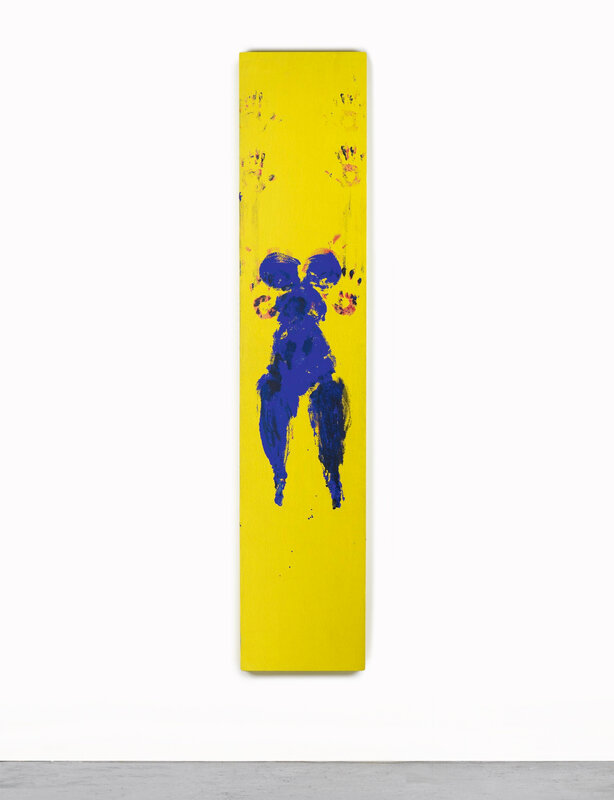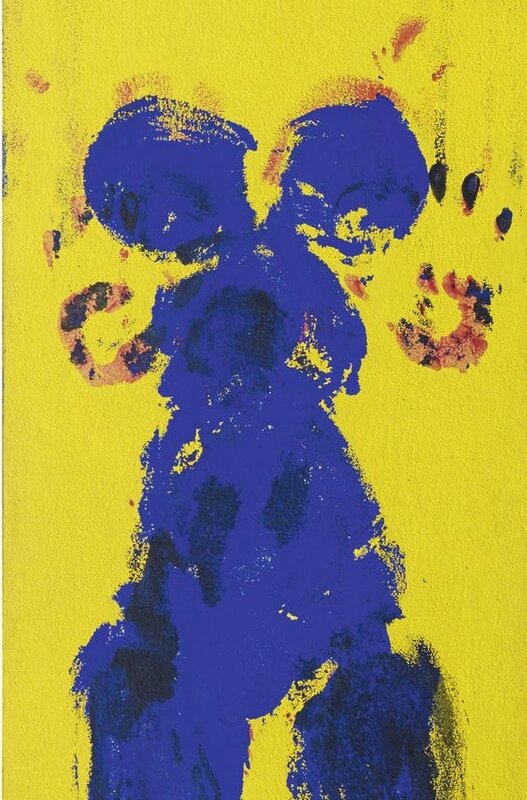 Lot 25. Yves Klein (1928 - 1962), Untitled Anthropometry (ANT 114), stamped with artist's monogram on the overlap; titled ANT 114 on the reverse, dry pigment and synthetic resin on paper laid down on canvas, 246 by 50.3 cm. 96 7/8 by 19 7/8 in. Executed circa 1960. Estimate 2,000,000 — 3,000,000 GBP. Lot Sold 2,108,750 GBP. Photo: Sotheby's.
Galerie Gmurzynska, New York
Acquired from the above by the present owner in 2006
Exhibited: New York, Galerie Gmurzynska, Yves Klein: The Anthropometries, October - November 1997, n.p., illustrated in colour
Literature: Paul Wember, Yves Klein, Cologne 1969, p. 112, no. ANT 114, illustrated
Exh. Cat., Frankfurt, Schirn Kunsthalle Frankfurt, Yves Klein, September 2004 - January 2005, p. 127, illustrated in colour
Klaus Ottman, Yves Klein: Works / Writings, Barcelona 2009, p. 66, illustrated in colour
Note: Dense in its conceptual framework and mesmerising in its alluring beauty, Untitled Anthropometry (ANT 114) represents a distillation of the central tenets of Yves Klein's visionary oeuvre and exemplifies the beauty of his Anthropométries. Even amongst this extraordinary series, the present work is exceptional, considered rare not only for its grand-scale, but also for its inclusion of hot pink alongside this artist's signature ultramarine. The composition of this work is spectacularly dynamic, indicative not only of impact, in the trunk of the central form, but also of movement, in the modulated marks that conjoin three individually imprinted pairs of hand prints. In this stunning work, using the human body as anthropomorphic brush, Klein created a composition that charts the course to a new frontier of painting, one in which the heretofore antithetical poles of abstraction and figuration achieve a stunning and ground-breaking coalescence. Untitled Anthropometry (ANT 114) is a paradigmatic example of a seminal series, which broke apart the very definition of painting, radicalised the enduring art historical motif of the nude and laid conceptual foundations that continue to inform performance art to the present day.
It was in 1960, the same year as the execution of the present work, that Klein's Anthropométries achieved new levels of conceptual innovation and aesthetic supremacy. On March 9 of that year, the artist staged his legendary Anthropométries de L'Époque Bleue performance at the Galerie Internationale d'Art Contemporain in Paris. For this feted happening, a select audience was invited to watch Klein, dressed in immaculate white tie and gloves, as he instructed three nude female models to cover themselves in his vivid ultramarine, drag each other across a paper-lined floor, and imprint themselves in particular poses against a huge wall-mounted canvas. Klein revelled in the precise orchestration of the event and the juxtapositions and contrasts that abounded within its conception: the serene propriety of the invited guests contrasted with the energy and drama of the performance, while the state of the performers – naked and covered in blue paint – seemed entirely at odds with Klein's spotless attire. It is only through the comprehension of this contextual background that we can understand the dynamic performative nature of works such as Untitled Anthropometry (ANT 114), conceived and executed in the same manner. Works from this series exist as the beautiful relics of these beguiling ceremonies. Indeed, in their appreciation, we are wholly reminded of Klein's oft-repeated motto: "Painting is no longer for me a function of the eye. My paintings are the ashes of my art" (Yves Klein, 'Yves the Monochrome 1960: Truth Becomes Reality', in: Yves Klein, trans. Klaus Ottman, Overcoming the Problems of Art: The Writings of Yves Klein, New York 2007, p. 185).
Yves Klein « Anthropométries de l'Époque Bleue » Galerie internationale d'art contemporain, Paris, France, 9 March 1960 Artistic action of Yves Klein © Yves Klein, ADAGP, Paris / DACS, London, 2016 Collaboration Harry Shunk and Janos Kender © J.Paul Getty Trust. The Getty Research Institute, Los Angeles. (2014.R.20) Gift of the Roy Lichtenstein Foundation in memory of Harry Shunk and Janos Kender
Yves Klein, « Anthropométries de l'époque bleue » Galerie internationale d'art contemporain, Paris, France, 9 March 1960 Artistic action of Yves Klein © Yves Klein, ADAGP, Paris / DACS, London, 2016 Collaboration Harry Shunk and Janos Kender © J.Paul Getty Trust. The Getty Research Institute, Los Angeles. (2014.R.20) Gift of the Roy Lichtenstein Foundation in memory of Harry Shunk and Janos Kender
The son of two artists, Klein was extremely well-versed in art history. Indeed, while the Anthropométries undoubtedly presented something entirely original to the avant-garde, the likes of which had never been seen before, they can also be linked to some of Klein's contemporaries and historical predecessors in certain stylistic aspects. The present work bears a visual similarity to Henri Matisse's renowned series of cut-outs, such as Blue Nude from 1952, not only in its deployment of a similar palette, but also in its equitable brevity of form and comparative simplicity of composition. In this respect, the viewer is also put in mind of Robert Rauschenberg, who created works of striking aesthetic similarity using blueprint paper and photographic exposure techniques, in the early 1950s.
Looking further back into art history, we are even reminded of classical and antique sculpture in the appreciation of the work. Klein's imprint of the human form, left identifiable only by the contours of its legs and torso, recalls numerous Greco-Roman marble figures, whose full corporeal structures have fallen prey to the passage of time, and who exist similarly and solely in the rendering of the central section of their bodies. We know that Klein was enamoured by classical sculpture of this type from his well-known sculpture edition of Victoire de Samothrace, which consists of a plaster cast of the famous antique sculpture, covered in a layer of International Klein Blue pigment. We also know that it was the central section of the body that he found most engaging and expressive in his art: "It was the block of the body itself, that is to say the trunk and part of the thighs that fascinated me… Only the body is alive, all-powerful, and non-thinking" (Yves Klein cited in: Exh.Cat., London, Hayward Gallery (and travelling), Yves Klein, 1994, p. 175).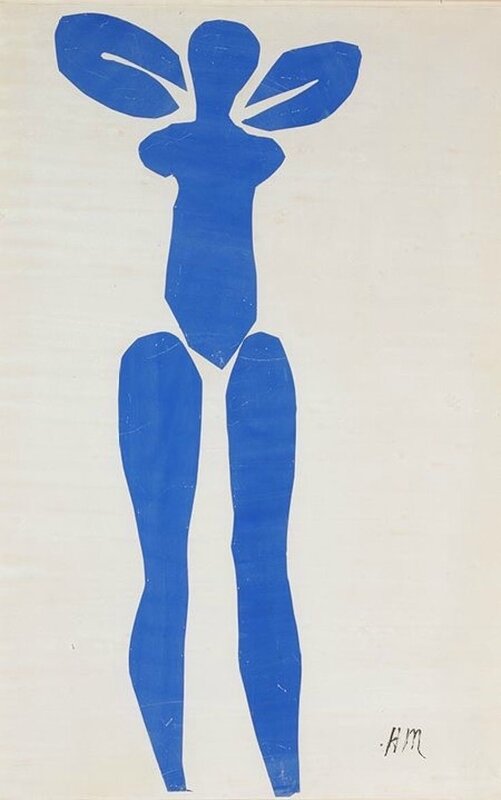 Henri Matisse, Blue Nude, 1952, Metropolitan Museum of Art, New York. Image: © The Metropolitan Museum of Art/Art Resource/Scala, Florence Artwork: © Succession H. Matisse/ DACS 20
Klein also used his in-depth knowledge of art history and its practitioners to break away from the avant-garde and forge his own path. He had risen to prominence in the second half of the 1950s, when Abstract Expressionism reigned supreme in America, and Tachisme enjoyed stylistic hegemony in Europe. These artistic movements were based on a fetishism of gesture; on the glorification of an individual painter's ability to convey emotion through entirely abstract forms. Klein purposefully took a diametrically opposite approach. In imprinting the human body directly upon the canvas, he created the ultimate figurative work – as directly representative of its subject matter as possible. Moreover, in using his models as anthropomorphic paintbrushes, he removed any sense of gesture from the finished canvas. In his Anthropométries, he appropriates the trope of the nude – that motif that for centuries had been treated with idealised sensuality – splashes it in his blue pigment, and pushes it up against the picture plane with unabashed immediacy and radical intimacy. Where throughout history, the nude had stood as a test of painterly skill and draughtsmanship, it is here achieved with blatant unconcern for those conventionally held indicators of artistic dexterity. In these works, Klein deliberately dons the weighty mantle of tradition only to warp it, subvert it, and thrust it back into the creative consciousness of his viewer.
In keeping with the best of Klein's oeuvre, Untitled Anthropometry (ANT 114) is sublime in aesthetic, charged with intellectual significance, and rich in art-historical self-awareness. In truth, it should be considered a distilled gem of conceptual verve; the glimmering reside of a preclusive performance. It acted as a precursor to countless strands of avant-grade art, and exists today as tribute to an artist at the forefront of the Parisian zeitgeist, who covered the world in his patented pigment, and leapt forth into the void.
Sotheby's. Contemporary Art Evening Auction, London, 08 Mar 2017, 07:00 PM