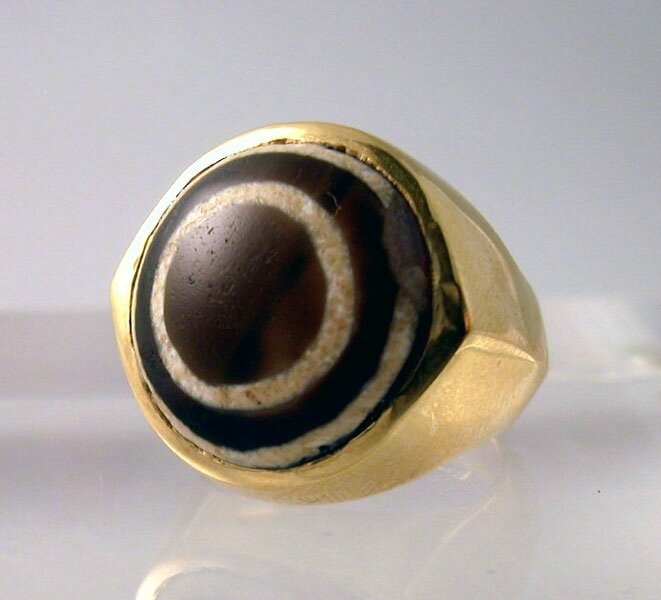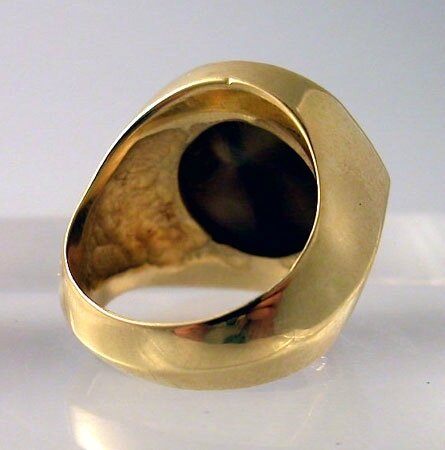 Gold Ring Featuring an Iron Age Eye-Agate, Syria, 900 BC to 700 BC. © 2000-2017 by Barakat, Inc.
This genuine Ancient Iron Age eye agate gemstone has been mounted in a modern 18 karat gold ring. £4,600.00
The "eye-agate" is produced by cutting a three- layer, naturally pale yellow or pale gray agate, with intervening white zones in such a way to look like an eye. In Aleppo (NW Syria) and other parts of the east it was believed the stone could cure the infection known as the "Aleppo sore". Because of their uncanny resemblance to the eye these unique agates were sometimes used to form the eyes of idols. In many cultures the belief in the evil eye encouraged the wearing of amulets to ward off malevolent influences, and what could better than the "eye-agate" to look evil straight in the face. This stone combines myth, folklore and natural beauty in a handsome ring that will always be "eye-catching"!
contact-form@barakatgallery.com - TEL 310.859.8408 - FAX 310.276.1346