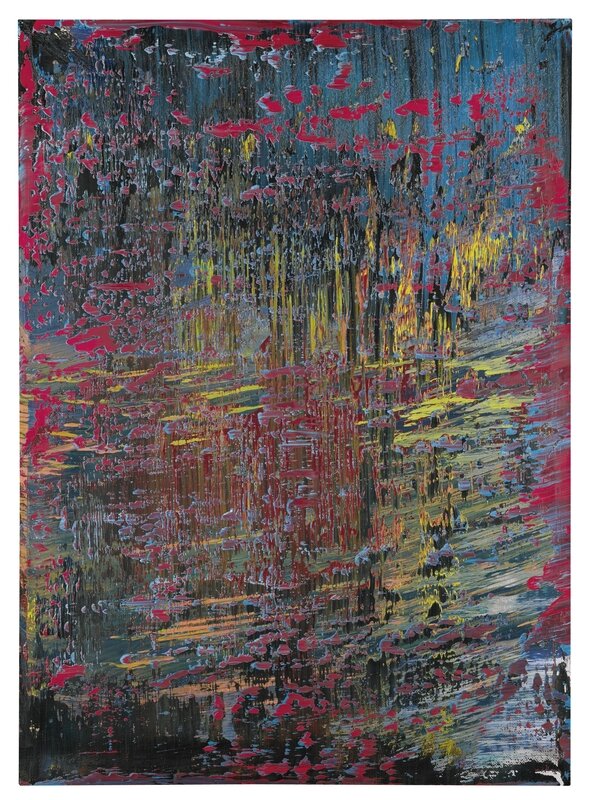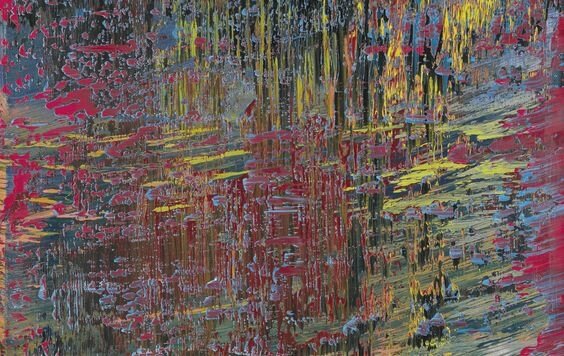 Lot 3. Gerhard Richter (B.1932), Abstraktes Bild, signed, dated 1988 and numbered 654-4 on the reverse, oil on canvas, 91.5 by 67 cm. 36 by 26 3/8 in. Estimate 1,500,000 — 2,000,000 GBP. Lot sold 3,983,750 GBP. Photo: Sotheby's.
Provenance: Galerie Hans Strelow, Dusseldorf
Acquired from the above by the present owner in 1990.
Literature: Exh. Cat., Bonn, Kunst-und Ausstellungshalle der Bundesrepublik Deutschland, Gerhard Richter: Catalogue Raisonné 1962-1993, Vol. III, Ostfildern-Ruit 1993, n.p., no. 654-4, illustrated in colour
Dietmar Elger, Ed., Gerhard Richter: Catalogue Raisonné 1988-1994, Vol. IV, Ostfildern 2015, p. 63, no. 654-4, illustrated in colour
Note: Abstraktes Bild is a visually arresting example of Gerhard Richter's revered body of abstract paintings. Created in 1988, this painting is dramatic in colour and engaging in composition, aptly demonstrating the theatre of Richter's idiosyncratic painterly method. Created at the start of Richter's seminal 1988 - 1992 period of production, during which time his Abstrakte Bilder realised new heights of sophistication and elegance, the present work epitomises the series' strength.
Though entirely disconnected from referentiality in both method and conception, Richter's abstractions nevertheless evoke natural forms and colour configurations. We cannot help but ascribe meaning to the complexity of their layered compositions. As outlined by the artist: "The paintings gain their life from our desire to recognise something in them. At every point they suggest similarities with real appearances, which then, however, never really materialise" (Gerhard Richter cited in: Dietmar Elger, Gerhard Richter: A Life in Painting, Chicago 2009, p. 267). The predication of this telling effect is rooted in this artist's unique painterly method, and particularly in his chosen depictive tool: the squeegee. The layered excavation and resonant accumulation of colour engendered by the tool imparts an eroded surface reminiscent of myriad natural forms: sunsets, sunrises, shoals, riptides, and cresting waves.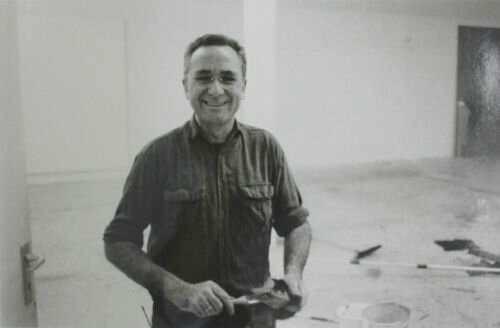 Gerhard Richter in his studio, Cologne 1987. Image: © VG Bild-Kunst, Bonn 2017, Foto: Benjamin Katz
Such a reading of the present work is very much linked to the artist's methodological dialogue with chance. As the squeegee is dragged across an expanse of canvas, the pressure and speed of Richter's application of paint ultimately surrenders to the unpredictability of chance in informing the composition. It is this separation of the artist from direct expression that bestows Richter's paintings with their inherently natural look. The shimmering and harmoniously artful orchestration of paint within Abstraktes Bild vacillates between an act of intense evocation and a simultaneous effacement of painterly form: ingrained within the work's destructive and unpredictable formation is a reflection of nature itself. As outlined by the scholar Beate Söntgen; Richter's method "joins the painted traces of the tools together with the layering and intersections of colour to form structures that are figural or landscape in appearance, without ever solidyfing into an object that is once again recognisable" (Beate Söntgen, 'Work on the Picture: The Discretion of Gerhard Richter', in: Exh. Cat., Cologne, Museum Ludwig Cologne, Gerhard Richter: Abstrakte Bilder, 2008, p. 37).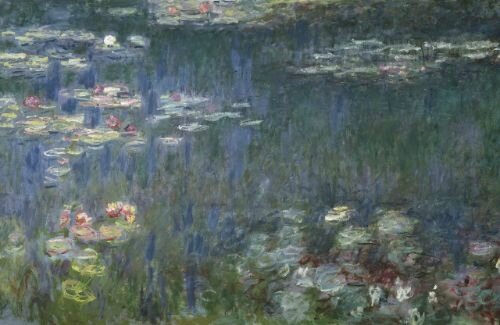 Claude Monet, Waterlilies: Green Reflections, 1914-18. Musée de l'Orangerie, Paris. Image: © Bridgeman Images.
Embracing an element of automatism, kinetic energy is literally compounded into the painterly surface of the present work, tracing where Richter drew the squeegee across the canvas in successive layers. Subtly alternating direction as well as the density of paint, the viscosity of the painted movements, and the drying time between each scrape, Richter indulges in an infinite and unknowable number of permutations born out of the precise interactions between the oil pigments. The detailed combinations of construction, modification, and erasure of the colour fields all stand to be manipulated by the intuitively felt variations of pressure and direction enacted by Richter. The resultant surface is boldly corporeal in its texture, yet it simultaneously toys with our phenomenological capacities for viewing its structure, based on the historic visual tendency for viewing the painted plane as an illusory realm of depth. Richter performs a sensory shattering of that Renaissance idea of the painting as a clear window into an alternate reality, as his distinctly cerebral abstract fields construct a peculiar sense of unstable spatial configuration.
Sotheby's. Contemporary Art Evening Auction, London, 08 Mar 2017, 07:00 PM