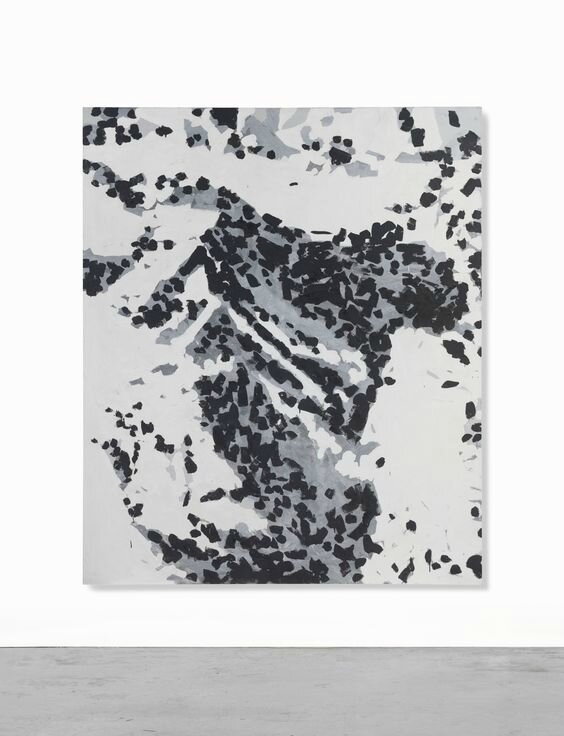 Lot 20. Gerhard Richter (B. 1932), Gebirge, signed, dated 1968, numbered 182 and inscribed Alpen (FL.-Pass) on the reverse, oil on canvas, 200 by 160.5 cm. 78 3/4 by 63 1/8 in. Estimate 2,500,000 — 3,500,000 GBP. Photo: Sotheby's.
Provenance: Galleria Lucio Amelio, Naples
Libero Grande, Naples (acquired from the above in 1976)
Estate of Libero Grande, Naples (thence by descent)
Sotheby's, London, 19 October 2004, Lot 62 (consigned by the above)
Marlborough Gallery, London (acquired from the above sale)
Galerie Gmurzynska, Zurich
Acquired from the above by the present owner in 2007
Exhibited: Baden-Baden, Staatliche Kunsthalle Baden-Baden, Junge deutsche Künstler: 14 x 14, April - July 1968
Nuremberg, Kunsthalle Nürnberg, Deutscher Künstlerbund: 16 Ausstellungen, July - September 1968
Dusseldorf, Kunstverein für die Rheinlande und Westfalen, Gerhard Richter: Arbeiten 1962 bis 1971, June - August 1971, n.p., illustrated
Venice, XXXVI Biennale Internazionale dell'Arte, Gerhard Richter, 36 Biennale, June - October 1972, pp. 67 and 87, no. 182, illustrated (incorrectly titled)
Literature: Exh. Cat., Aachen, Gegenverkehr, Zentrum für aktuelle Kunst, Gerhard Richter, March - April 1969, n.p., no. 99, illustrated
Klaus Honnef, Gerhard Richter, Recklinghausen 1976, p. 35, illustrated
Exh. Cat., Dusseldorf, Städtische Kunsthalle Düsseldorf, Gerhard Richter: Bilder / Paintings 1962-1985, Cologne 1986, p. 76, illustrated
Exh. Cat., Bonn, Kunst-und Ausstellungshalle der Bundesrepublik Deutschland, Gerhard Richter: Catalogue Raisonné 1962-1993, Vol. III, Ostfildern-Ruit 1993, n.p., no. 182, illustrated
Hans Dickel, Kunst als zweite Natur: Studien zum Naturverständnis in der modernen Kunst, Berlin 2006, p. 215, no. 39, illustrated
Anon., Capital, 30 March 2006, p. 151, illustrated in colour
Dietmar Elger and Hans Ulrich Obrist, Eds., Gerhard Richter: Text, Cologne 2008, p. 147, illustrated
Dietmar Elger, Ed., Gerhard Richter: Catalogue Raisonné 1962-1968, Vol. I, Ostfildern 2013, p. 368, no. 182, illustrated in colour
Note: Powerfully delivering an Alpine vista in utterly epic proportions, Gerhard Richter's Gebirge (1968) is a rare work from a small corpus of mountainscapes created between 1967 and 1970. Within this concise series, Richter created very few works on this scale and here the sheer size of the painting envelopes the viewer's vision. Rising like an apparition, this depiction of the Flüela Pass in Switzerland appears from afar like a photorealist depiction, while upon close inspection the image gradually blurs into an amalgamation of greyscale daubs and punctuated brushstrokes. Following Richter's painterly translation of aerial photographs of cities and townscapes in the mid-1960s, Richter's turn towards landscape appropriates the archetypal subject of Romanticism. Nonetheless, utterly devoid of Romanticism's transcendental narrative, Gebirge instead displays Richter's engagement with the process of painting in relation to photography. Via a conceptual approach to picture making channelled through photography, Richter blurs the boundaries between photo-realism and gestural abstraction in an attempt to investigate the way we see. Here, he almost dissolves subject matter in a fluid painterliness that pushes hard against the threshold between realism and abstraction, between the illusory and the concrete.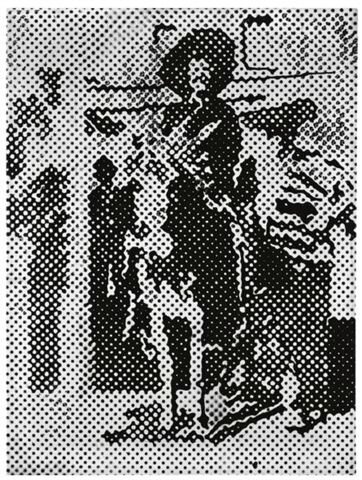 Sigmar Polke, Don Quichotte (Don Quixote), 1968. Artwork: © Sigmar Polke
Richter's choice of subject immediately calls to mind a deep history of artistic precedent. The master of German Romanticism, Caspar David Friedrich, and venerated painter of light J.M.W. Turner both revered the magnitude of imposing mountain ranges as the ultimate manifestation of awe-inducing sublimity in nature. It is interesting to note the historical conditions out of which Romanticism was born. Coinciding with the spread of the Industrial Revolution across Europe, Romanticism developed out of material disillusionment and sought to re-establish the spiritual self through a contemplation of nature. In an analogous mode, the arrival of Richter's quasi-Romantic mountainscapes and subsequent body of seascapes coincided with a period of marked commercial and economic propagation. Known in Germany as the Wirtschaftswunder, post-war industrial boom provided the context out of which Richter's reinterpretation of the landscape genre emerged. Attuned to a socio-political moment of mass-manufacture and rapid technological advancement, Richter's painterly mountainscapes reflect the same impetus that triggered the nostalgic yearnings of Romanticism, and yet his painterly treatment is framed within the terms of its technological moment.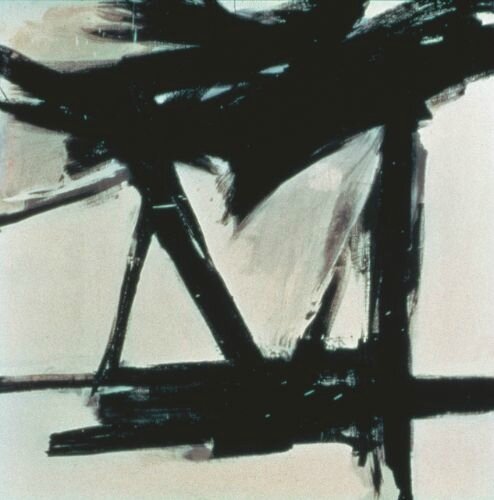 Franz Kline, Ballantine, 1948-60, Los Angeles County Museum of Art, Los Angeles. Image: © Bridgeman Images. Artwork: © ARS, NY and DACS, London 2017
Alongside these grand depictions of the traditional forms of natural aspiration, he also tackled the modern form of capitalist aspiration, the cityscape, in a similar way. Within these two dichotomous groups lies the maturing of Richter's individual creative vision as a mirror image of the post-modern world. The Alps with their grouping of masses, their morphology, and their size are impossible to assess from a distance. Their oblique surfaces and depths, shadowed holes and light clouds provide a fascinating basis for an investigation into the construction of the world which surrounds us as a metaphor for that which constructs a painting. Both in their size and the physical presence of the paint, it can be said that the mountainscapes are the ultimate depiction of what it is both to look at and experience nature. In the powerful facture of these paintings, the artist's intervention is palpable; however, rather than appearing as free expressive brushwork it remains bound up with the structure of the photographic images upon which they are based. Here in Gebirge, it is the stunningly photographic view which draws us in, but the fascinating layering of textured paint which involves us from close up. Jutting left and right the brushstrokes cut into the painterly surface. In much the same way as erosion cuts away at the rock's surface, Richter here adds paint to take it away. Furthermore, despite the relative density and weight of the paint which constructs this powerful physical image, every now and then, Richter leaves a trace of bare canvas to remind us that this is just a two-dimensional picture plane.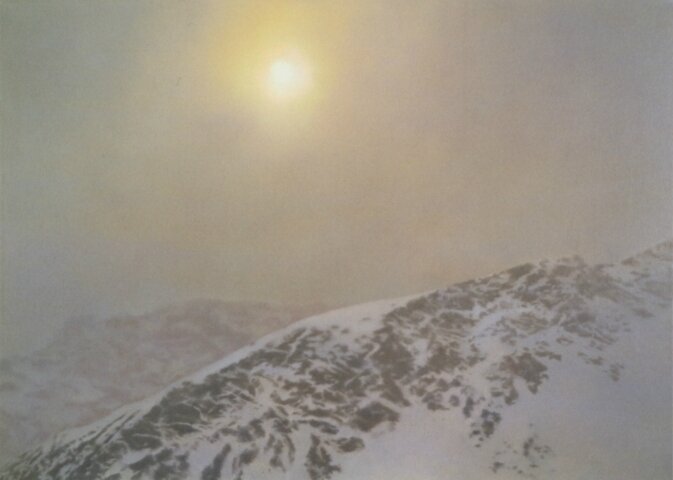 Gerhard Richter, Davos, 1981, The Art Institute of Chicago, Chicago. Image/Artwork: © Gerhard Richter, 2017The Art Institute of Chicago, Chicago. Image/Artwork: © Gerhard Richter, 2017
In April of 1968, Richter and Sigmar Polke collaborated on an offset lithograph entitled Transformation (Umwandlung) that documented the photographic dissolution of a craggy mountain-top into a sphere. Echoing this performative collaboration, the present work similarly transmutes a photographic verisimilitude of nature but in purely painterly terms. In translating into paint a composition captured in a snapshot photograph, Richter looked to further the remit of painting by absorbing into its process the objective impartiality of mechanical image-making. The juxtaposition of representational and abstract painterly qualities in the present work builds upon Richter's preceding body of Photo Paintings, for which he dragged a dry paintbrush over his painted surfaces to achieve a steadily blurred image. However in possessing a paroxysmal facture and looseness of brushwork, Gebirge also heralds the artist's gradual move into full abstraction. By the end of the 1960s, Richter had fully pushed the textural and compositional boundaries of greyscale to its utmost limit: the delicate sfumato gradation of his blurred portraits finally gave way to a full-on denouncement of figurative content with the highly conceptual series of Grey Paintings. Commenting on the qualities of grey, Richter pointed out that "it makes no statement whatever; it evokes neither feelings nor associations: it is really neither visible nor invisible. Its inconspicuousness gives it the capacity to mediate, to make visible, in a positively illusionistic way, like a photograph. It has the capacity that no other colour has, to make 'nothing' visible" (Gerhard Richter cited in: Dietmar Elger and Hans-Ulrich Obrist, Eds., Gerhard Richter, TEXT: Writings, Interviews and Letters: 1961-2007, London 2009, p. 92).
For Richter, the photographic blur as an assault on the clarity of the image triggered a conceptual stance that extended the remit of painting and allowed for a means to scrutinise the classic dichotomy of figuration and abstraction. Having emerged at a time when painting was declared obsolete and seemingly more progressive artistic forms were favoured, Gebirge stands as a powerful meditation on the medium's conceptual elasticity and more generally imparts Richter's ability to overcome the strictures of convention through an insistence upon painting's creative and philosophical relevance within a photographic age.
Sotheby's. Contemporary Art Evening Auction, London, 08 Mar 2017, 07:00 PM