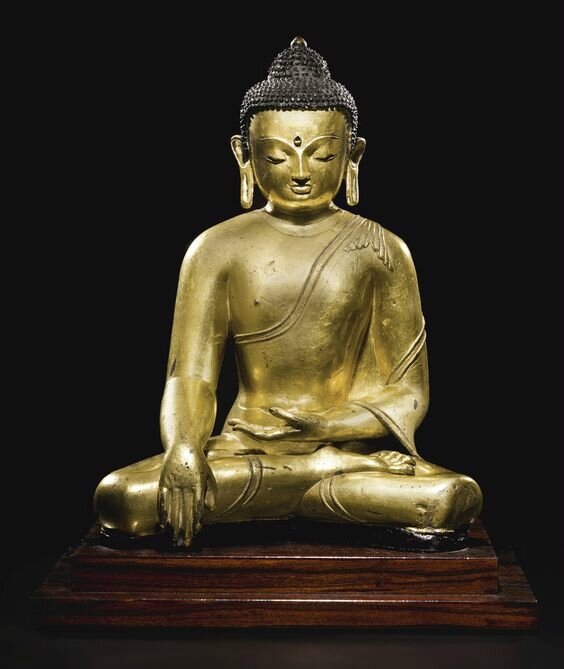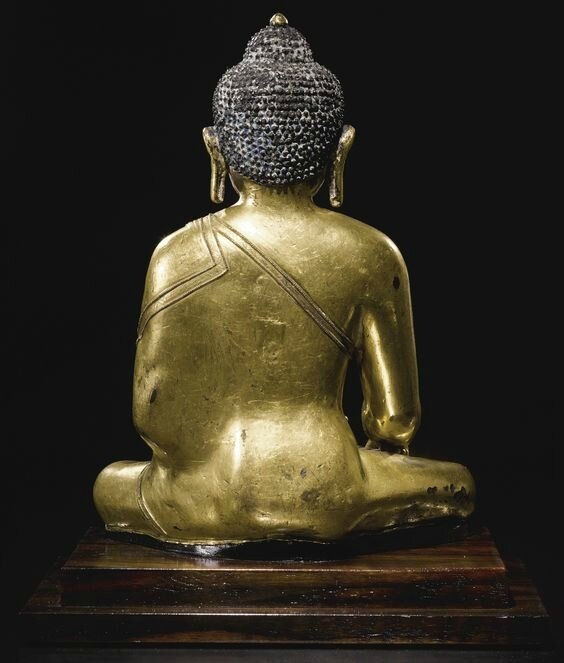 Lot 213. A large gilt-bronze figure of Buddha Shakyamuni, Tibet, 14th-15th Century. Estimate 150,000 — 200,000 USD. Photo: Sotheby's.
Himalayan Art Resources item no. 13392.
Height: 12 ¼ in. (31.5 cm)
Provenance: Nikolaus Sonne Fine Arts, Berlin, 2 February 2002.
Note: This very fine and large-scale sculpture of Buddha Shakyamuni is a testament to the powerful legacy of the Newari aesthetic imported into Tibet from the Kathmandu Valley in the medieval period.
Displaying tremendous power and presence, this figure demonstrates the marriage of classical Nepalese and Tibetan sculptural elements in its luxuriant gilding, elegant beading and engraving, the cold gilding of the face and use of polychromy, and delicate use of semi-precious stone inlay, as evidenced by the now missing urna at forehead center.
This powerful and iconic bronze depicting Buddha Shakyamuni in the earth-touching gesture or bhumisparsha mudra recalls the moment of his Enlightenment, in which he called upon the earth as his witness. The Nepalese influence is strongly demonstrated in the wide forehead with straight hairline, the gilt and domed ushnisha, the urna with cavity for stone inlay, the short neck, the broad and muscular shoulders with torso narrowing to a defined waist.
Compare the elegant hem, drape and twist of the Buddha's sanghati along the upper arm and body with left shoulder exposed, with fourteenth century bronzes from the Nepalese school in Tibet, see. U. von Schroeder, Buddhist Sculptures in Tibet, Vol. II, p. 962—3, figs. 231A and 231C.
Sotheby's. Indian, Himalayan & Southeast Asian Works of Art Including Property from The Cleveland Museum of Art, New York, 15 Mar 2017, 10:00 AM