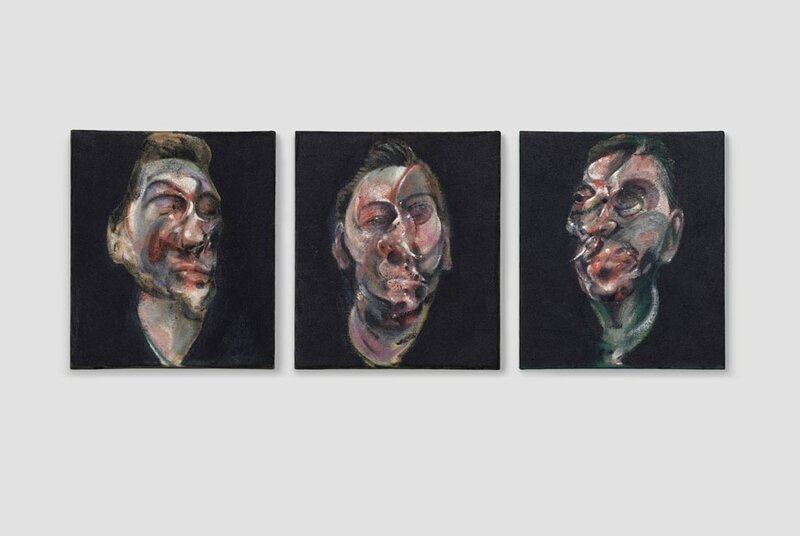 Francis Bacon (1909-1992), Three Studies for a Portrait of George Dyer, oil on canvas, in three parts, 1963. Estimate: $50,000,000-70,000,000. © Christie's Images Limited 2017.
NEW YORK, NY.- Christie's will feature Francis Bacon's Three Studies for a Portrait of George Dyer, 1963 as a central highlight in its May 17 Post-War and Contemporary Evening Sale in New York (estimate: $50,000,000-70,000,000). Painted in 1963, Three Studies for a Portrait of George Dyer marks the beginning of Francis Bacon's relationship with Dyer, his greatest source of inspiration. This triptych is the very first portrait Bacon made of his longtime muse who came to feature in many of the artist's most arresting and sought after works. Dyer came to appear in at least forty of Bacon's paintings, many of which were created after his death in Paris in 1971. The convulsive beauty of this work represents the flowering of Bacon's infatuation with Dyer, and is only one of five triptychs of Dyer that the artist painted in this intimate scale.
The present example once resided in the collection of Bacon's close friend, Roald Dahl. The celebrated author became an adamant admirer of Bacon's work upon first encounter at a touring exhibition in 1958. However, collecting his work was not financially viable at the time. In the 1960's, Dahl's career saw new heights. He published celebrated books, James and the Giant Peach and Charlie and the Chocolate Factory, and he wrote the screenplay for the James Bond film, You Only Live Twice. Buoyed by his newfound success, Dahl acquired four judiciously chosen works by Bacon between 1964 and 1967. The present triptych was among them.

Loic Gouzer, Deputy Chairman, Post-War and Contemporary Art, remarked: "Three Studies for a Portrait of George Dyer is a masterful triptych, which was completed within the first three months of Bacon's encounter with Dyer. This powerful portrait exemplifies the dynamism and complex psychology that the artist is most revered for. George Dyer is to Bacon what Dora Maar was to Picasso. He is arguably the most important model of the second half of the 20th century, because Dyer's persona as well and physical traits acted as a catalyst for Bacon's pictorial breakthroughs. The Francis Bacon that we know today, would not exist without the transformative encounter that he had with George Dyer."

Three Studies for a Portrait of George Dyer was completed during the greatest moment of personal and professional contentment in Bacon's career. When the artist met Dyer towards the end of 1963, Bacon was being praised by a public who now saw him as a master of figurative painting. This came on the heels of his first major retrospective in May 1962 at the Tate in London, which was followed by a triumphant exhibition at New York's Guggenheim Museum in October 1963.

Over the past 40 years, Three Studies for a Portrait of George Dyer has been a central fixture in many of the artist's most important exhibitions. It was most recently featured in Bacon's celebrated 2008-2009 retrospective that traveled to the Tate Britain, London, the Museo Nacional del Prado, Madrid and the Metropolitan Museum of Art, New York. It has also been shown in the National Scottish Gallery, Edinburgh and the Moderna Museet in the Stockholm, among other institutions.