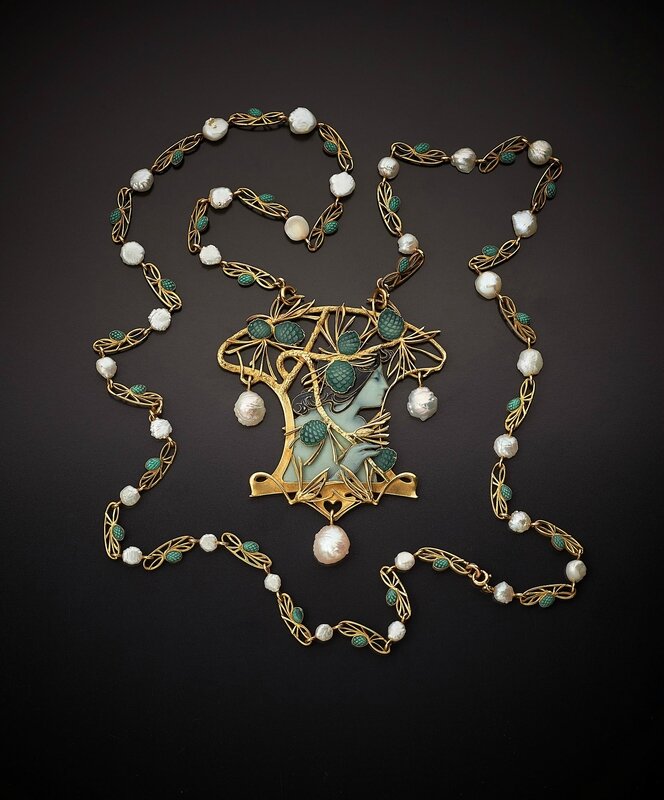 René Lalique (Ay 1860-1945 Paris), Necklace, Paris, circa 1899-1900 © Wartski
Gold, enamel, pearls and glass. Height of pendant 8.8 cm. Signed 'Lalique'
An unusually long necklace suspended with a pendant featuring a portrait of Lalique's muse Augustine-Alice Ledru (circa 1870-1909), who would become his wife.
The enamelled profile of Augustine-Alice Ledru is framed by gold stems bearing carved glass pine cones and needles which form the border of the jewel and suspend three baroque pearls, while the reverse is engraved to echo the motifs to the front and has a removable brooch fitting. The chain is set with baroque pearls alternating with pierced gold motifs in the form of stylized needles each bearing a blue glass pine cone.
The presence of pine cones is significant, being a symbol of eternity and thus immortalizing the beauty of Lalique's muse, while the pearls emblematic of Venus testify to his love for her, as does the openwork heart at the base of the pendant from which the centre pearl is suspended.
René Lalique's incorporation of pine cones as decorative motifs appears to date from the year 1898 when he acquired the property named Clairefontaine, populated with pine trees, to the south of Paris. The façade, glass doors and wrought-iron balconies of the premises he opened in 1902 at 49 Cours la Reine entirely echo the decorative scheme found in this jewel.
Literature: Gustave Geoffroy, L'Exposition Universelle de 1900, Paris 1902, table 90; Henri Vever, La Bijouterie Française au XIXe Siècle, Vol.III, p. 722, translated edition, p. 1230; Dr. Sigrid Barten, René Lalique, Schmuck und Objets d'art 1890-1910, 1989, p. 1989, ill. 633 on p. 316
Exhibition: Paris, Exposition Universelle, 1900
Lucien Falize (1839-1897), Two pendants and a pair of hair ornaments, Paris, circa 1878-1882. © Wartski
Gold, enamel, gem-set, suspended with pearls (top pendant), gold, grey pearls and diamonds (lower pendant) and gold, enamel and tortoiseshell (hair ornaments). Height of top pendant 7.2 cm
Two pendants in the Neo-Renaissance taste and a pair of hair ornaments acquired by fellow-Japoniste and Director of La Gazette des Beaux Arts Louis Gonse (1846-1921) for his wife Anna (1856-1929).
The gem-set pendant in the Neo-Renaissance taste was made after a design by Pierre Woeriot (1532-1599) and demonstrates Falize's predilection for the arts of the sixteenth century. It bears a plaque to the reverse enamelled with the initial 'F' flanked by Falize's motto 'Quaerens Invenio', surmounted by the poinçon he had registered with his father in 1875.
Although this unusually elaborate jewel was known from contemporary literature, the identity of its owner has only recently come to light, the pendant forming part of a group of three jewels contained in their original leather cases, each bearing the initials 'A.G.' on the lid. Another fitted box holds a pair of tortoiseshell pins suspended with vibrantly enamelled openwork gold spheres while the third, containing a pendant of lozenge form set with grey pearls and diamonds, holds the key: its reverse bears the original label inscribed 'Madame Gonse'.
Louis Gonse and Lucien Falize had certainly met by 1878, when Falize's survey of the goldsmiths' work, jewellery and bronzes exhibited at the 1878 Paris Exposition Universelle was published in Gonse's art periodical; Gonse himself added a Post Scriptum describing the jeweller's own significant contribution to the Exposition, and continued to praise Falize's display at further exhibitions.
Their shared interest in Japan is evident in the review by Falize of the vast retrospective exhibition of Japanese works of art organized by Gonse in 1883, and in his positive appraisal of Gonse's two-volume survey 'L'art Japonais' published the same year.
Literature: Henri Vever, La Bijouterie Française au XIXe Siècle, Vol. III, p. 500, translated edition p. 992), the top jewel forming part of a group of three illustrated in the Neo-Renaissance taste
Exhibition: The top jewel included in Lucien Falize's display at the Exposition Universelle, Paris, 1878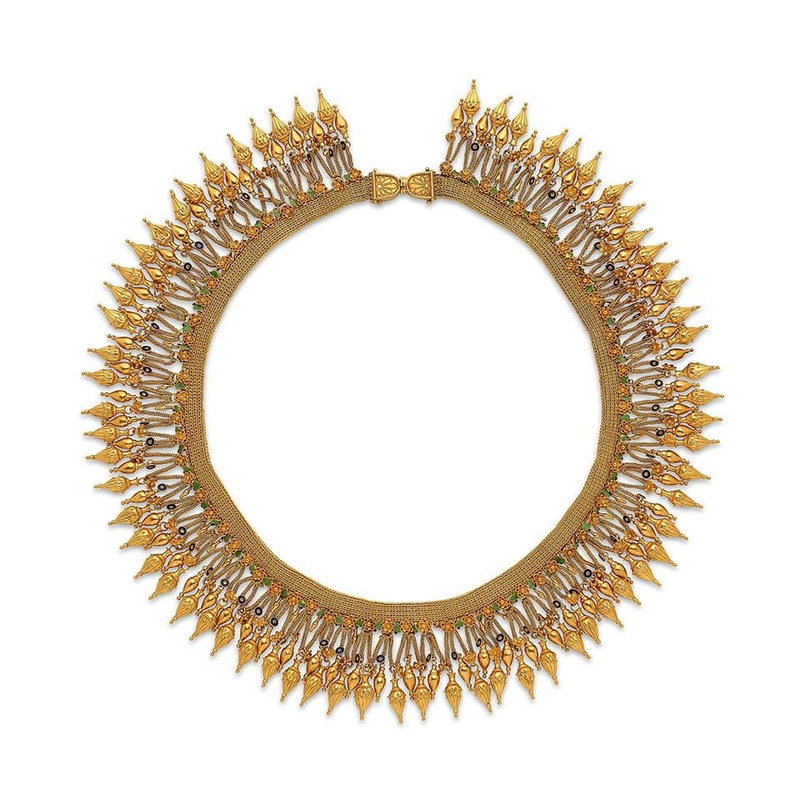 Giacinto Melillo (1845-1915), Fringe necklace, Naples, circa 1875. Gold and enamel © Wartski
Carl Fabergé (St-Petersburg 1846-1920 Pully), Case, St Petersburg, circa 1890. Carved rock crystal, enamel and diamond © Wartski
Wartski. TEFAF Maastrich 2017. Stand 242 - wartski@wartski.com - www.wartski.com