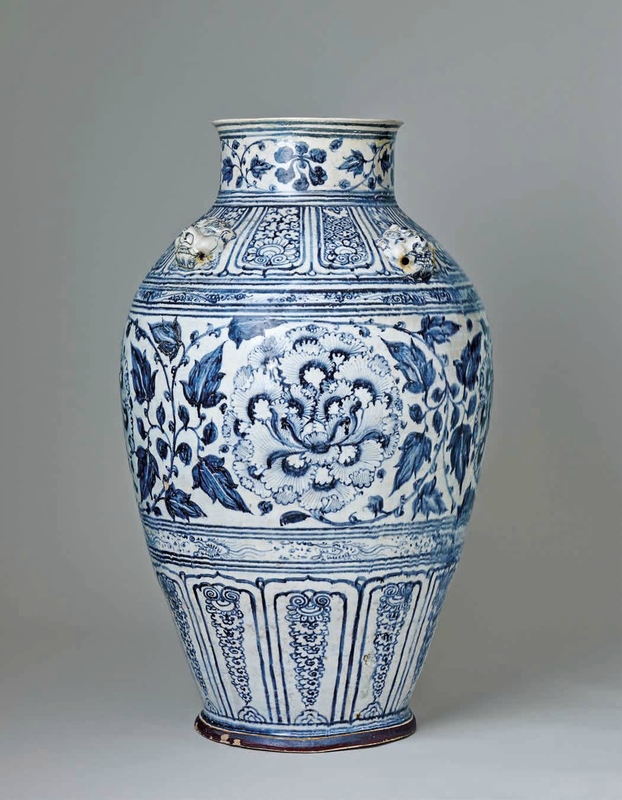 An Important and Massive Blue and White Jar, Lê Dynasty, 15th–16th c. A.D., Vietnam © Zetterquist Galleries
Height: 86.5cm
This very large porcelain jar has a high-shouldered form sitting on an outward-splayed foot. The foot rim is glazed in a chocolate brown color, above which is a large band of cobalt blue elongated double-lotus petals with stylized cloud patterns within. A narrow band of dragon in wave depictions sits above and is confined by two bands of three concentric lines. The central body is decorated with a large band of skillfully executed peonies in scrolling foliage. Another narrow band of scrolling imagery sits on the crest of the shoulder, above which are intricately decorated lotus petals that end at the neck-line. This band also has four deeply modeled beast mask- handles with holes for tie-down cords. (One handle is largely repaired, with the others sustaining glaze losses.) The tall neck is decorated with a scrolling lotus pattern confined within two bands of triple concentric lines. The mouth-rim flares outward at the top. (The top one inch of the mouth-rim is largely repaired. Other areas of the body have small areas of glaze loss, scratching and staining.)
A smaller example (73cm) is published in Stevenson and Guy's "Vietnamese Ceramics; A Separate Tradition". Avery Press, 1997. Pl. 331.
These large storage jars are made very much in the image of Yuan and early Ming Dynasty Blue and White pieces from China, and were exported to Indonesia and other parts of SE Asia. The brown foot ring differentiates it from its Chinese prototypes, but the style of painting and use of highquality cobalt are similar to the Chinese, and this was clearly intended for an aristocratic audience. Although there are others of this type with similar imagery, the present example appears to be one of the largest published.
Provenance: Brow Collection of Vietnamese Ceramics
The Brows were long-time expats in Asia and collected this material over the course of 30 years. Their achievement is remarkable, not only for the thoroughness of their encyclopedic treatment of the field, but also for their artistic eye. Each of their pieces was chosen for condition, quality and beauty, and they stuck to this thesis throughout.
Zetterquist Galleries (New York, NY), Chinese and Vietnamese Ceramics with Highlights from the Brow Collection, 10-18 march 2017 at 3 East 66th Street, #1B, New York 10065. T (212) 751 0650 - inquiries@zetterquist.com - zetterquist.com