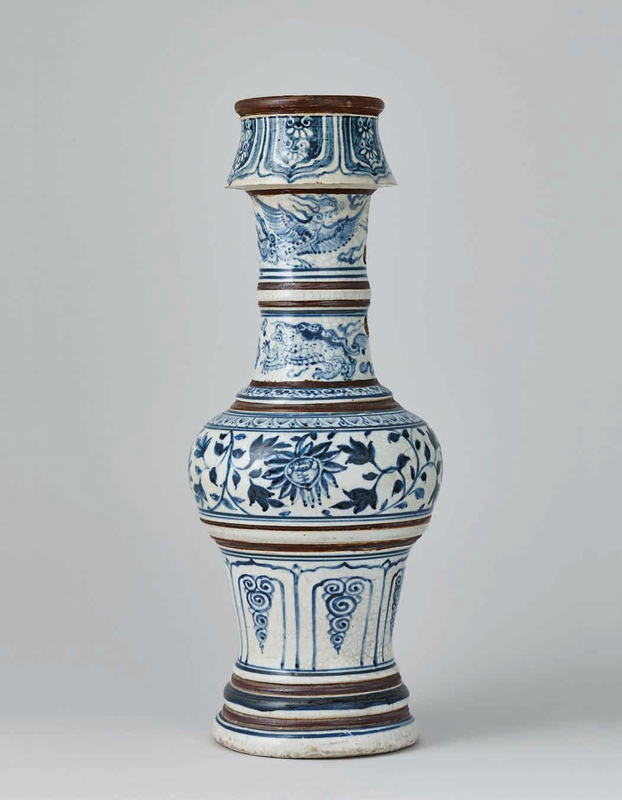 Blue and White Lamp Stand, Lê Dynasty 15th–16th c. A.D., Vietnam © Zetterquist Galleries
Height: 40cm
A Baluster-form lamp stand with alternating raised bands of brown and blue on the tall pedestal base. The bottom section of the body has elongated ruyi-form lotus petals with internal arabesques, with the top part of the body decorated with a large band of scrolling lotus. A raised ridge of brown delineates the join of the neck to the body, above which is a narrow band of cloud decoration. The long neck has two major bands, one featuring qilin mythical beasts and the other with phoenix in flight. (Two lines of repair on neck, indicating that it was reattached.) The topmost section, which flares out at its bottom, is has a band of densely painted overlapping lotus petals, below a brown, rounded mouth-rim. The neck is pierced with two holes on either side, to secure the lamp pole.
This piece is notable for its finely drawn decoration and the quality of its cobalt. Particularly, the depictions of the mythical beasts and phoenix are beautifully and charmingly executed.
Provenance: Brow Collection of Vietnamese Ceramics
The Brows were long-time expats in Asia and collected this material over the course of 30 years. Their achievement is remarkable, not only for the thoroughness of their encyclopedic treatment of the field, but also for their artistic eye. Each of their pieces was chosen for condition, quality and beauty, and they stuck to this thesis throughout.
Zetterquist Galleries (New York, NY), Chinese and Vietnamese Ceramics with Highlights from the Brow Collection, 10-18 march 2017 at 3 East 66th Street, #1B, New York 10065. T (212) 751 0650 - inquiries@zetterquist.com - zetterquist.com