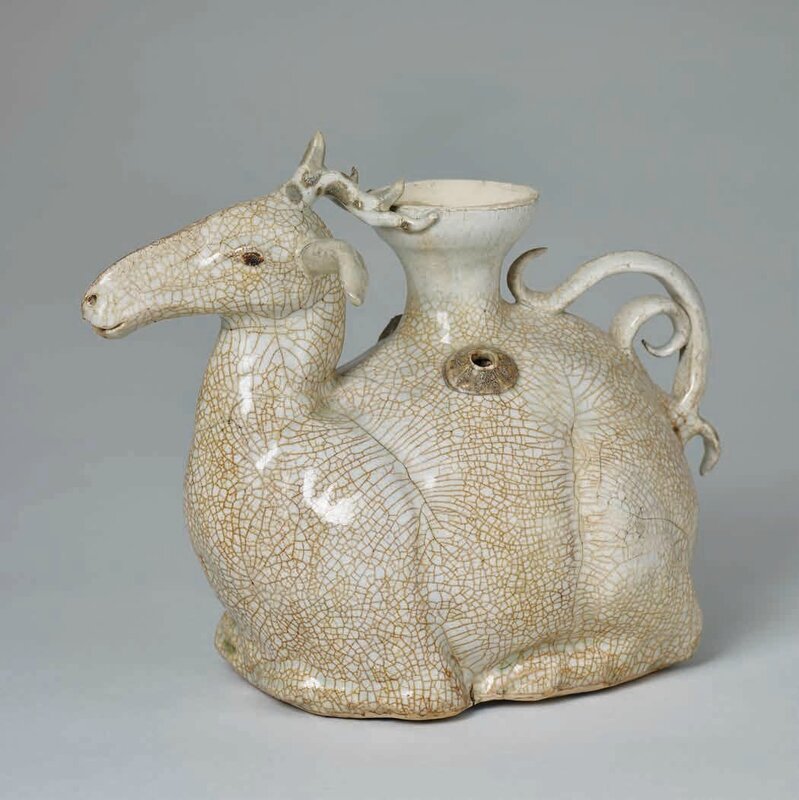 Deer Shaped Ewer, Lê – Mạc Dynasty, 17th c. A.D., Vietnam © Zetterquist Galleries
Length: 20.5cm
A stoneware pouring vessel in the shape of a sitting deer covered in a finely crackled ivory colored glaze, with the crackle stained to a russet brown color. The delicately articulated head, antlers and ears echo that of the tail, out of which rises to the scrolled handle. A tall neck with cupped rim rises from the back and connects to the antlers. Two raised air holes flank the neck to the sides, and are glazed in brown. (Ears and antlers with some repair.) The underside is unglazed, revealing a buff stoneware body, and has a large original firing crack around its perimeter.
Zoomorphic forms are prevalent in the history of Vietnamese ceramics from the Ly Dynasty onward. This is a particularly fine and amusing example, and extremely rare for its form. The deer is an auspicious animal, and appears commonly in Chinese ceramics as a symbol of long life. This has carried through to Vietnam, and can be seen on blue and white and polychrome ceramics from the Le Dynasty.
Provenance: Brow Collection of Vietnamese Ceramics
The Brows were long-time expats in Asia and collected this material over the course of 30 years. Their achievement is remarkable, not only for the thoroughness of their encyclopedic treatment of the field, but also for their artistic eye. Each of their pieces was chosen for condition, quality and beauty, and they stuck to this thesis throughout.
Zetterquist Galleries (New York, NY), Chinese and Vietnamese Ceramics with Highlights from the Brow Collection, 10-18 march 2017 at 3 East 66th Street, #1B, New York 10065. T (212) 751 0650 - inquiries@zetterquist.com - zetterquist.com