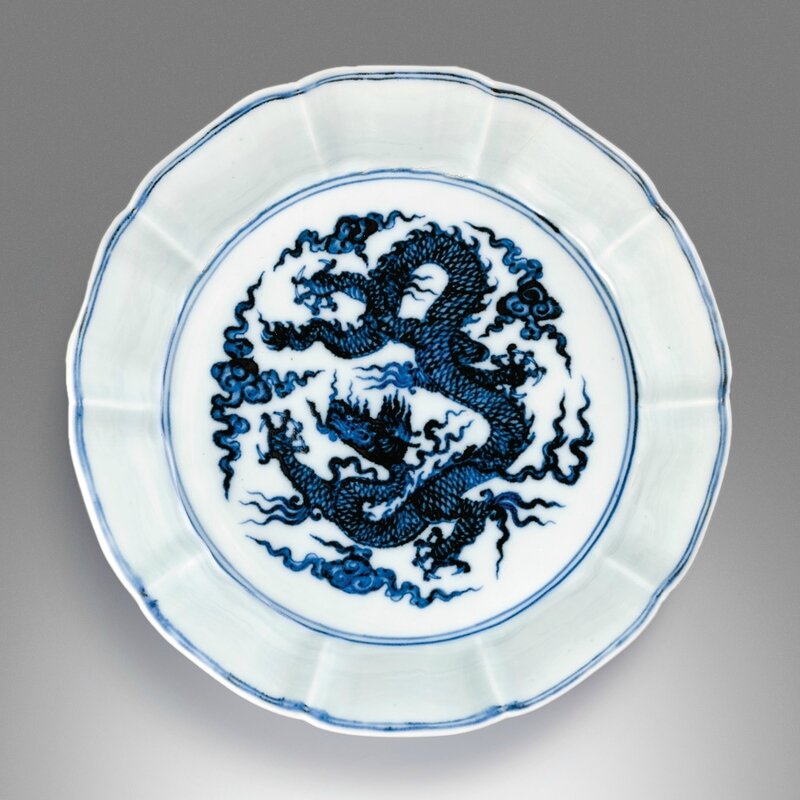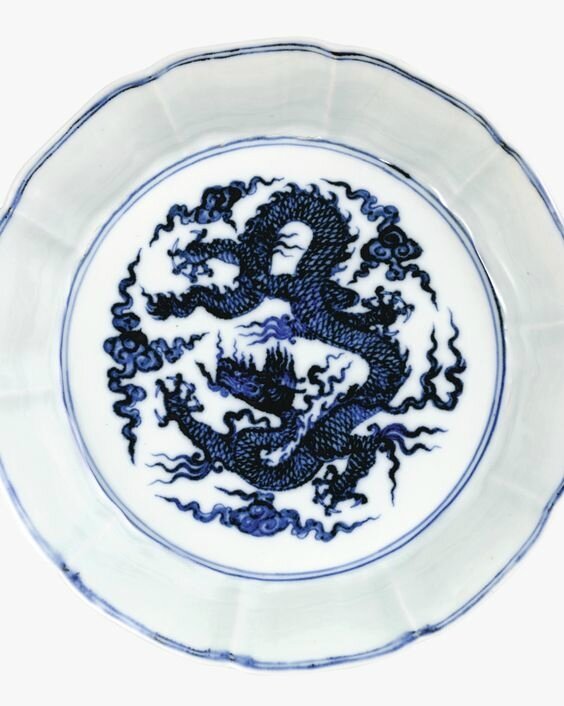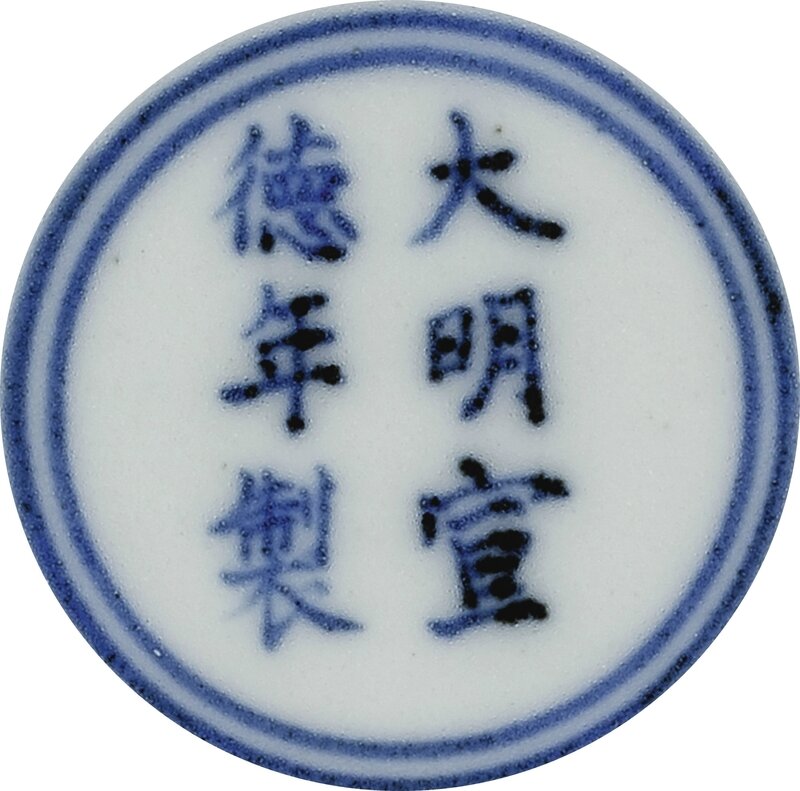 Lot 8. A superbly painted rare blue and white 'dragon' brush washer, Xuande mark and period (1426–1435). Estimate 1,500,000 — 2,500,000 USD. Lot sold 1,692,500 USD. Photo Sotheby's
finely potted, of ten-lobed mallow form with gently flaring sides resting on a countersunk base of corresponding form, the interior superbly painted in rich cobalt blue with a medallion enclosing a five-clawed dragon, with flames issuing from its flanks, plunging and writhing amidst ruyi-form cloud scrolls, framed within double-line borders repeated around the rim, the exterior painted with ten roundels of alternately leaping and plunging dragons amidst clouds, between double-line borders, the underglaze-cobalt of rich midnight-blue with pronounced characteristic areas of 'heaping and piling', the base with the six-character mark within a double-circle. Diameter 8 1/8 in., 20.7 cm
Provenance: Collection of Captain Thomas Arthur (b. 1871) and Emmeline Clarke, née Matthews (d. 1962), Springfort Hall, Mallow, Co Cork, Ireland, and thence by descent.
Collection of Lilian Mabel Hebbert, née Matthews (1891-1976), and thence by descent.
Collection of Lieutenant Colonel Patrick Robert Ievers (1940-2015).
Priestly & Ferraro, London.
Whilst it is unknown how this magnificent washer entered the collection of Captain Thomas Arthur and his wife Emmeline Clarke prior to 1962, it is possible that it had previously belonged to Captain Clarke's father, Thomas Clarke (1834-1911) of Allerton Hall, Liverpool, England. Thomas Clarke was a noted collector of English watercolors, some of which were sold at Christie's London, 29th January 1929. His wife and children presented Allerton Hall to the city of Liverpool in 1926.
For the Imperial Brush
Regina Krahl
In a society like imperial China, where writing and painting played an outstandingly important role, a brush washer was an object of the utmost importance and consideration. Emperors were compelled to write all the time in the fulfilment of their duties, but in addition, many of them enjoyed to compose poetry, to exercise and demonstrate their calligraphic skills, to inscribe colophons on paintings or calligraphies they liked, or to paint themselves. The Xuande Emperor (r. 1426-1435) has gone down in history as one such ruler, who devoted himself to cultural pursuits and employed his brush not only for the affairs of state, but also for artistic endeavours.
While earlier imperial brush washers would have been of greenish-glazed Ru or grey-green crackled guan ware, a blue-and-white porcelain example would have been new at court in the early Ming (1368-1644) dynasty. As one of the first Chinese rulers, the Xuande Emperor appears to have been personally interested in the activities of the imperial kilns at Jingdezhen in Jiangxi province. The relatively new style of blue-and-white porcelain produced there, which was in strong demand abroad, throughout Asia and as far west as East Africa, had at first appeared alien to a Chinese elite trained in the restrained Song (960-1279) aesthetics. Yet the outstanding quality achieved at Jingdezhen in the early 15th century, the elegance of form, and the superbly painted designs which quickly became classics in Chinese art, overcame the erstwhile scepticism. From the Xuande reign onwards, more or less the complete production, inscribed with the imperial reign mark, appears to have been directed and restricted to use at the court. Brush washers such as the present piece, with its subtle mallow shape and delicate roundels of five-clawed dragons alternately ascending and descending, and the imperial Xuande reign mark, would not have been accessible outside the court.
Xuande brush washers of this classic ten-petalled mallow shape are known with several different dragon designs, as well as with dragon and phoenix, or phoenix only, and in various sizes; the present piece is particularly large. Stem bowls, bowls, dishes and even small ewers appear to have been matchingly shaped and decorated, all with the foot or stem similarly following the lobed outline of the sides. A stem bowl with similar dragon roundels, for example, in the collection of the National Palace Museum, Taiwan, was included in the exhibition Mingdai Xuande guanyao jinghua tezhan tulu/Catalogue of the Special Exhibition of Selected Hsüan-te Imperial Porcelains of the Ming Dynasty, National Palace Museum, Taipei, 1998, cat. no. 111.
Washers of the present design, however, with dragon roundels, are extremely rare. No washer of this design appears to be preserved in the National Palace Museum, nor to remain in the Palace Museum, Beijing. A smaller brush washer of this design (of 18.5 cm) was sold in our Hong Kong rooms, 27th October 1992, lot 35; another at Hanhai, Beijing, 30th June 1996, lot 990; and a fragmentary example, excavated from the waste heaps of the Ming imperial kilns was included in the exhibition Jingdezhen chutu Ming Xuande guanyao ciqi/Xuande Imperial Porcelain excavated at Jingdezhen, Chang Foundation, Taipei, 1998, cat. no.19-1
A washer of this design in the Capital Museum, Beijing, lacking the reign mark and attributed to the Yongle period (1403-1424), is illustrated in Beijing wenwu jingcui daxi. Taoci juan/Gems of Beijing Cultural Relics Series. Pottery and Porcelain, Beijing, 2004, pls 73 and 74; and unmarked washers of this form, with dragon roundels around the outside, exist also with an additional dragon painted on the base, matching that on the interior; see an example in the Cleveland Museum of Art illustrated in the Catalogue of the Severance and Greta Millikin Collection, Cleveland, 1990, pl. 27; and another, sold in our Hong Kong rooms, 14th November 1989, lot 18, and again, 5th November 1997, lot 1351, illustrated in Sotheby's. Thirty Years in Hong Kong, op.cit., pl. 220.
More common are brush washers of this form, of Xuande mark and period, with a similar dragon among clouds inside, but the dragons outside confined within quatrefoil panels: Four such pieces are listed in the inventory of the holdings of the National Palace Museum Gugong ciqi lu [Record of porcelains from the Old Palace], Taipei, 1961-6, vol. 2, part 1, pp. 105f., plus one with dragon-and-phoenix design, ranging in size from 15.9 to 18.5 cm, and one washer of either design was included in the Museum's, 1998 exhibition, op.cit., cat. nos 182 and 183.
The Palace Museum, Beijing, owns a larger, but damaged piece decorated with dragons within barbed panels, see Geng Baochang, ed., Gugong Bowuyuan cang gu taoci ciliao xuancui [Selection of ancient ceramic material from the Palace Museum], Beijing 2005, vol. 1, pl. 101; and smaller washers with roundels of dragon and phoenix or phoenix only, where the center as well as the roundels are filled either with paired dragon and phoenix, or a pair of phoenix, illustrated in Geng Baochang, ed., Gugong Bowuyuan cang Ming chu qinghua ci [Early Ming blue-and-white porcelain in the Palace Museum], Beijing, 2002, vol. 2, pls 123 and 124 (figs 1 and 2), together with Qing copies of the present dragon design, attributed to the Yongzheng reign, pl. 197, and of the phoenix design, attributed to the Kangxi period, pl. 176.
A blue and white 'phoenix and dragon' brush washer, Ming dynasty, Xuande period © The Palace Museum, Beijing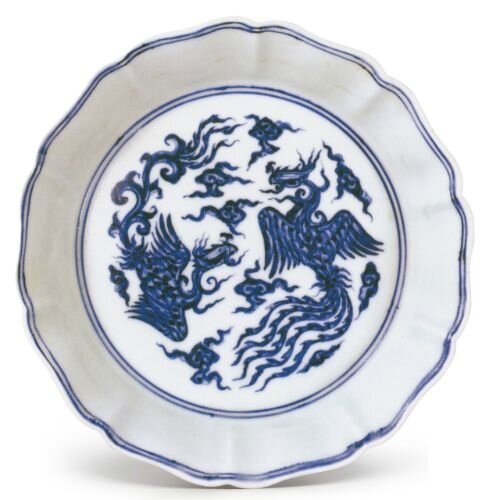 A blue and white 'phoenix' brush washer, Xuande mark and period © The Palace Museum, Beijing
Another washer with barbed dragon panels, also considerably smaller (16.1 cm), in the Sir Percival David collection in the British Museum is illustrated in Stacey Pierson, Blue and White for China. Porcelain Treasures in the Percival David Collection, London, 2004, pl. 20; one from the collection of T. Endo was sold three times in our Hong Kong rooms, 15thNovember 1988, lot 117, 29th April 1997, lot 405, and 23rd October 2005, lot 339, and is illustrated in Sotheby's Hong Kong. Twenty Years, 1973-1993, Hong Kong, 1993, pl. 57, and Sotheby's. Thirty Years in Hong Kong: 1973-2003, Hong Kong, 2003, pl. 221; another was offered on 8th April 2007, lot 841; and only one other, sold at Christie's Hong Kong, 28th April 1996, lot 49, is of the same size as the present piece.
Fluted brush-washer, Ming dynasty, Xuande mark and period, AD 1426–35. Porcelain with underglaze cobalt-blue decoration, Jingdezhen, Jiangxi province, PDF A603 © Trustees of the British Museum
Sotheby's. Ming: The Intervention of Imperial Taste, New York, 14 mars 2017, 10:00 AM